Veronica Scott is back to share another round of Sci-Fi Romance recommendations!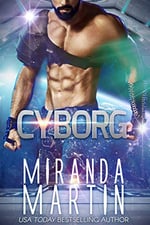 Cyborg: A SciFi Alien Romance, by Miranda Martin
Buy It: Amazon (Also in Kindle Unlimited)
When an author can get me to read a book based on a trope I'm not overly fond of – in this case amnesia – and I stay riveted to the pages, reading the story in one sitting and loving it, I'm thrilled. USA Today Best Selling author Miranda Martin's Cyborg: A SciFi Alien Romance lured me in with cyborgs, a trope I do love, and I was intrigued from the first page by the amnesiac heroine, Cersei. She's a fascinating woman, sort of a Bourne-like person who has all these mad combat skills and deep mental databases but she doesn't remember who she was and what she used to do.
She just knows she paid to have all that memory expunged, she was a really bad person who did awful things and she's unhappy that the black market memory wipe is unraveling. Oh, and did I mention someone is trying to activate her cyborg abilities and put her back to work doing more bad things against her will? She's on the run.
The hero, Holden, retired from the Galactic Service and turned to making cutting edge high tech that he's very picky about, in terms of who he sells to and what they use it for. Holden lives by a code of ethics even now, after years seeing the dark underbelly of the interstellar civilization. He's become "different, dangerous and not someone normal folks want to know." The Service kept enhancing him and enhancing him until he guesses he's 70% machine – one of his new upgrades was a pair of wings. Which seem to annoy him almost as much as they help him, frankly. His only companion is a mechanical bird.
Pretty much a loner, with the one long running case where he failed still on his mind.
Guess who the enemy agent was? Right, Cersei, but under a different name. He knows her as Athena.
The twists and turns of the plot are amazing. When we the reader think we know something, another event throws a monkey wrench into the situation. Watching these two damaged people make common cause in their pursuit of the Big Bad Guy and then sloooowly come to trust each other and rely on each other sure kept me turning the pages.
Really intense, full of romantic suspense and cool scifi worldbuilding – a great read.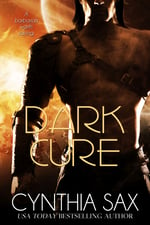 Dark Cure (Refuge #6), by Cynthia Sax
Buy It: Amazon, Barnes & Noble, Kobo, Apple Books
I've been a fan of USA Today Best Selling author Cynthia Sax's Dark Refuge scifi romance series since the beginning (and loved her sizzling cyborgs before that). I've also been one of those readers pestering her to tell the story of Gisella, the Refuge's chief medic. The Refuge is a dark and violent place where the one and only law is not to kill anyone or the ruler, Kralj, will end you quite messily. I've been intrigued with Gisella ever since the first time she was mentioned in a Refuge book, in passing, because I figured a woman had to be tough as nails to survive in the Refuge and must have quite the backstory to end up there.
Dark Cure is Gisella's book and well worth waiting for. She's absolutely devoted to being a medic and curing people, and intends to remain at the Refuge forever because Kralj respects her skills and has bought her the very best, top of the line equipment. She has everything she needs to be able to heal, unlike many of her earlier life experiences, where she had to practice more primitive medicine and people died or were left alive but maimed. Nothing and no one can pry her out of the Refuge. She has an unending supply of patients because of the violent nature of life within the city walls and she takes pride in training other medics. But most important to her, she has a fully equipped hospital with literally everything in the known universe at hand to help her patients.
Immovable Gisella meets irresistible force in Oghul, a fierce alien warrior, second-in-command to a warlord of his people, the Chamele. Oghul and his squad are in the Refuge temporarily but he immediately recognizes Gisella as his gerel or life mate. Her toughness is an added attraction for him. "You're intelligent for a barbarian," she says. "You're very savage for a medic," is his answer. Instant attraction at the bar and they adjourn to her quarters for one of author Sax's very steamy sex scenes. Oghul is perhaps not the most articulate of guys, although he tries to explain the meaning of gerel and Gisella fails to ask enough questions because in the morning surprise, surprise – bonded mates, to be together forever, who literally have to adjourn to the bedroom at frequent intervals during early gerel-ship.
Watching these two figure out the future when she refuses to leave the Refuge – but realizes over time how much Oghul means to her – and he longs for nothing but to go home to Chamele as planned, where his people have a rich, full family life was engrossing. I have to hand it to the author because for quite a long time while reading this, I didn't see how a genuinely happy ever after could be achieved. One or the other of the lovers was going to have to give up their dream…but noooo. Events happen, backstory is learned and dealt with and the romantic HEA occurs. A good read, much inventive time is spent in the various bedrooms but there's a lot of other action and plot development besides. Another successful outing for fans of author Sax.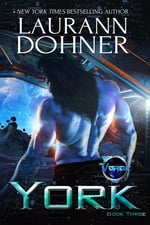 York (The Vorge Crew #3), by Laurann Dohner
Buy It: Amazon, Apple Books, Kobo, Barnes & Noble
A series which has been percolating along nicely is New York Times and USA Today Best Selling author Laurann Dohner's The Vorge Crew, about the individuals on a pretty unique interstellar ambassador's ship, and the human women they interact with, and of course fall in love with. I've been a fan of Dohner's for a long time and I'm happy to report that this new series is fun. York, the third installment, takes a nice turn, with the hero desperate to find a mate, after seeing how happy his crewmates are with theirs. Unfortunately the mating service he goes to pairs him with a screeching abusive gold digger type from Parri. This will not be a match made in heaven or even in the stars and we can plainly see how miserable he's going to be.
His fellow crew members are going to hate her too, I guarantee it. (They all have quarters together on board the Vorge.)
Enter our heroine to save the day and rescue York from a life of emotional abuse.
In a unique twist on the 'human woman abducted by aliens' trope, Sara from Earth has been illegally kidnapped and sold by her own government to be a sexual play thing for an alien prince but rescued from slavery by the planetary rulers of Relon. They've outlawed slavery and set her free. They would have returned her to Earth but Sara figures the government would just sell her again and she'd never be lucky enough to be rescued twice. Relon bureaucracy allows her to stay on their planet, living in a shelter for a limited amount of time, given a low wage job, treated as an outcast by everyone around her. (Humans are apparently regarded as low life.) In short, a really miserable existence but Sara is plucky and determined to succeed on her own terms.
Through a fluke, she runs into York and his awful bride-to-be more than once. She feels sorry for him and attracted to him. York is the quintessential nice guy, if a bit naïve and desperate to be mated. Hence the Parri harpy getting her figurative claws into him. Sara saves him, which I thoroughly enjoyed. She goes into the situation with her eyes wide open and is genuinely attracted to York and vice versa. York has his strong warrior side and is eager to protect Sara, which is a good contrast to his overly meek approach to accepting the pre-selected mate. (His people need a lot of cuddling and comforting and steamy times with a mate to be well balanced.) I was glad he had the backbone to leave the Parri woman and go off to the Vorge with Sara.
In the beginning their union was a marriage of convenience-with-liking on both sides – these are very likable characters – but over time (and with their off-the-charts compatibility in the bedroom) the situation turns into so much more.
More adventures happen, complications occur, the adversaries are vanquished and of course there's a Happy Ever After for York and Sara. I'm looking forward to the next book in the series – there are quite a few crew members left on the Vorge who have yet to find their suitable mates and I can't wait to see how their stories will unfold.
USA Today Best Selling Author Veronica Scott is a seven-time recipient of the SFR Galaxy Award, and has written a number of science-fiction and fantasy romances. Her latest release is Gabe (A Badari Warriors SciFi Romance Novel). You can find out more about her and her books at veronicascott.wordpress.com