Time for some Best Bets reading in scifi romance for September!
Cyborgs are still very hot in the scifi romance genre and I have several to share with you today.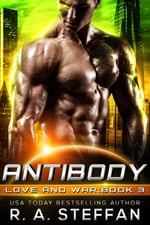 Antibody, by R. A. Steffan
Buy It: Amazon, iBooks, Kobo, Barnes & Noble
Antidote is book three in USA Today Best Selling author R. A. Steffan's Love and War series, and features an escaped military cyborg and a telepathic alien ambassador. Pax became self-aware right before he was scheduled to be destroyed, escaped and joined the small band of underground rebels fighting the evil Regime running things in his area of the galaxy. Nahleen Veila'ana is an observer/spy in the area, who loses her diplomatic immunity and has to go on the run with the same group of rebels.
From their first meeting Pax finds himself unusually aware of her and for her part, she's not terrified of him the way most people would be. "The instant the bare skin of his hand touched hers, an explosion of…something…flooded Pax's synapses." It seems she, with her unusual telepathic powers, can make him feel emotions, even though as far as he knows, that part of his brain is gone. They both attempt to ignore the situation and go on about the business of fighting against the Regime but of course that soon goes awry. He finds it "difficult" to focus on what he's supposed to be doing. No surprise there!
Nahleen can't stop thinking about Pax, with a mind "unlike any other she'd ever had contact with over the course of her lifetime."
Dangerous events happen, Nahleen and Pax grow ever more attracted to each other, while each is determined to accomplish their specific missions…and I loved all of it. I thought the author had come up with a most unusual take on a cyborg romance. The book reads well enough as a standalone, with brief explanation of the backstory.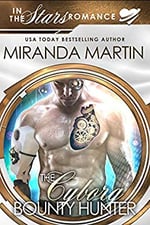 The Cyborg Bounty Hunter: In the Stars Romance, by Miranda Martin
Buy It: Amazon (Also in KindleUnlimited)
The Cyborg Bounty Hunter: In the Stars Romance by USA Today Best Selling author Miranda Martin pits two unlikely characters against Donner, an interstellar crime boss. Lily used to be one of his captive assets but recently escaped, and Cole, the cyborg bounty hunter of the title, is on Donner's trail both for the reward and to avenge past crimes committed against his home world. The ancestors "scream in his blood, clamoring for justice." There was good solid worldbuilding in the book, with many clever details supplied to make the future feel real. Lily is a neurapath, who can read information and control people, machines and computers. Cole, as it turns out, has similar skills and the two of them dueling to know more about each other without giving away their own capabilities, in the early parts of the novel made for good tension. When he's with Lily, Cole finds a sense of "shared ancestral connections" he never thought he'd find again.
Lily feels much the same things when she concentrates on 'reading' Cole but has major trust issues, not surprisingly after being Donner's prisoner for so long, forced to carry out despicable acts. Cole is nothing if not trustworthy, however, and the couple embarks on a series of efforts to locate Donner on the giant space station and foil his next big plot, without Lily being recaptured or Cole getting killed.
The book was a solid romantic suspense tale, with a few steamy scenes along the way. It would be fun to see these two characters in some future books because they make a great team.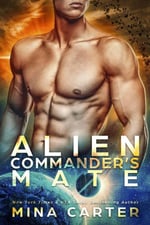 Alien Commander's Mate (Warriors of the Lathar Book 6), by Mina Carter
Buy It: Amazon, iBooks, Kobo, Barnes & Noble
Another ever popular scifi romance trope is the "Mars needs women/alien abduction" plot and when it's as well done as New York Times and USA Today Best Selling author Mina Carter's Alien Commander's Mate (Warriors of the Lathar Book 6), the reading is pure pleasure. Readers, like me, enjoy these tropes for a reason! The Lathar are another one of those poor interstellar races who are terrific, deadly warriors who no longer have any women of their own and oh wow, are human females the best thing they've ever seen! And perfectly compatible.
But the Lathar have honor and Fenriis, the commander, makes a deal with heroine Amanda Kallson to take her to her previously abducted (adult) children if she'll be his mate. She finds him wildly attractive and agrees. An interesting plot twist in this story was that Amanda was something of an older heroine, which didn't bother Fenriis one bit (and it turns out he was older than he appeared as well). They take their time really getting to know each other, which is hot, and then once they're ready for more, the scenes are smooth and steamy as only author Carter can write.
Peace negotiations are going on between the humans and the Lathar at this very moment, as it happens, and I enjoyed the back and forth between Fenriis and the human delegation, including the Vice President Madison Cole. She was a terrific authority figure (and hopefully we'll see more of her story in the next book). The sequence where the top ranking general was blustering about maybe not needing an alliance with the Lathar and Fenriis calmly describes for him the other spacefaring races and the many unpleasant ways they would deal with planets full of humans (basically the worst nightmares of science fiction come to life) was pretty amusing.
Of course trouble arises on both sides once the human delegation finally sets foot on the Lathar space ship, and Amanda's fortitude and courage is put to the test (no spoilers).
I really liked this hero and heroine and can't wait for the next entry in the series.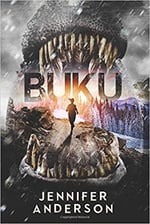 Buku, by Jennifer Anderson
Buy It: Amazon (and in KindleUnlimited)
I love post-apocalyptic, dystopian stories and Buku by Jennifer Anderson was a riveting read. I've never read one before where the End of the World As We Know It was caused by the creation of a new breed of animal – the Hiptartiodactyl, commonly known as the buku, three times larger than hippos and apparently highly dangerous. They're sort of the animal version of kudzu – growing everywhere, destroying pretty much everything in their path, unstoppable, carnivorous and deadly. The author did sneak in a small mention of an epidemic too, but clearly the vicious buku were the overriding factor in humanity's destruction. I honestly had to let the science of the buku kind of slide by me and just go with the terrifying creatures as described on the page. A small group of humans clings to the upper reaches of a mountain in order to survive, living in a large camp ruled over by the inevitable despot, Mayor Jack. There's always one of those in a post apocalypse, with his goons, right?
One of the aspects of Buku I enjoyed most was how although the oldest survivors could remember the time before the buku rose, the youngest were well on their way to creating a new, if primitive, civilization, in terms of the rituals and activities their daily lives demanded to survive. I thought the author handled this development really well.
The book is entirely told from the viewpoint of Iris, the heroine, who serves her people as a medic. I did miss having the hero's POV but Iris is a complex young woman and a keen observer.
Iris is the orphaned granddaughter of a highly respected original survivor who helped established the camp and although she feels powerless in the current situation, just trying to help her people, she actually possesses a lot of influence and subtle power. Watching her gradually awaken to this and other facets of the situation was also well done. Her romance with Oso, the brave hunter from another village, is key to this self-realization, although the romance itself is more of a background thread than a plot element in the forefront of the book. Some of Iris's decisions make the reader want to shake her and ask what she's thinking (and poor Oso is equally perplexed) but everything for her revolves around the survival of her village. There are a few chaste kisses along the way and that's it but the longing and desire the couple has for each other comes through on the page.
A good read if you enjoy dystopian fare. I couldn't put it down.
See you again in October with more good reading to share!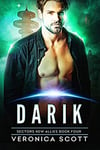 USA Today Best Selling Author Veronica Scott is a seven-time recipient of the SFR Galaxy Award, and has written a number of science-fiction and fantasy romances. Her latest release is Darik (A Badari Warriors SciFi Romance Novel). You can find out more about her and her books at veronicascott.wordpress.com