September. WTF.
Sorry, that wasn't terribly inspiring or coherent.
Anyway... Here are some books we're excited about that release this month!
*
This post contains affiliate links.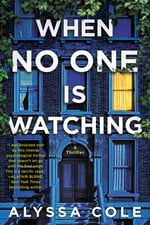 When No One is Watching, by Alyssa Cole - September 1

Rear Window meets Get Out in this gripping thriller from a critically acclaimed and New York Times Notable author, in which the gentrification of a Brooklyn neighborhood takes on a sinister new meaning…
Sydney Green is Brooklyn born and raised, but her beloved neighborhood seems to change every time she blinks. Condos are sprouting like weeds, FOR SALE signs are popping up overnight, and the neighbors she's known all her life are disappearing. To hold onto her community's past and present, Sydney channels her frustration into a walking tour and finds an unlikely and unwanted assistant in one of the new arrivals to the block—her neighbor Theo.
But Sydney and Theo's deep dive into history quickly becomes a dizzying descent into paranoia and fear. Their neighbors may not have moved to the suburbs after all, and the push to revitalize the community may be more deadly than advertised.
When does coincidence become conspiracy? Where do people go when gentrification pushes them out? Can Sydney and Theo trust each other—or themselves—long enough to find out before they too disappear?
***
Melanie - Billed as more of a thriller than a romance, the blurb sounds very intriguing but let's be honest, I'll read whatever Alyssa Cole writes and this is no exception.
Amy - I'm not sure where this lands on the romance spectrum (romantic suspense? SFF romance? romance adjacent?) but I'm still excited to see where this book takes me.
Buy a copy: Amazon ◊ Apple Books ◊ Barnes & Noble ◊ Bookshop ◊ Kobo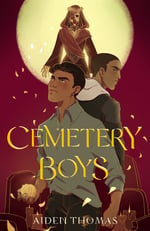 Cemetery Boys, by Aiden Thomas - September 1

A trans boy determined to prove his gender to his traditional Latinx family summons a ghost who refuses to leave in Aiden Thomas's paranormal YA debut Cemetery Boys.
Yadriel has summoned a ghost, and now he can't get rid of him.
When his traditional Latinx family has problems accepting his true gender, Yadriel becomes determined to prove himself a real brujo. With the help of his cousin and best friend Maritza, he performs the ritual himself, and then sets out to find the ghost of his murdered cousin and set it free.
However, the ghost he summons is actually Julian Diaz, the school's resident bad boy, and Julian is not about to go quietly into death. He's determined to find out what happened and tie off some loose ends before he leaves. Left with no choice, Yadriel agrees to help Julian, so that they can both get what they want. But the longer Yadriel spends with Julian, the less he wants to let him leave.
***
Andrea - I have seen so many ownvoices reviews rejoicing over this book! That it has been a source of magic and meaning for the community it represents makes Cemetery Boys a must-read for me. I've preordered the audio.
Buy a copy: Amazon ◊ Apple Books ◊ Barnes & Noble ◊ Bookshop ◊ Kobo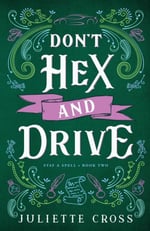 Don't Hex and Drive (Stay a Spell #2), by Juliette Cross - September 8

Notoriously bad at peopling, Isadora Savoie spends most of her time in the greenhouse or at the local animal shelter, using her Conduit powers of growth and healing. Content to remain in the background of the Savoie sister shenanigans, she's reluctantly roped into the mystery of missing neighborhood girls. Now, she's partnered with a flashy, flirty vampire to find them before it's too late.
Devraj Kumar has seen and done it all. Three hundred years roaming the earth as a Stygorn—a legendary vampire warrior who operates in the shadows—has its perks. But ennui has set in. That is, until he has a run-in—literally—with an intriguing witch while on a new assignment in New Orleans. Fascinated by her resistance to his charms, Devraj can't help but push her buttons in an effort to get to know the shy witch. Fortunately for him, she's been recruited by the Lord of Vampires to assist Devraj on the case.
Between a Bollywood marathon, supernatural dating app, secret package, and sexy driving instruction, Isadora is in over her head. And Devraj? After just one taste, he's playing for keeps.
***
Suzanne - All my picks this month are paranormal/spooky. This series is paranormal romantic comedy and unlike some books I could mention, I've found them to actually be funny! So yes, I received an ARC (via NetGalley) and can confirm that if you want a witch/vamp pairing, this is a good pick. (It's a little weird that Cross has had two POC heroes in a row and I don't think the rep is particularly stellar, it's sort of bland.)
Buy a copy: Amazon (KU) ◊ Barnes & Noble (print) ◊ Bookshop (print)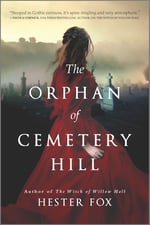 The Orphan of Cemetery Hill, by Hester Fox - September 15

The dead won't bother you if you don't give them permission.
Boston, 1844.
Tabby has a peculiar gift: she can communicate with the recently departed. It makes her special, but it also makes her dangerous.
As an orphaned child, she fled with her sister, Alice, from their charlatan aunt Bellefonte, who wanted only to exploit Tabby's gift so she could profit from the recent craze for seances.
Now a young woman and tragically separated from Alice, Tabby works with her adopted father, Eli, the kind caretaker of a large Boston cemetery. When a series of macabre grave robberies begins to plague the city, Tabby is ensnared in a deadly plot by the perpetrators, known only as the "Resurrection Men."
In the end, Tabby's gift will either save both her and the cemetery—or bring about her own destruction.
***
Suzanne - Hester Fox writes some great gothics. Though they are of course full of some messed up content, I've been totally hooked so far. Maybe it helps that they're set so close to where I live, but I think anyone looking for a gothic with a strong romantic arc will be happily spooked.
Buy a copy: Amazon ◊ Apple Books ◊ Barnes & Noble ◊ Bookshop ◊ Kobo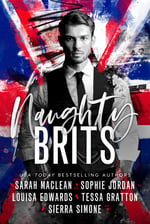 Naughty Brits, by Sarah Maclean, Sophie Jordan, Louisa Edwards, Tessa Gratton and Sierra Simone - September 15

Everything is hotter with a British accent...
Sarah MacLean - A Duke Worth Falling For:
Her career in tatters, celebrity photographer Lilah Rose retreats to the British countryside, complete with fluffy sheep, rolling hills...and Max, the stern, sexy farmer who tends to them. But their lazy days and lush nights aren't as far from the spotlight as Lilah thinks, and Max will have to reveal the truth if he is going to convince Lilah that some dukes are worth the risk.
Sophie Jordan - Better with You:
When the author of a controversial self-help book starts receiving threats, she has no choice but to accept a bodyguard on her UK book tour. Vee Mathers is famous for asserting that women don't need men--especially for sex!--but at security specialist Luca Moretti's first, burning touch, she starts to think she might need to revise her theory...
Louisa Edwards - Not a Bad Boy:
Writer Mallory Pritchard moved to London for research--and to get over a bad breakup. When she (literally) runs into Hollywood's hottest action hero, Ian Hale, at a dog park, she realizes her heart isn't as broken as she thought! Ian is even more devastatingly sexy in person, which makes Mallory wonder...is there room for a regular girl in his glamorous movie-star world?
Tessa Gratton - Songbird:
Former American soldier Daniel Kelly's mission is simple: close the deal to buy a Welsh pub on behalf of his family's corporation, and survive another anniversary of the worst day of his service. Too bad that from the moment he sees the pub's owner, Elspeth Gwenlan is the only thing Daniel wants to conquer--even if it means lying to her about his agenda.
Sierra Simone - Supplicant:
After being left at the altar by her cold and brilliant professor, Church Cason, Charlotte Tenpenny had to leave school to take care of her younger brother. But a fateful night brings Church--and his delicious, drugging kisses--back into Charlotte's life. And it stirs up a reckoning years in the making . . .
***
Melanie - An anthology headlined by Sarah MacLean, one of the biggest names in histrom, writing a contemporary novella?? SIGN ME UP.
Buy a copy: Amazon ◊ Apple Books ◊ Barnes & Noble ◊ Kobo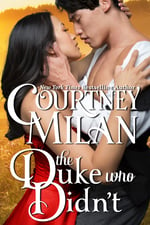 The Duke Who Didn't, by Courtney Milan - September 22

Miss Chloe Fong has plans for her life, lists for her days, and absolutely no time for nonsense. Three years ago, she told her childhood sweetheart that he could talk to her once he planned to be serious. He disappeared that very night.
Except now he's back. Jeremy Wentworth, the Duke of Lansing, has returned to the tiny village he once visited with the hope of wooing Chloe. In his defense, it took him years of attempting to be serious to realize that the endeavor was incompatible with his personality.
All he has to do is convince Chloe to make room for a mischievous trickster in her life, then disclose that in all the years they've known each other, he's failed to mention his real name, his title… and the minor fact that he owns her entire village.
Only one thing can go wrong: Everything.
***
Melanie - I started reading Courtney Milan last year and it was the best decision. Her heroines are delightfully, fiercely, feminist and I can't wait to fall in love with the characters in her latest.
Buy a copy: Amazon ◊ Apple Books ◊ Barnes & Noble ◊ Kobo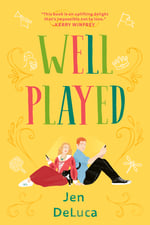 Well Played, by Jen DeLuca - September 22

A laugh-out-loud romantic comedy featuring kilted musicians, Renaissance Faire tavern wenches, and an unlikely love story.
Stacey is jolted when her friends Simon and Emily get engaged. She knew she was putting her life on hold when she stayed in Willow Creek to care for her sick mother, but it's been years now, and even though Stacey loves spending her summers pouring drinks and flirting with patrons at the local Renaissance Faire, she wants more out of life. Stacey vows to have her life figured out by the time her friends get hitched at Faire next summer. Maybe she'll even find The One.
When Stacey imagined "The One," it never occurred to her that her summertime Faire fling, Dex MacLean, might fit the bill. While Dex is easy on the eyes onstage with his band The Dueling Kilts, Stacey has never felt an emotional connection with him. So when she receives a tender email from the typically monosyllabic hunk, she's not sure what to make of it.
Faire returns to Willow Creek, and Stacey comes face-to-face with the man with whom she's exchanged hundreds of online messages over the past nine months. To Stacey's shock, it isn't Dex—she's been falling in love with a man she barely knows.
***
Amy - I am missing the Faire this season a lot and I'm ready to read about romance during the sweaty, beautiful summer months of the Willow Creek Ren Faire.
Buy a copy: Amazon ◊ Apple Books ◊ Barnes & Noble ◊ Bookshop ◊ Kobo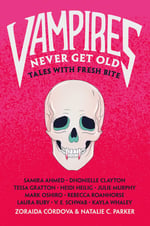 Vampires Never Get Old: Tales with Fresh Bite, Anthology - September 22

Eleven fresh vampire stories from young adult fiction's leading voices!
In this delicious new collection, you'll find stories about lurking vampires of social media, rebellious vampires hungry for more than just blood, eager vampires coming out―and going out for their first kill―and other bold, breathtaking, dangerous, dreamy, eerie, iconic, powerful creatures of the night.
Welcome to the evolution of the vampire―and a revolution on the page.
Vampires Never Get Old includes stories by authors both bestselling and acclaimed, including Samira Ahmed, Dhonielle Clayton, Zoraida Córdova and Natalie C. Parker, Tessa Gratton, Heidi Heilig, Julie Murphy, Mark Oshiro, Rebecca Roanhorse, Laura Ruby, Victoria "V. E." Schwab, and Kayla Whaley.
***
Suzanne - A diverse collection of vampire stories! I've been excited for this ever since I heard about the publishing deal. Give me the vampires. All of them.
Buy a copy: Amazon ◊ Apple Books ◊ Barnes & Noble ◊ Bookshop ◊ Kobo
Also out this month:
(All titles in red are links to Amazon)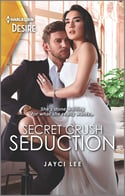 September 1 - The Insomniacs, by Marit Weisenberg
September 1 - Secret Crush Seduction, by Jayci Lee
September 1 - Flamer, by Mike Curato (Comic)
September 1 - Blood & Honey (Serpent & Dove #2), by Shelby Mahurin
September 1 - Ghosted in L.A., Vol. 2 (Comic)
September 1 - Recommended for You, by Laura Silverman
September 1 - Fable, by Adrienne Young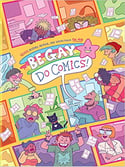 September 1 - The Deadly Hours, by Susanna Kearsley and three others
September 1 - Be Gay, Do Comics, Collection from The Nib (Comic)
September 1 - Fangs, by Sarah Andersen (Comic)
September 1 - The Four Profound Weaves, by R.B. Lemberg
September 1 - Trust Fund Fiancé, by Naima Simone
September 8 - Charming as a Verb, by Ben Philippe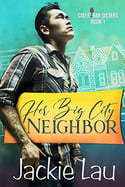 September 8 - Her Big City Neighbor, by Jackie Lau
September 8 - Iron Heart (Crier's War #2), by Nina Varela
September 8 - The Summer of Everything, by Julian Winters
September 8 - The Other Side of the Sky, by Amie Kaufman
September 8 - Master of Poisons, by Andrea Hairston
September 8 - The Bone Shard Daughter (Drowning Empire #1), by Andrea Stewart
September 14 - When the Earl Met His Match, by Stacy Reid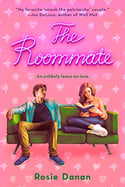 September 15 - The Afterlife of the Party, by Marlene Perez
September 15 - Who I Was With Her, by Nita Tyndall
September 15 - The Holiday Detour, by Jane Kolven
September 15 - Hex, Love, and Rock & Roll (Coven Daughters #1), by Kat Turner
September 15 - The Roommate, by Rosie Danan
September 15 - Bewitched (Betwixt & Between #2), by Darynda Jones
September 16 - Make a Scene, by Mimi Grace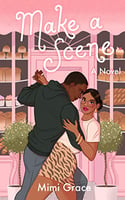 September 21 - Common Goal, by Rachel Reid
September 22 - Lies and Lullabies, by Sarina Bowen
September 22 - Tools of Engagement, by Tessa Bailey
September 22 - Miss Meteor, by Taylor Kay Mejia and Anna-Marie McLemore
September 22 - How It All Blew Up, by Arvin Ahmadi
September 22 - Smash It!, by Francina Simone
September 25 - The Alien Warrior's Challenge, by Ella Maven (Megan Erickson)
September 29 - A Deadly Education, by Naomi Novik
September 29 - Breathless, by Jennifer Niven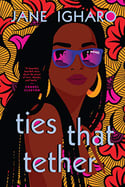 September 29 - Beauty Tempts the Beast, by Lorraine Heath
September 29 - A Highlander is Coming to Town (Highland, Georgia #3), by Laura Trentham
September 29 - Ties that Tether, by Jane Igharo
September 29 - Fence: Striking Distance, by Sarah Rees Brennan, Johanna the Mad, Created by C.S. Pacat
September 29 - My Kind of Earl, by Vivienne Lorret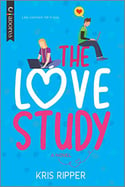 September 29 - The Love Study, by Kris Ripper
September 29 - A Very Merry Match, by Melinda Curtis
September 29 - Misleading the Duke, by A.S. Fenichel
September 29 - Return Billionaire to Sender, by Annika Martin
September 29 - Crush (Crave #2), by Tracy Wolff
September 29 - Burning Roses, by S.L. Huang
Want to support us and indie bookstores at the same time? All print books on this list have been collected in a list over at Bookshop, too!
Reminder!
LGBTQ Reads keeps a list of new releases that includes queer fiction of every genre.
WoC in Romance publishes new release lists roughly weekly.
Girl Have You Read does the same.
What books are you looking forward to this month?
***
If you appreciate our content and wish to support the site, please consider using the affiliate links in this post and below for your shopping needs. Even if you don't buy the book in question, we receive a small % of your purchase from the vendor. As always, you are welcome to leave us a tip on Ko-Fi or join our Patreon!
Support Love in Panels