I feel this every month, but this time I fear it's more true than ever: what follows is a list of books coming out in September, of which I will read very few.
I started graduate school at the end of August and between that, my job, my kids and my other commitments, I'm going to be reading a lot less fiction. And even less writing about it. We'll see how this goes for Love in Panels.
The best thing though, is that books don't expire! I'm going to continue making these lists because hey, I still want to know what's coming out... and adding to TBR Mountain.
*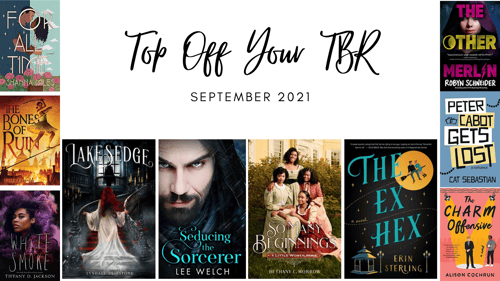 This post contains affiliate links.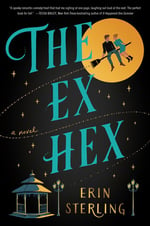 The Ex Hex, by Erin Sterling - September 28

New York Times bestselling author Rachel Hawkins, writing as Erin Sterling, casts a spell with a spine-tingling romance full of wishes, witches, and hexes gone wrong.
Nine years ago, Vivienne Jones nursed her broken heart like any young witch would: vodka, weepy music, bubble baths…and a curse on the horrible boyfriend. Sure, Vivi knows she shouldn't use her magic this way, but with only an "orchard hayride" scented candle on hand, she isn't worried it will cause him anything more than a bad hair day or two.
That is until Rhys Penhallow, descendent of the town's ancestors, breaker of hearts, and annoyingly just as gorgeous as he always was, returns to Graves Glen, Georgia. What should be a quick trip to recharge the town's ley lines and make an appearance at the annual fall festival turns disastrously wrong. With one calamity after another striking Rhys, Vivi realizes her silly little Ex Hex may not have been so harmless after all.
Suddenly, Graves Glen is under attack from murderous wind-up toys, a pissed off ghost, and a talking cat with some interesting things to say. Vivi and Rhys have to ignore their off the charts chemistry to work together to save the town and find a way to break the break-up curse before it's too late.
***
Why I Want to Read It - I like witches, I like romance, I like Rachel Hawkins' books... let's see how her Erin Sterling pen name writes!

Buy a copy: Amazon ◊ Barnes & Noble ◊ Bookshop ◊ Kobo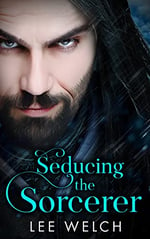 Seducing the Sorcerer, by Lee Welch - September 23

Homeless and jobless, Fenn Todd has nearly run out of hope. All he has left is his longing for horses and the strength of his own two hands. But when he's cheated into accepting a very ugly sackcloth horse, he's catapulted into a world of magic, politics and desire.
Fenn's invited to stay at the black tower, home of the most terrifying man in the realm: Morgrim, the court sorcerer. Morgrim has a reputation as a scheming villain, but he seems surprisingly charming—and sexy—and Fenn falls hard for him.
However, nothing is as it seems and everyone at the tower is lying about something. Beset by evil hexes, violent political intrigue and a horse that eats eiderdowns, Fenn must make the hardest choices of his life.
Can a plain man like Fenn ever find true love with a scheming sorcerer?
***
Why I Want to Read It - Salt Magic, Skin Magic was such a good queer fantasy gothic. I've been waiting ages for Welch to release a second book.

Buy a copy: Amazon ◊ Barnes & Noble ◊ Kobo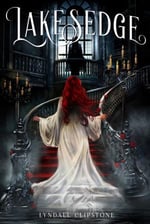 Lakesedge, by Lyndall Clipstone - September 28

A lush, gothic fantasy from debut author Lyndall Clipstone about monsters and magic, set on the banks of a cursed lake, perfect for fans of Naomi Novik and Brigid Kemmerer.
When Violeta Graceling and her younger brother Arien arrive at the haunted Lakesedge estate, they expect to find a monster. Leta knows the terrifying rumors about Rowan Sylvanan, who drowned his entire family when he was a boy. But neither the estate nor the monster are what they seem.
As Leta falls for Rowan, she discovers he is bound to the Lord Under, the sinister death god lurking in the black waters of the lake. A creature to whom Leta is inexplicably drawn… Now, to save Rowan—and herself—Leta must confront the darkness in her past, including unraveling the mystery of her connection to the Lord Under.
***
Why I Want to Read It - Although it's never too early to get read for the Spooky Season, I love a good gothic and have been sitting sadly on my review copy of this for weeks. At this rate, I'm going to be reading this in December.

Buy a copy: Amazon ◊ Barnes & Noble ◊ Bookshop ◊ Kobo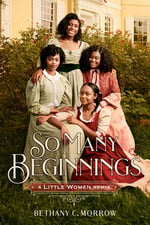 So Many Beginnings: A Little Women Remix, by Bethany C. Morrow - September 7

Four young Black sisters come of age during the American Civil War in So Many Beginnings, a warm and powerful YA remix of the classic novel Little Women, by national bestselling author Bethany C. Morrow.
North Carolina, 1863. As the American Civil War rages on, the Freedpeople's Colony of Roanoke Island is blossoming, a haven for the recently emancipated. Black people have begun building a community of their own, a refuge from the shadow of the "old life." It is where the March family has finally been able to safely put down roots with four young daughters:
Meg, a teacher who longs to find love and start a family of her own.
Jo, a writer whose words are too powerful to be contained.
Beth, a talented seamstress searching for a higher purpose.
Amy, a dancer eager to explore life outside her family's home.
As the four March sisters come into their own as independent young women, they will face first love, health struggles, heartbreak, and new horizons. But they will face it all together.
***
Why I Want to Read It - Though it has its problems, Little Women is one of the only classics I've ever enjoyed reading. (Great Expectations is another. I have bad taste, I know.) This is the first in this line of remixed classics and since I liked Morrow's A Song Below Water and Little Women, I figure this is a winner for me. Also looking forward to CB Lee's Treasure Island remix, which is linked below.

Buy a copy: Amazon ◊ Barnes & Noble ◊ Bookshop ◊ Kobo
I read an early copy of The Inheritance of Orquídea Divina, by Zoraida Cordova, and there isn't a romance but it's my favorite book of hers so far. It's magical realism with secrets and a couple of really great main characters.
I also read The Charm Offensive and the queer rep and the mental health rep are excellent.
Also out this month (beware, not all are romance!):
(All titles in red are links to Amazon)
September 7 - Portrait of a Scotsman, by Evie Dunmore
September 7 - The Charm Offensive, by Alison Cochrun
September 7 - The Shaadi Set-Up, by Lillie Vale
September 7 - First Love, Take Two, by Sajni Patel
September 7 - Witch Please, by Ann Aguirre
September 7 - Matrix, by Lauren Groff
September 7 - Never Saw You Coming, by Erin Hahn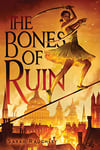 September 7 - The Jasmine Project, by Meredith Ireland
September 7 - The Bones of Ruin, by Sarah Raughley
September 7 - Saint, by Sierra Simone
September 7 - Dark and Shallow Lies, by Ginny Myers Sain
September 7 - The Hawthorne Legacy, by Jennifer Lynn Barnes
September 7 - The Inheritance of Orquídea Divina, by Zoraida Cordova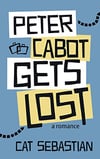 September 7 - A Clash of Steel: A Treasure Island Remix, by C.B. Lee
September 13 - Peter Cabot Gets Lost, by Cat Sebastian
September 14 - A Lot Like Adiós, by Alexis Daria
September 14 - You Got Anything Stronger?, by Gabrielle Union
September 14 - The Hollow Heart, by Marie Rutkoski
September 14 - The Last Garden in England, by Julia Kelly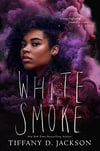 September 14 - With You Forever, by Chloe Liese
September 14 - White Smoke, by Tiffany D. Jackson
September 14 - It All Comes Back to You, by Farah Naz Rishi
September 14 - The Lost Girls, by Sonia Hartl
September 14 - The Love Hypothesis, by Ali Hazelwood
September 14 - Defy the Night, by Brigid Kemmerer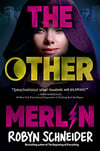 September 21 - On Location, by Sarah Echavarre Smith
September 21 - Under the Whispering Door, by T.J. Klune
September 21 - When Sparks Fly, by Helena Hunting
September 21 - The Bronzed Beasts, by Roshani Chokshi
September 21 - The Other Merlin, by Robyn Shneider
September 21 - Love, Chai, and Other Four-Letter Words, by Annika Sharma
September 28 - Dark Rise, by C.S. Pacat
September 28 - The Splendor, by Breeana Shields
September 28 - The Lights on Knockbridge Lane, by Roan Parrish
September 28 - Sweet Love, by Lauren Accardo
September 28 - For All Time, by Shanna Miles
September 28 - Once Upon a Broken Heart, by Stephanie Garber
September 28 - The Duchess Hunt, by Lorraine Heath
September 28 - Light From Uncommon Stars, by Ryka Aoki
September 28 - The Devil's Own Duke, by Lenora Bell
September 28 - Sailor Proof, by Annabeth Albert
September 28 - The Matzah Ball, by Jean Meltzer
September 28 - The Sweetest Remedy, by Jane Igharo
Want to support us and indie bookstores at the same time? All print books on this list have been collected in a list over at Bookshop, too!
Reminder!
LGBTQ Reads keeps a list of new releases that includes queer fiction of every genre.
WoC in Romance publishes new release lists roughly weekly.
Girl Have You Read does the same.
What books are you looking forward to this month?
***
If you appreciate our content and wish to support the site, please consider using the affiliate links in this post and below for your shopping needs. Even if you don't buy the book in question, we receive a small % of your purchase from the vendor. As always, you are welcome to leave us a tip on Ko-Fi!
Support Love in Panels