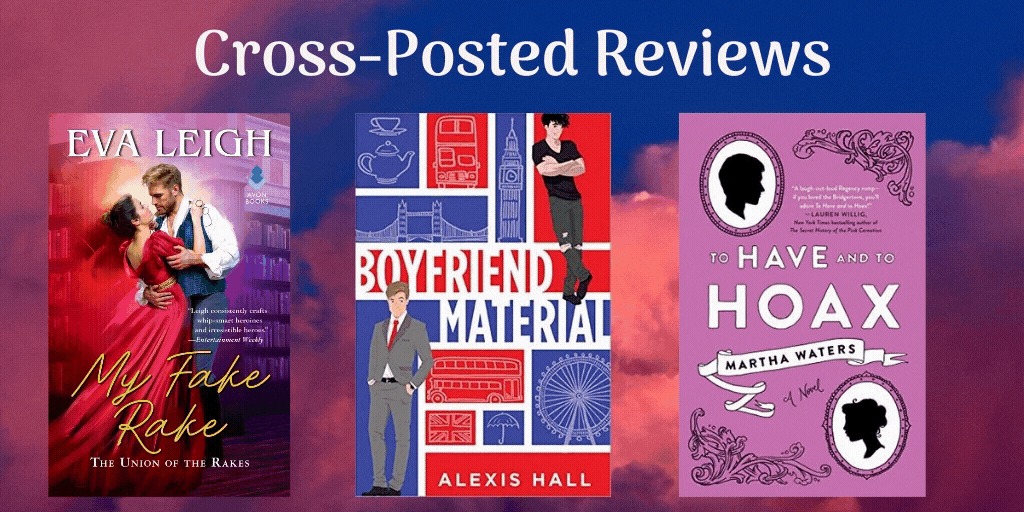 It's been a while since I shared any of these, so here are a few of the romance reviews I've written for Shelf Awareness!
These are reprinted with permission from Shelf Awareness, but you should consider subscribing to their twice-weekly newsletter for author interviews, reviews across genres and more.
Disclaimers: I received copies of these books from the publishers for review. This post contains affiliate links.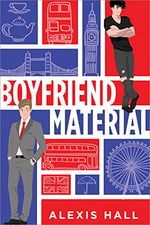 Boyfriend Material, by Alexis Hall

Contemporary romance, published 7/7/20.
Review, first published at Shelf Awareness:
Alexis Hall's Boyfriend Material is the sort of romantic comedy that would translate well to film, but achieves a level of depth, intimacy and character development not possible within the constraints of that medium. Hall (Pansies) pairs Luc, the tabloid-fodder son of aging rock stars, with Oliver, an uptight barrister, when each needs a fake boyfriend for a few weeks. Luc needs to rehab his image for his development work for a dung beetle nonprofit, and Oliver needs a date for his parents' anniversary party. A mutual friend sets them up, despite their disastrous meeting a couple of years earlier.
So begins a series of awkward dates, joke-filled text exchanges and mini-breakdowns as Luc sorts out his trust and intimacy problems. Hall deftly balances heavier plot points such as the reappearance of Luc's absentee father and Luc's past disastrous relationship with abundant humor. This is a deeply funny book, especially for fans of situational and British humor, but it's also a love story so endearing and believable that readers will alternate among laughing, grimacing at Luc's self-sabotage and sighing happily.
Both men have complicated histories with relationships, so while they are physically intimate with each other fairly early on, it takes longer to build a foundation of trust and love. Boyfriend Material's very few sex scenes fade to black and Hall emphasizes emotional connection and vulnerability.
This novel is as funny as it is romantic, making it the perfect book for readers who need a pick-me-up.
Discover: This British romantic comedy is packed with situational humor, banter and the full spectrum of messy feelings.
Buy a copy: Amazon ◊ Apple Books ◊ Barnes & Noble ◊ Bookshop ◊ Kobo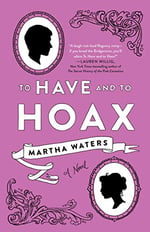 To Have and to Hoax, by Martha Waters

Historical romance, released on 4/7/20.
Review, first published at Shelf Awareness:
In Martha Waters's debut novel, a young, estranged married couple engages in a protracted battle of wits and minor deceptions. To Have and to Hoax is an authentic romantic comedy set in Regency-era England, complete with high-society expectations and familial obligations. It is also a very funny but heartfelt story of two people who desperately want to reclaim the love and happiness of the first year of their marriage.
When James is thrown from his horse at their country estate, Violet rushes from their London residence to be by his side, only to discover that he doesn't want her there. Exasperated, she hatches a fake-illness scheme to win back his attention and, hopefully, his affection. When she discovers that he's found her out, it's too late for either of them to admit to knowing, and a good-natured battle of pretending continues for much of the book. Grounded by a deep affection and attraction, their little lies and manipulations never sink to the level of meanness and instead result in a thoroughly enjoyable series of hijinks, lingering glances and a bit of steam. As they go on and their friends both aid and despair of them, James and Violet finally learn the truth about the final fight--the one that broke them apart--and some truths about themselves in the process. To Have and to Hoax is a refreshing debut full of laughs and banter, sure to leave readers clamoring for more from Martha Waters.
Discover: This fun and fresh historical debut will delight readers with humor and romance as a young couple battles to win back each other's affection.
Buy at Amazon.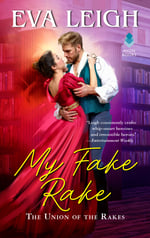 My Fake Rake, by Eva Leigh

Historical romance, published on 11/26/19.
Review, first published at Shelf Awareness:
Eva Leigh (Dare to Love a Duke) is known for historical romance novels that employ multiple tropes and lots of shenanigans, and My Fake Rake is no different. Leigh opens the first book in her Union of the Rakes series with a set-up straight from the 1985 teen comedy The Breakfast Club. Five young men are sent to the equivalent of early 1800s detention at Eton College and, though they are wildly different from one another, they forge a lifelong bond of friendship.
My Fake Rake follows the nerdy boy of the group, Sebastian, and his equally nerdy friend, Lady Grace. When Grace's ailing father asks her to marry, she sets out to convince the naturalist of her dreams that she isn't just a colleague, she's a marriage prospect. How better to attract one man's attention than with the attention of another, slightly scandalous, man?
Except that Sebastian isn't scandalous at all. He's the bookish son of an industrialist, a social group just beginning to be accepted at aristocratic gatherings. This means, however, that he's unknown in high society and therefore the perfect makeover candidate. While denying their longstanding mutual attraction, Sebastian and Grace enlist the help of another member of the Union of Rakes to turn Sebastian into a rake who will then pretend to be entranced by Grace. But what happens when all the pretending turns into something genuine?
With characters to cheer for and a plot that is funny and awkward, My Fake Rake is delightful escapist fiction with a big heart. --Suzanne Krohn, editor, Love in Panels
Discover: Readers who enjoy nerdy jokes, mutual pining and a makeover story with a twist will fall for My Fake Rake.
Buy at Amazon.
***
If you appreciate our content and wish to support the site, please consider using the affiliate links in this post and below for your shopping needs. Even if you don't buy the book in question, we receive a small % of your purchase from the vendor. As always, you are welcome to leave us a tip on Ko-Fi or join our Patreon!
Support Love in Panels