When the world isn't so great (okay, when it's a dumpster fire) and you don't have the time or perhaps the mental capacity to read, a movie with a guaranteed happily ever after can be a great solution. But how do you know which ones come with that satisfying ending and not a breakup or a cliffhanger? I'll share my two favorites to get this movie marathon started.
Stardust
It's a fairy tale with falling stars and wishes, pirates and witches, revenge and murder, and a love story threading through all of it.
Let's start with the all-star cast. I counted six actors in this film with superhero connections straight from comics. Magneto Ian McKlellan is the narrator. There's pre-Superman Henry Cavill and a pre-DareDevil Charlie Cox. Mark Strong has been a cool villain over and over again including in the Green Lantern fiasco. Jason Flemyng from one of the X-Men movies plays one of the seven brothers. And Catwoman Michelle Pfeiffer is an evil witch who takes over her scenes in her quest for immortal youth. Seriously, does the woman ever age?
There is brilliant camerawork, using color to focus on the important elements with gorgeous artistry. The soundtrack builds in all the right places, and the scenery is a lush backdrop. But the story is the real draw.
Tristan believes himself in love, but we all know from the beginning that his crush is on the wrong woman. His character arc and hero's journey is arguably the biggest development in the movie. Yet, it doesn't compare to the love story between Tristan and Yvaine. Their romance is the best part of the movie. As a bonus, we get another couple with a happy ending which might be even sweeter, but I won't spoil that one.
Sure, the movie has flaws. For starters, there is a shocking lack of diversity in characters on both sides of the Wall. While I loved the scene-stealing gender fluid pirate who embraces a pink dress and boa, he's misunderstood and not appreciated as he should be. At least Yvaine is a heroine who can handle herself and save the world when necessary.
The snarky banter, epic fights, and romance make this one of my two favorites. I would love to borrow the invisibility charm although I would veto the whole reanimating the dead to fight your battles. The amazing fairy tale ending is sure to cure some of your blues.
Warm Bodies
Speaking of bringing back the dead, Warm Bodies is my other favorite. Zombie meets girl. Zombie falls for girl. And the rest is a love story complete with a Romeo and Juliet balcony scene without the whole double suicide ending.
Nicholas Hoult who was Hank McCoy/Beast in the X-Men plays R. And while not a comic star, Discovery of Witches actress Teresa Palmer stars as Julie. The theme of the movie is love conquers all, even death.
The movie is funny in both the internal dialogue and the back-and-forth between characters. One of the beginning lines of R. wondering what life would be if we all could just connect and communicate set to a backdrop of everyone on their cell phones kicks off the sardonic tone of the movie. The film features a soundtrack including "Rock You Like a Hurricane" to the super slow march of zombies determined to save the couple and "Pretty Woman" for the makeover scene. The music quickly switches to "Midnight City" by M83. Much hotter.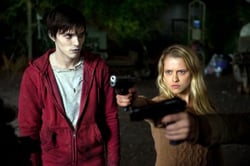 Julie is a kickass heroine. Their "meet cute" scene has her wielding a pump-action shotgun. Both R. and Julie have best friends with killer lines. For example, when Julie's BFF learns she has a best friend, she commiserates with "I mean I know it's hard to meet guys right now with the apocalypse and stuff. Trust me." It's like dating in Los Angeles.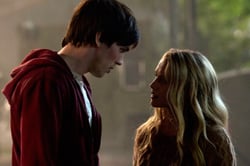 But even with the end of the world and zombies, these two find their true love.
I've shared my favorite two movies with a happily ever after. What are yours?
----
Award-winning author Luna Joya writes hex and sex in The Legacy Series, a witch family saga of romances about kickass heroines and the men who love them. Fluent in sarcasm and penal code, Luna prosecutes sex crimes and homicides by day and writes paranormal romance at night. She loves history, especially Los Angeles and Hollywood lore. A survivor of traumatic brain injury with steel body parts, she lives in SoCal with her combat veteran husband and their two-pound terror of a rescue pup.
Her latest book is Tides of Time, out 8/20/19.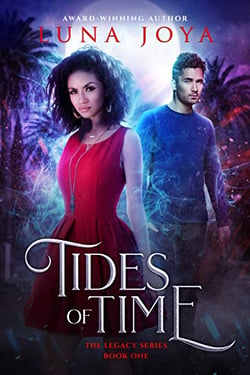 A witchy good girl hiding secrets from her family…
Cami yearns for a regular, ho hum, average life. Or at least as normal as she can get in a family of witches. But she can't tell her sisters about her violent ex. Or that she broke the first rule of magic to "harm none." Yet, when her youngest sister asks for help unraveling the death of a 1930's star abused by loved ones, Cami can't refuse.
A reformed bad boy who doesn't know his family's hidden secrets…
Sam lives for his restaurant and the intrigue of digging into Hollywood history. He avoids the entanglements of relationships since even his own parents didn't want him. But when the enchanting Cami needs his help to crack an unsolved mystery, he can't resist. The closer they come to finding the killer, the more they crave each other. But someone is determined to stop them.
Can they solve the mystery before history repeats itself?
More at Amazon or the author's website.