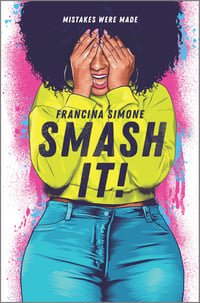 I'm pretty amped for Smash It! Here's why:
1) A play within a book! A comedic retelling of Othello? Tell me how!
2) Liv sounds like a wonderful mess.
3) I want to make my own F*ck It list and I'm too old (okay, too scared) so I'm going to live vicariously through her.
4) I'd be lying if I said that the cover didn't catch my eye. She looks happy and embarrassed and "Mistakes Were Made" is essentially my whole high school experience.
I'll be reading this after release, so I thought I'd share this Q&A with the author, Francina Simone, from Inkyard Press. If you want to just read about the book, either scroll down to the end or go right over to the Amazon page or add it to your Goodreads TBR.
Smash It! releases on September 22, 2020.
***
Q: Of all of Shakespeare's tragedies, to do a comedic retelling of Othello is an ingenious idea for a story, especially with all the drama of high school. Why did you choose Othello?
A: If I'm honest, I think Othello chose me. A long time ago when Smash It! was more like my lie than a book idea, I read the play and fell in love with the villain Iago. I thought of Iago more as Othello's Ego getting the best of him. He was a secure man until Iago used his insecurities against him. Fast forward years later, I had this story idea of this girl and these two boys in my head and I saw this climactic scene happening between them and it reminded me a lot of the themes in Othello: Jealousy, illusions, perception, womanhood, sexuality. How it all unravels in Smash It! was just clandestine.
Q: Liv is a bright, authentic, relatable character. She slowly comes into her own in all the best and worst possible ways. She is a refreshing main character joining the YA space. What advice do you think Liv would give others going through a similar situation(s) as hers?
A: You're going to mess up. You're going to be problematic. You're going to speak up when you should be quiet. You're going to be quiet when you should speak up. You're going to do all the wrong things even if you think you know you won't. It's human. The question is, can you get up and try again? Because, the world doesn't end just because you fucked up. So go fix it.
Q: Why do you love Liv and why should readers root for her?
A: Liv is unapologetically herself. She's not a cookie cutter you can copy and paste yourself into. She's a person who can teach us all empathy and how to see the world from another perspective. She shows us how you can be aware and still not know right from wrong simply because life is skewed in as many ways as there are people breathing. Root or her because in doing so you're rooting for yourself.
Q: I relate to Liv so much I thought we could be twins. For me, Smash It! is one of those books that you wish had been around when you were younger. What made you decide to write Smash It!? What impact has this story had on you?
A: I decided it was okay for me to be Black and write what it's like being a Black girl in a world where all the other books just want me to be Black struggle and strife. You for sure can't "paint" Liv white and the story be the same. She's Black American and her perspective is so different and really eye opening into a sliver of Black culture. We live, we love, we laugh, we get to Eat Pray and Love, but we do it in a very different way. We do it while Black and that is the most beautiful and glorious part to me, because that's me.
Q: You write stories that are "full of humor and hard life lessons with sprinkles of truth that make us all feel understood." What conversation(s) do you hope readers will have after reading Smash It! (nerdy talks or otherwise)?
A: I just humor to help us get through tough conversations like: being a Black girl sometimes means we internalize racism and that can mean thinking the guy you like that probably likes you too, doesn't because you're not a white girl and can't live up to that beauty standard. I want people to talk about intersectional casual racism and feminism. There are ways that PoC in America mingle that are very different than how we mingle with Whtie people. We talk different between groups in positive and negative ways. I want people to talk about how dark skin black girls have to wear armor and fight for every thought and opinion they have because they're used to being less than second rate. I want to talk about sexuality and how girls don't owe their sexual experience to anyone except who they want to have it with, boys too. I want readers to talk about how boys aren't given the same space to be emotionally vulnerable. I want readers to talk about different family dynamics; that family life can be loving and toxic and how that shit doesn't just go away because you joined a musical and sang a song.
That's the biggest thing. I want readers to talk about how life isn't fixed just because you got to the end of the book. That life goes on. It always goes on and the little problems will too.
Q: What was your last 5-star read?
A: I'm very much into graphic novels these days and the Awkward, Brave, Crush series by Svetlana Chmakova is a FAVORITE. I love the stories of everyday contemporary life, the emotional punches, the art, and the diversity. Honestly, her art is so moving I wish I could spend a day in her sketchbooks.
Q: Describe your main character in 3 words.
A: awkward, brave, beautiful
Q: Is there anything you can tell us about the book that is not a spoiler and not on the blurb? Something you'd like to share with us?
A: I will say, this story, while funny and light-hearted on the surface usually is making a statement about something serious in almost every scene. If you feel something positive or negative, you're supposed to feel something. These characters aren't role models or people you're supposed to agree with just because you like them. You're supposed to sometimes not agree and hopefully that will give you the courage to disagree with people in your life that like you like who do and say things that aren't quite okay. Also, hopefully it helps you to see that just because they have a perspective you disagree with, itt doesn't mean they are the root of all evil.
Ignorance, funny enough, is something we see in others because we too have it. So be careful putting people on pedestals, and be careful knocking them off too.
Q: How did you choose the title?
A: haha it was a wild ride. I wanted a title that summed up the book and SMASH IT means so many things from "You got this!" to "Sex" so I thought, it was the perfect way to say all of it in one phrase. The more you read the more you see the many layers of the title unravel.
***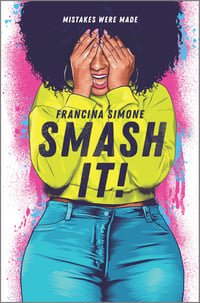 About the Book:
Refreshingly authentic and bold… Don't miss this smashing #ownvoices novel from Francina Simone, filled with heart, humor and a heroine to root for!
Olivia "Liv" James is done with letting her insecurities get the best of her. So she does what any self-respecting hot mess of a girl who wants to SMASH junior year does…
After Liv shows up to a Halloween party in khaki shorts—why, God, why?—she decides to set aside her wack AF ways. She makes a list—a F*ck-It list.
1. Be bold—do the thing that scares me.
2. Learn to take a compliment.
3. Stand out instead of back.
She kicks it off by trying out for the school musical, saying yes to a date and making new friends. Life is great when you stop punking yourself! However, with change comes a lot of missteps, and being bold means following her heart. So what happens when Liv's heart is interested in three different guys—and two of them are her best friends? What is she supposed to do when she gets dumped by a guy she's not even dating? How does one Smash It! after the humiliation of being friend-zoned?
In Liv's own words, "F*ck it. What's the worst that can happen?"
A lot, apparently.
#SMASHIT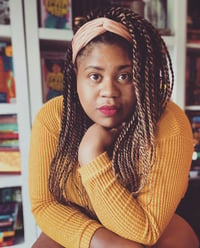 About the Author:
Francina Simone believes in one thing: authenticity. She writes YA stories full of humor and hard life lessons with sprinkles of truth that make us all feel understood. Her craft focuses on stories about girls throwing caution to the wind to discover exactly who they are and what it means to love. Francina is also known for her BookTube channel, where she discusses controversial topics in books.
Website ◊ Twitter ◊ Instagram ◊ Goodreads ◊ Youtube
Want to buy a copy of Smash It!? Please consider using one of these affiliate links to support the site: Amazon ◊ Apple Books ◊ Barnes & Noble ◊ Bookshop ◊ Kobo