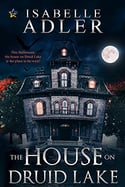 Many thanks to Isabelle Adler, who's not only written one of my most anticipated Spooky Season reads, but has also given us a list of other queer spooky reads!
Isabelle highlights a couple of other NineStar Press authors in this post, but I want to be sure you remember to look to them for Halloween, Christmas and other seasonal reads. I've found some really fun stuff there!
You can pick up her new book, The House on Druid Lake, on Monday, October 4th.
This post contains Amazon affiliate links, meaning Amazon might toss us a few pennies if you make a purchase.
***
The fall season is upon us, and this means it's time for pumpkin spice, cozy sweaters, and healthy heaping of horror! In preparation for Halloween and in honor of my newest release, The House on Druid Lake, I decided to compile a short list of my favorite queer horror stories that would cover your Halloween reads needs.
I'm going to start with something relatively short that packs a lot of punch! Speak with the Dead by Jacqueline Rohrbach is a can't-put-it-down novella about husbands Clarence and Bryant, who embark on all expense trip to visit family in Wisconsin with one unusual perk: Bryant's sister bought a room where you could supposedly see and speak to the dead. To their surprise, the room works as advertised, but not quite in the way everybody was expecting. What follows is a genuinely scary roller-coaster ride that manages to highlight the romance between the main characters despite the gory aspects. The writing is concise and elegant, with a dash of dark humor that I absolutely adore.
Pick Up a Copy: Amazon, NineStar Press, Goodreads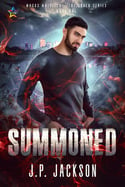 One of the newer releases is Summoned (Magus Malefica #1) by J.P. Jackson. This story is a fascinating and progressively dark foray into the realm of magic and the supernatural that exists just below the surface of the mundane world. The hero, Dev, is eager to unveil it, but when he finally does, he finds that his life will never be the same, for better or for worse. His family ties, friendships, and romantic entanglements are tested as the thing he wanted most threatens to destroy them all. I definitely recommend this book for lovers of dark and gritty urban fantasy, who like their horror elements with a dash of romance and a lot of heat.
Pick Up a Copy: Amazon, NineStar, Goodreads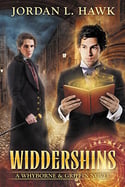 No rec list of LGBTQ horror would be complete without mentioning Jordan L. Hawk's Whyborne & Griffin Series with its unique queer take on cosmic horror. Described as "A gay Victorian wizard fights Lovecraftian monsters and finds true love", it follows the blood-chilling adventures of the scholar Percival Endicott Whyborne and his private detective lover, Griffin Flaherty, in the imaginary (and very magical) town of Widdershins, Massachusetts, over the course of eleven books, each more fascinating than the last.
Pick Up a Copy: Amazon, Goodreads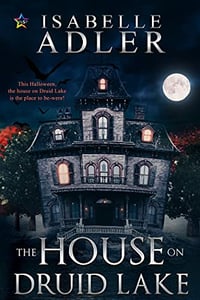 And, of course, you can always check out my newest Halloween M/M romance, The House on Druid Lake, to be published on October 4th by NineStar Press!
The story follows Oliver Foster, an aspiring young architect embarking on a successful career in Baltimore. When Oliver rents an apartment in an old Victorian house overlooking Baltimore's Druid Lake, he expects it to be quaint and shabbily charming. But as Halloween draws near and all things spooky come out to play, Oliver becomes convinced there is more going on at Lakeside Lodge than meets the eye. His neighbors are a whole new definition of quirky, and his enigmatic, gruff landlord is both intimidating and dangerously attractive. As it turns out, dark and sinister secrets lurk behind the house on Druid Lake's crumbling façade, and unearthing them might yet put Oliver's future—and his heart—on the line.
Pick Up a Copy: Amazon (affiliate link), NineStar, Goodreads
***
About the Author
A voracious reader from the age of five, Isabelle Adler has always dreamed of one day putting her own stories into writing. She loves traveling, art, and science, and finds inspiration in all of these. Her favorite genres include sci-fi, fantasy, and historical adventure. She also firmly believes in the unlimited powers of imagination and caffeine.
Email: info@isabelleadler.com
Twitter: @Isabelle_Adler
Website: www.isabelleadler.com
Goodreads
Amazon