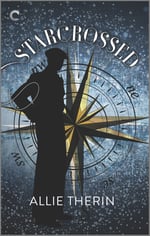 Did you catch Allie Therin's debut m/m 1920's paranormal romance last year? Because we did. If you read Spellbound, you'll want to get in on this giveaway of the sequel, Starcrossed. And if you didn't, now's a great time to grab that first book! (It's only $1.99 as I'm writing this on 5/5/20.)

If you're ready to catch up with Rory and Arthur, read on for an excerpt from Starcrossed and then scroll all the way down for a chance to win an advance digital copy of the book, out on 5/18.

Or if you just want to pre-order, here are some affiliate links:

Amazon, Barnes & Noble, Apple, Kobo

***

Excerpt from Chapter 6: Arthur has returned to his brother's Hyde Park estate and discovers no one has seen Rory in hours.

***

The staff hurriedly started to get to their feet as Arthur walked into their small basement dining room. He waved them to sit, more impatiently than he should have. "I'm not here to interrupt your dinners, don't get up."

He looked around the packed room, seeing the groundsmen crowded at the table closest to the fireplace, the Ivanovs squished in at the table with the nanny and the maids. But Victoria was right: Rory wasn't eating dinner. He wasn't in the kitchen at all.

Arthur frowned.

"What's wrong, dear?" came the voice at his side, and Arthur looked down to find Mrs. Brodigan. "You look worried."

"Have you seen Rory?"

She furrowed her eyebrows. "Not since this morning. But he must be around here somewhere." She paused, concern flashing in her eyes. "Mustn't he?"

Arthur pursed his lips. "If you see him, tell him I'm looking for him, would you?"

"Of course," she agreed. "You might check his room, if you haven't already. He's spent quite a bit of time hiding down there."

Hiding from having to make civil conversation with Harry? Certainly. Hiding from playing jacks with nine-year-old Victoria? Never.

If Rory was in his room and hadn't come out, he might have been sick. Or, in Rory's case, worse than sick.

Shit.

Arthur quickly backtracked from the dining room and out to the hall, the ceiling uncomfortably close to his head as he hurried to the other end of the basement. He knocked on the door of the room Rory had been given. "Rory?"

No answer.

He tensed, and inched the door open. "Teddy, are you all right?"

He'd braced himself to find Rory in the room, stuck in a vision.

But the room was empty.

Arthur furrowed his brow and opened the door all the way.

He hadn't been down here again since the day they'd arrived. As he stood in the doorway of Rory's room, his throat tightened. It was perfectly tidy, the bed made, Rory's bag tucked away underneath. It was about half the size of the children's rooms upstairs, with a single window just under the ceiling that showed the driveway in the last of the day's light.

Arthur set his jaw. It wasn't a bad room. Harry wasn't callous toward his staff, and everyone had clean rooms with decent furniture and plenty of heat in the winter. Frankly it was several steps above Rory's actual living space at his boardinghouse.

But it paled in comparison to the luxury of the room Harry had given Arthur, the best second-floor guest suite with a painted ceiling, private bathroom, and giant corner windows overlooking the Hudson River. Useless guilt rose in Arthur. Yes, he'd had to get four guests into his brother's home without raising too many questions, and he certainly couldn't afford any scrutiny about why he might have brought one guest in particular, not with his family breathing down his neck about his increasing age and long-standing lack of a partner.

But a man he was sleeping with still deserved better than the basement while Arthur himself slept in gilded luxury.

As Arthur's eyes adjusted to the darkness of the room, a small scrap of paper came into focus on the bedspread. He strode into the room and picked it up. A message from Mrs. Brodigan was written on one side, a clever bit of wording designed to convince Rory he could accept a gift.

Arthur flipped it over. Another message was lightly penciled on the back, in a shakier hand.

Went for a walk.

"A walk?" Arthur sat on the edge of Rory's neatly made bed, next to a small box that was just the right size to hold the compass Harry had offered Rory. He stared at Rory's handwriting on the note, his stomach twisting with unease. Rory didn't take breaks, let alone walks. And even if Rory had understandably wanted to enjoy the countryside one last time before they went back to the city, he would have come back to keep his promise to Victoria.

Soft footsteps fell in the hall, and a moment later, Pavel poked his head around the doorframe like a curious cat.

Arthur swallowed. "I can't find Rory," he quietly admitted.

***

About the Book:

When everything they've built is threatened, only their bond remains…
1925 New York
Psychometric Rory Brodigan's life hasn't been the same since the day he met Arthur Kenzie. Arthur's continued quest to contain supernatural relics that pose a threat to the world has captured Rory's imagination—and his heart. But Arthur's upper-class upbringing still leaves Rory worried that he'll never measure up, especially when Arthur's aristocratic ex arrives in New York.
For Arthur, there's only Rory. But keeping the man he's fallen for safe is another matter altogether. When a group of ruthless paranormals throw the city into chaos, the two men's strained relationship leaves Rory vulnerable to a monster from Arthur's past.
With dark forces determined to tear them apart, Rory and Arthur will have to draw on every last bit of magic up their sleeves. And in the end, it's the connection they've formed without magic that will be tested like never before.

Starcrossed releases on May 18, 2020. Ready to buy a copy? Pick up at: Amazon, Barnes & Noble, Apple, Kobo

About the Author:

Allie Therin is a writer and avid reader of sci-fi, fantasy, and romance. She also is, or has been, a bookseller, an attorney, a Parks & Rec assistant, a boom operator, and a barista for one (embarrassing) day. Allie grew up in a tiny Pacific Northwest town with more bears than people, although the bears sadly would not practice Spanish with her.

Now for the giveaway!

Must be 18 or older to enter. No purchase necessary to win. Open internationally.

Giveaway runs from 5/12/20 to 5/16/20. Winner will be notified by email. Review copy comes directly from the author, so winner's email address will be provided to Allie Therin, but will not be shared or added to any mailing lists.

.
No giveaway accounts.
If you cannot use the widget below, please click here.