Today we're sharing a little about Marisa Kanter's debut, What I Like About You, a young adult romantic comedy that uses the secret identity trope... and a giveaway courtesy of the publisher!

Before we get into the blog tour-ish stuff, here are some thoughts on the story (review coming when I have a brain again):
Three things that make What I Like About You a good reading choice "in these uncertain times":
Text exchanges, DMs, and Twitter. Isn't this how we're all living right now? Halle's parents are shooting a documentary on location, so she's living with her grandfather and texting a lot with her parents. It's funny.
Reads like a teen rom-com. Warning: you will want to watch a bunch, bad choices, miscommunications and all.
Cupcakes. A lot of them.
And because we want to make sure you enjoy what you're reading, a couple of notes to help you make the right choice for you:
The book is pretty meta. Kels/Halle is a book blogger and granddaughter of a successful woman in publishing who recently passed away. Books are a huge part of her life and her online relationship with Nash.
Miscommunications and straight-up lying. Halle decides in the first chapter that she won't tell Nash who she is. Like "She's All That" and "10 Things I Hate About You," one person knows what's going on the whole time and the other is being deceived. If you don't like that? You won't like this. But it felt classic to me, with an update for a new generation.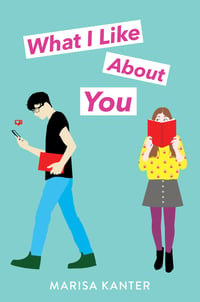 About the Book:
Can a love triangle have only two people in it? Online, it can…but in the real world, its more complicated. In this debut novel that's perfect for fans of Jenny Han and Morgan Matson, Marisa Kanter hilariously and poignantly explores what happens when internet friends turn into IRL crushes.
Is it still a love triangle if there are only two people in it?
There are a million things that Halle Levitt likes about her online best friend, Nash.
He's an incredibly talented graphic novelist. He loves books almost as much as she does. And she never has to deal with the awkwardness of seeing him in real life. They can talk about anything…
Except who she really is.
Because online, Halle isn't Halle—she's Kels, the enigmatically cool creator of One True Pastry, a YA book blog that pairs epic custom cupcakes with covers and reviews. Kels has everything Halle doesn't: friends, a growing platform, tons of confidence, and Nash.
That is, until Halle arrives to spend senior year in Gramps's small town and finds herself face-to-face with real, human, not-behind-a-screen Nash. Nash, who is somehow everywhere she goes—in her classes, at the bakery, even at synagogue.
Nash who has no idea she's actually Kels.
If Halle tells him who she is, it will ruin the non-awkward magic of their digital friendship. Not telling him though, means it can never be anything more. Because while she starts to fall for Nash as Halle…he's in love with Kels.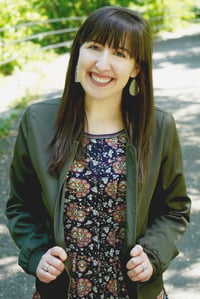 About the Author:

Marisa Kanter has worked in publicity for major publishers and covered YA books for MTV. Currently, she works in sales, on the distribution side of the publishing industry. She can often be found searching for the best iced chai in NYC, or reading on the 3 train. What I Like About You is her first novel. Follow her at marisakanter.com
[Photo credit: Sam Cheung]
***
And now for the giveaway!
This giveaway is sponsored by Simon & Schuster Children's Publishing. The winner's mailing address will be provided to S&S for shipping. US only.
Runs from now through Monday, April 20, 2020.
Love in Panels is not being compensated for this giveaway, but we did receive a copy of the book for review.
Use the widget below to enter, or click here:
Good luck!