Somehow we've ended up in April. I'm not sure how it happened but one moment I was looking forward to burying 2019 out in the desert like a Las Vegas mobster and then the next I'm trying to figure out how to do my job in a post-COVID-19 world. On the bright side, I'm past a string of books I was obligated to read for various reasons and I'm diving head first into comfort reading. For me that means category romance, mysteries and historical romance. Because nothing will take me away faster than a time period I'm not currently living in. Here are some of the unusual historicals landing in April that caught my browsing eye.
This post contains affiliate links.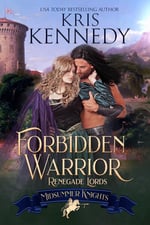 Forbidden Warrior, by Kris Kennedy

An Irish warrior takes an arrogant heiress captive to ensure a debt is paid. What could possibly go wrong?
Irish warrior Máel has come to a grand tournament to collect what's due him from a scheming noble lord. When the baron cannot--or will not--pay, Máel takes the one thing the man holds dear: his beautiful, arrogant daughter, Cassia.
Lady Cassia d'Argent has no time for warriors.
Heiress to a barony, she knows her value: a pawn. She intends to make the most of it. Her wily father plans to wed her off to the highest bidder at the tournament, and Cassia will finally achieve her dream: a chivalrous knight in glittering armor to honor and esteem her.
Only Máel is nothing like her dreams. He is bold, outspoken, has furs on his bed, and awakens a desire inside her more dangerous than a thousand swords.
What if this man becomes the dream she never dared to dream?
What if her father never pays the debt?
Worse...what if he does?
Can she rely on an outlaw to be more chivalrous than a knight?
Kennedy is a criminally underrated historical romance author with an RWA Golden Heart on her resume. She writes what I call Very Medieval Medievals - which is to say the only way she'd know wallpaper is if she moonlighted as an interior designer. This is the first book in a multi-author series, so more medieval tournament fun is on the horizon.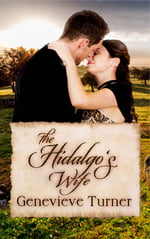 The Hidalgo's Wife, by Genevieve Turner

Pick Up a Copy: Amazon, Apple Books, Barnes & Noble, Kobo
He wants a lady, not a temptation…
When Alejandro Vasquez sends for a wife from Mexico City, the glittering capital of New Spain, he imagines a lady of refinement and breeding—not an enchantress who tests his iron will. With secrets to protect, he's determined to resist her allure and keep his carefully constructed life from falling to pieces.
The California frontier is nothing like home…
Josefa expects to find adventure and a long-awaited family to call her own when she agrees to marry Alejandro. But Alta California is shockingly unrefined—no society, no watercolors, no books. At least her husband is the perfect gentleman… and utterly distant and unapproachable, in and out of the bedroom. Josefa refuses to settle for anything less than the passionate union of her dreams, and she'll do whatever it takes to set her husband's heart free.
But secrets and danger lurk, threatening to tear their newly formed bonds apart. Will they cling to their safe illusions about what love should be or dare to seize a future beyond their wildest imaginings?
A lady used to the refinement of Mexico City and eager for family finds herself in backwater California with a distant husband. No matter, we know that these are mere bumps in the road for an intrepid romance heroine! Turner writes in an era of California history that has largely been ignored in historical romance - western fans should take note.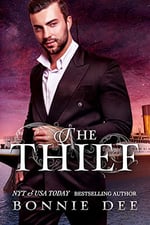 The Thief, by Bonnie Dee

Pick Up a Copy: Amazon
Street hustler Jody plays any role that will win the confidence of a mark. His sights are set on Lord Cyril Belmont, a potential ticket to financial freedom that could change Jody's life. With a fake investment scheme in mind and larceny in his heart, he sets a snare for the wealthy gentleman.
Cyril Belmont may have a title but he's as broke as a china plate and on the verge of selling his dilapidated country estate to start a new life in America. When his quiet, solitary life is invaded by a bright, passionate man who sets his head spinning, Cyril is ready to share whatever he has with the electrifying stranger—including the deepest recesses of his heart.
As Jody begins to cultivate inexplicable feelings for the sweet, gentle man who raises rare orchids, he intends to end his seduction and slink back to the ghetto. But then his cover is blown and the budding romance is crushed.
It takes an ocean voyage and several unexpected twists of fate to bring two strangers to a true understanding of each other and the very real bond they share.
Set in the early 20th century, a conman hero falls for his not-so-wealthy mark. This one promises plenty of intrigue, secrets and there's a ton of potential angst dripping between the lines of this back cover blurb. Plus there's an ocean voyage!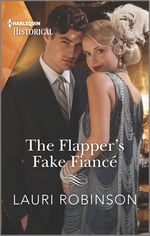 The Flapper's Fake Fiancé, by Lauri Robinson

Pick Up a Copy: Amazon, Barnes & Noble, Apple Books, Kobo
An inconvenient attraction…
To her convenient fiancé!
Patsy Dryer may be a biddable heiress by day, but nothing will stop her from dancing all night in Hollywood's speakeasies—or fulfilling her dream of becoming a reporter. She's investigating the mystery of an escaped convict with brooding, handsome newspaper editor Lane Cox…until they must pretend to be engaged! With their scoop linked to Lane's tragic past, dare Patsy hope for a happy ending for their own story, too?
Good girl with a rebellious streak finds herself in a pretend engagement in order to ferret out a story. Heroine reporters can go wrong in a lot of ways, but I see promise in this back cover blurb (it sounds like the heroine knows how to play the game!) and a brooding, handsome newspaper editor with a mystery attached? I'm in.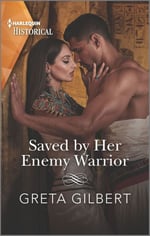 The Warrior Knight and the Widow, by Ella Matthews

Pick Up a Copy: Amazon, Barnes & Noble, Apple Books, Kobo
Protected by The Beast…
Undone by the man
Racing cross-country pursued by danger, widow Lady Ellena Swein isn't pleased to be taken back to her father's castle. But with his knight Sir Braedan Leofric, also known as The Beast, as her captor, she has little choice! Ellena is surprised by his honorable and protective nature, even if she shouldn't trust him. And when all seems to conspire against them, Braedan's secret could either extinguish the spark between them—or make it burn brighter…
Another medieval for April, this one from debut author Ella Matthews. This is book 1 in a two-book deal with Harlequin Historical and features an Beauty & the Beast trope with a dash of enemies-to-lovers and road romance for good measure. All of it Wendy Catnip.
***
What Unusual Historicals are you looking forward to reading this month?
You can find Wendy on Twitter or read her blog here.