We're almost through 8 months of the hellscape that is 2020, congratulations I guess? It's something to wake up every day and wonder what new WTF'ery awaits us, and given the stress of, you know, life right now I'm doing my best to snatch moments of joy where I can. Which, hello, books are my go-to for that. Well, and wine - but books aren't bad for my liver.
So let's look at what indulgences caught my eye this month:
This post contains affiliate links which support the site.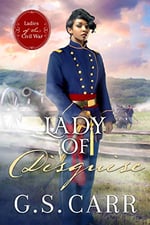 Lady of Disguise, by G.S. Carr

Pick Up a Copy: Amazon
***
Death and deception are the backbones of war.​
Find a way to make a difference for the Union. This is the agreement Ruth Allen made with her best friends. The reason she disguised herself as a man and enlisted as a soldier in the War among States. The reason she met Gabriel, a Confederate deserter. Logic told her to kill him, but something wouldn't let her.
Gabriel Bailey couldn't continue killing for a cause he didn't believe in. He didn't have a plan when he left his regiment and went on the run, but fate did. Ruth should have killed him. Instead, she spared him. For now.
Can two people from opposite sides of the divide put aside their differences to find love despite being enemies?
***
This is the second book in Carr's Ladies of the Civil War series and honestly this plot can go one of two ways: it'll either be a disaster or full of all sorts of awesome. Looking at that cover? I'm hoping for awesome. Plus I'm curious to find out why our hero is fighting for the Confederacy when he doesn't believe in the cause - there's a story there for sure!
***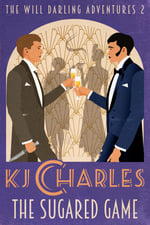 The Sugared Game, by K.J. Charles

Pick Up a Copy: Amazon ◊ Apple Books ◊ Kobo
***
It's been two months since Will Darling saw Kim Secretan, and he doesn't expect to see him again. What do a rough and ready soldier-turned-bookseller and a disgraced, shady aristocrat have to do with each other anyway?
But when Will encounters a face from the past in a disreputable nightclub, Kim turns up, as shifty, unreliable, and irresistible as ever. And before Will knows it, he's been dragged back into Kim's shadowy world of secrets, criminal conspiracies, and underhand dealings.
This time, though, things are underhanded even by Kim standards. This time, the danger is too close to home. And if Will and Kim can't find common ground against unseen enemies, they risk losing everything.
***
Set post-World War I, Charles' second book in the Will Darling series finds our bookseller hero separated from aristocrat of dubious reputation, Kim Secretan for two months - only to have the man reappear at the most unexpected moment.
***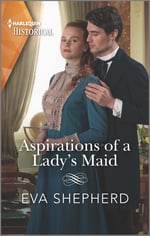 Aspirations of a Lady's Maid, by Eva Shepherd

Pick Up a Copy: Amazon ◊ Apple Books ◊ Barnes & Noble ◊ Bookshop ◊ Kobo
***
Separated by class
Brought together by passion
Having finally fulfilled her dream of opening a hairdressing parlor, Nellie Regan has no interest in love ruining her plans. After Nellie is caught mocking landowner Dominic Lockhart's lifeless engagement to Lady Cecily, she's not expecting him to defend her in a tavern brawl. Now the frustratingly handsome gentleman must recuperate in her home! Close quarters stir simmering attraction…but Nellie's determined to follow her head, not her heart. Is Dominic willing to do the same?
***
OMG, a working heroine who owns her own hairdressing salon? I honestly can't think of the last time I've seen that in a historical romance (OK, never). I'm a sucker for a cross-class romance and Shepherd is a new-to-me-author. This looks promising.
***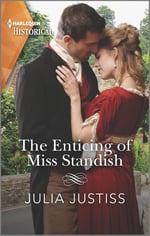 The Enticing of Miss Standish, by Julia Justiss

Pick Up a Copy: Amazon ◊ Apple Books ◊ Barnes & Noble ◊ Bookshop ◊ Kobo
***
A meeting of minds…
But a most unsuitable match!
When lady's companion Sara Standish meets Cameron Fitzallen, he has his jacket off and he's mending mill machinery. He is manly, capable—though it's most improper for him to set her heart aflutter! He is a mill owner—trade—after all. They share the same aim to help impoverished children, but in the eyes of the ton, she must not mix with him. That doesn't stop her craving his company, or his touch…
***
Justiss has a long backlist and is a reliable writer, having enjoyed her books in the past. This third book in the Cinderella Spinsters series features a lady's maid falling for a mill owner. More cross-class conflict - sign me up!
***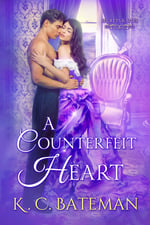 A Counterfeit Heart, by K.C. Bateman (Reprint)

Pick Up a Copy: Amazon ◊ Apple Books ◊ Barnes & Noble ◊ Kobo
***
A feisty counterfeiter and a cocky British agent clash in this sultry Secrets and Spies novel by K. C. Bateman, whose witty, intelligent, and sexy historical romances have become her signature.
As Sabine de la Tour tosses piles of forged banknotes onto a bonfire in a Paris park, she bids a reluctant farewell to her double life as a notorious criminal. Over the course of Napoleon's reign, her counterfeits destabilized the continent and turned scoundrels into rich men, but now she and her business partner must escape France—or face the guillotine. Her only hope of surviving in England is to strike a deal with the very spy she's spent her career outrunning. Now after meeting the arrogant operative in the flesh, Sabine longs to throw herself upon his mercy—and into his arms.
Richard Hampden, Viscount Lovell, is prepared to take any risk to safeguard England from the horrors of the French Revolution. To lure the insurgents out from the shadows, he's even willing to make a pact with his archenemy: Philippe Lacorte, the greatest counterfeiter in Europe. But when a cheeky, gamine-faced beauty proves herself to be Lacorte, Richard is shocked—and more than a little aroused. Unlike the debutantes who so often hurl themselves at him, this cunning minx offers a unique and irresistible challenge. Richard will help her. But in return, he wants something that even Sabine cannot fake.
***
Originally published by Loveswept in 2017 (check your TBR!) rights have reverted back to the author and we've now got a self-published edition. This is the third book in a series that I obviously missed the first go-around. Yes, the hero is a spy blah, blah, blah - but a counterfeiter heroine! And naturally the hero is such a man it doesn't cross his mind that the notorious counterfeiter he has spent a career hunting is….well, a woman. HOW DID I MISS THIS THE FIRST TIME AROUND?!?!
***
What Unusual Historicals are you looking forward to reading?
You can find Wendy on Twitter or read her blog here.