Well Romancelandia, we made it. 2019 somehow managed to flit by in a second and still feel like the longest year in recorded human history. It's been a rough year for a lot of folks, but I hope that you were able to snatch a few moments of joy and that nothing but blue skies are ahead for 2020. Let's blow this popsicle stand by taking a gander at some of the unusual historicals that caught my eye for December.
This post contains affiliate links.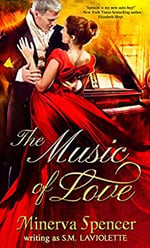 The Music of Love, by Minerva Spencer

Pick Up a Copy:

Am

a

zon

(Kindle Unlimited)
Finding out that her husband was a bigamist didn't devastate Portia Stefani; she held her head high when she forced him out of her life. But losing her beloved music school as a result of the traitorous bastard's gambling debts almost destroyed her. The only way she'll be able to make ends meet is to accept a lucrative tutoring position in remote Cornwall. What Portia hasn't anticipated is the life-altering impact that her mesmerizing new employer has on her.
Stacy Harrington learned the hard way to keep people at a distance. Playing the piano is the only thing that makes his solitary life enjoyable these days, and he'll be damned if he allows his albinism to keep him from everything he loves. Bringing a private music tutor into his home is disruptive, but it's the only solution. Unfortunately, nothing could have prepared him for the overwhelming attraction he feels toward his fiery new employee.
It's not long before a shared passion for music develops into something infinitely deeper. But when ghosts from the past—along with some very dark secrets—emerge to threaten everything they've built, can Stacy and Portia continue to make beautiful music together? Or will their happily ever after end on a painful, discordant note?


This is the start of a new series, with Spencer writing as "S.M. LaViolette." I am a sucker for musicians in historical romance and the description of this one has me positively swooning - with a heroine done wrong, a solitary hero, and "ghosts from the past" promising plenty of angst.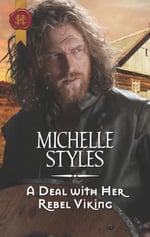 A Deal With Her Rebel Viking, by Michelle Styles

Pick Up a Copy: Amazon, Barnes & Noble, Apple Books, Kobo
Her terms: free her family
His terms: seduction?
Defending her home, Lady Ansithe captures outlaw Viking Moir Mimirson. The prisoner will be the ideal ransom for her father, who's being held hostage by the Danes. Yet Moir's flirtatious negotiations exhilarate practical Ansithe as much as they surprise her… Can she be sure that this hardened warrior will work with her and not betray her? And what of his stolen kisses—can she trust those?


I love when romance is subversive and flips the power dynamic on its ear - so anytime I can get a heroine who is holding the hero captive that's enough to make my ears perk up. Desperate to free her father, the heroine needs to decide if she can trust her Viking captive which...good luck with that girl!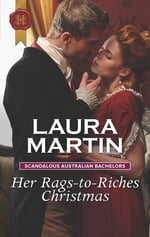 Her Rags to Riches Christmas, by Laura Martin

Pick Up a Copy: Amazon, Barnes & Noble, Apple Books, Kobo
A Christmas miracle rescue!
But dare she wish for more?
A Scandalous Australian Bachelors story. Wrongfully convicted and transported to Australia, Alice Fillips is saved from public flogging by wealthy landowner George Fitzgerald. Working as a domestic servant at his farm feels worlds away from her old life. But as the connection between her and George boils over, she's torn between her fear of trusting anyone…and the tantalizing glimpse of the fresh start this man could offer…


This is the third book in the Scandalous Australian Bachelors series, which somehow has managed to escape my attention before now. I suspect because the first two books take place in Merry Ol' England, and this story actually has our hero heading back to Australia. The change of pace on the setting is enough for me to give this one a whirl.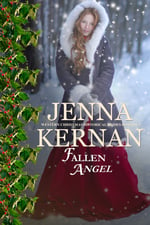 Fallen Angel, by Jenna Kernan (novella)

Pick Up a Copy: Amazon, Barnes & Noble, Apple Books, Kobo
HIS BULLET … HIS RESPONSIBILITY
Caught in crossfire between a bounty hunter and an outlaw, widowed mother, Abby March, catches a bullet in the shoulder. The Christmas tree she and her son were cutting is forgotten as they fall under the care of a dangerous stranger. As she recovers, she finds that Ford Statler hides his softer side and has suffered the kind of loss she well understands. As Christmas, and their parting approach, she wonders if they could have so much more than a happy Christmas together.
Since the loss of his wife and child, Ford Statler lives a reckless existence. He's always known a mistake would be costly, but never intended to harm an innocent. Now he's made his bounty but missed seeing the small woman that the murderous outlaw held before him until it was too late. Saddled with the responsibility for an injured woman and boy, he finds himself longing to provide them with so much more than a Christmas to remember.


Originally published in a Harlequin Historical western Christmas anthology, this story is now self-published and available for the first time as a separate novella. I enjoyed this when I first read it back in 2007, with a hero thrust into a caregiver role and the couple sharing close quarters.
What Unusual Historicals are you looking forward to reading?