When the previous home of the Unusual Historicals column, Heroes & Heartbreakers, folded in late 2017 I opted to keep up the monthly feature on my personal blog. Then in early 2018, another former H&H'er, Suzanne, proposed that I cross-post the feature on her blog, Love in Panels. I agreed: 1) because I like Suzanne [Editor's note: awww shucks] 2) because I'm passionate about "unusual historicals," and 3) the more eyeballs that got on this column the better.
Now here we are in 2020, the longest year on record, and this will be the last column featured on LiP. Both Suzanne and I have been evaluating our respective blogs of late and have come to the mutual decision to discontinue the cross-posting of this column. However, Unusual Historicals will continue to have a home on my personal blog. I want to thank Suzanne and the entire LiP crew for hosting this column the past two years and for promoting historical romances that are about more than the terrible Almack's lemonade. Onward and upward to what surely has to be a better year in 2021!
This post contains affiliate links which support the site.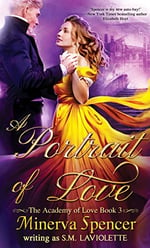 A Portrait of Love, by Minerva Spencer


Pick Up a Copy: Amazon (Kindle Unlimited)

***

Honoria Keyes isn't the gawky, impressionable fifteen-year-old girl she was when she first met Simon Fairchild. Twelve years have passed, and she's a successful artist, enjoying her independence to the fullest. Simon has changed, too. Gone is the beautiful, gentle boy of Honoria's dreams. In his place is a dangerous, damaged man intent on avoiding human contact—and emotions. It would be unthinkable to fall for this difficult, wounded recluse. But then again, Honoria has never been one to do things the easy way …

Simon returned from Waterloo a bitter, broken shell of the man he once was. As if his scarred body and mind aren't bad enough, he's also financially dependent on his brother, the duke, while he convalesces. The duke's fondest wish is for Simon to marry and produce an heir—something Simon has no intention of doing. The one thing he never anticipated? All the unwanted feelings the lovely, talented, and infinitely intriguing Honoria would awaken in him …

Can Honoria and Simon heal the wounds of the past and build a life together? Or will their attempt at happily ever after end up a portrait of failure?

***

Spencer continues The Academy of Love series with what appears to be a spin around The Beauty and the Beast block, with a reunited trope tossed in for good measure. This sounds dark, angsty and right up my alley.

***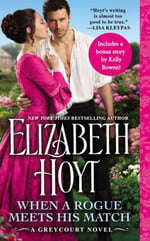 When a Rogue Meets His Match, by Elizabeth Hoyt

Pick Up a Copy: Amazon, Barnes & Noble, Bookshop, Kobo
***
Ambitious, sly, and lethally intelligent, Gideon Hawthorne has spent his life clawing his way up from the gutter. For the last ten years, he's acted as the Duke of Windemere's fixer, performing the duke's dirty work without question. Now Gideon's ready to quit the duke's service and work solely for himself. But Windermere tempts Gideon with an irresistible offer: one last task for Messalina Greycourt's hand in marriage.
Witty, vivacious Messalina Greycourt has her pick of suitors, so when her uncle demands Messalina marry Mr. Hawthorne, she is appalled. But Gideon offers her a devil's bargain of his own: protection and freedom in exchange for a true marriage. Messalina feigns agreement and plots to escape their deal. Only the more time she spends with Gideon, the more her fierce, loyal husband arouses her affections. But will Gideon's final deed for Windemere destroy the love growing between them?
***
The second book in Hoyt's Greycourt series features a hero who is "a fixer." In Georgian era England. And for years of loyal services he's getting...the heroine. The heroine who doesn't seem all that crazy about the idea. I'll be honest, this one had me at "fixer."
***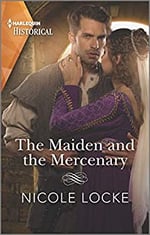 The Maiden and the Mercenary, by Nicole Locke

Pick Up a Copy: Amazon

***
Keep your friends close…
But your enemies closer?
In order to find a legendary treasure map, mercenary Louve of Mei Solis must infiltrate his enemy's fortress under the guise of a servant. There, Louve meets beautiful maiden Biedeluue, a fellow servant with her own hidden agenda…to save her sister from the malevolent lord's clutches! Their high-stakes missions may be at odds with one another, but their attraction cannot be denied even in this most dangerous of situations…
***
December seems to be the month for hidden agendas and dubious motives, and I am here for it! Locke continues to mine her medieval world with a romance between two people with plenty of secrets between them.
***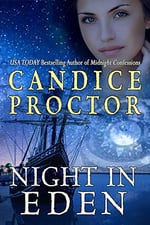 Night in Eden, by Candice Proctor

Pick Up a Copy: Amazon

***
The unforgettable, inspiring story of a remarkable woman's struggle to survive in a strange new world, and of the enigmatic man to whom she is bound . . .
Born wild and free in a comfortable house overlooking the storm-battered cliffs of Cornwall, Bryony Wentworth's life is shattered when she is accused of killing her husband. Transported as a convict to Botany Bay in 1808, Bryony finds herself in a harsh, unfamiliar land, where almost everything she once held dear—home, freedom, and children—has been taken from her. All she has left are her self-respect and inner strength, and a powerful will to survive.
Assigned to a former cavalry captain with a motherless infant son and a sprawling estate on the banks of the Hawkesbury River, Bryony finds herself facing a life that is simultaneously wild, frightening, and filled with temptation. Captain Hayden St John, the powerful landowner to whom Bryony is given, is a hard man haunted by loss and the ghosts of the past. Yet as he finds himself inexorably drawn to this proud, defiant woman, Hayden slowly comes to realize that she might well prove to be his last chance at salvation.
Set against the ruggedly beautiful landscape of colonial Australia and filled with the memorable characters for which Candice Proctor has become famous, this is a poignant, spellbinding tale of suppressed desire and raw passion, of suffering and triumph and the indomitable spirit of the heart.
***
Probably best known for the Sebastian St. Cyr historical mysteries written under her C.S. Harris name, Proctor's celebrated historical romances are seeing the light of day with new digital editions. First published in 1997, Night in Eden was celebrated back in the day and continues to pop up on long-time romance readers' best-of lists. A heroine wrongly convicted of murdering her husband is transported to Australia where she finds a new life, and a new love with a man haunted by his own personal demons.
******
What Unusual Historicals are you looking forward to?
You can find Wendy on Twitter or read her blog here. Wendy will still be publishing these over on her blog, so please seek them out!