Here we are in February 2020 and I feel like this year is out to get me. I'm starting to take it personally. My reading so far has been fairly lackluster and the continued RWA crisis has now devolved into me keeping a small pillow on my desk for fear of repeated concussions. Hey, at least I have half-priced Valentine's Day candy and a new crop of unusual historicals to cheer me up.
Here are the February publications catching my eye:
This post contains affiliate links.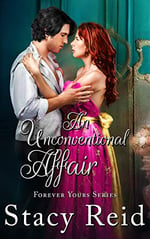 An Unconventional Affair, by Stacy Reid

Pick Up a Copy: Amazon (Kindle Unlimited)
Maximillian Langdon, Earl Kentwood, is the author of the ton's most salacious erotic literature: A guide to passionate romps between a lord and his lady. His name whispers on the tongues of gentlemen and ladies in shocked and admiring tones. Everyone believes he is London's greatest lover, except Lord Kentwood is still a virgin. Now he's determined to rectify that situation before being revealed as a fraud, and London's latest on dit!
With a reputation forever tarnished by scandal, Lady Amelie Weatherston is resigned to an unfulfilled life. She is also a member of a secret widow's club. Her mission: to seduce London's most delectable lover and report her findings to help her wicked widow friends keep their protectors happy! A passionate affair de Coeur starts and for a time banishes the loneliness in her heart. The earl of debauchery is not what he seems, and Amelie finds herself falling in love with a man who might never see her as more than a wicked widow not worthy of his heart.
Get. In. My. Eyeballs. Now. Yes, we've all read this story before but Reid takes it, flips the script, and puts the shoe on the opposite genders' foot. The virgin hero (not heroine) writing salacious novels. The rakish heroine (not hero) who has been tasked with unmasking the debauched writer's secrets. Gimme, gimme, gimme.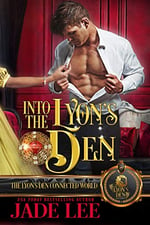 Into the Lyon's Den, by Jade Lee

Pick Up a Copy: Amazon (Kindle Unlimited)
Intrigue makes for strange bedfellows...
Elliott, Lord Byrn, often found himself in strange places, but none is more bizarre than the infamous Lyon's Den gaming house in a tony part of London. The gambling doesn't surprise him, nor the salacious things rumored to happen in the upstairs rooms. What shocks him is a slip of a girl jeweler/fence who bargains with him over a missing brooch. He needs her to refashion the thing before anyone else realizes it is missing and she drives a hard bargain.
Harder than he can imagine...
Amber Gohar lives her days in the gray world of a gambling hell, but she dreams of escaping into the vibrant world of the ton. When the opportunity arises for her to spend just one night at a society ball, she grabs it with both hands, never expecting that she would also be taking hold of a man who set her heart on fire. But once she realizes what she's done, she won't let go. She can't. Happily ever after doesn't come easily, or for free, in the world of The Lyon's Den.
How these two unlikely bedfellows discover their best bargain will set both the ton, and The Lyon's Den, on fire.
A hero with his back against a wall and a heroine who drives a hard bargain to parlay her way into catching a glimpse of life among society's elite. The promise of built-in tension with a cross-class romance and how the author is going to work that into a happy ending is always something I'm intrigued by.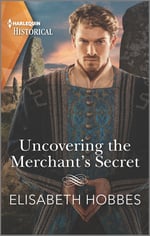 Uncovering the Merchant's Secret, by Elisabeth Hobbes

Pick Up a Copy: Amazon, Barnes & Noble, Apple Books, Kobo
A man with no past… could she hold the key to his future?
Shipwrecked merchant Jack Langdon wakes with no memory and steals a kiss from a beautiful stranger—widow Blanche Tanet. As he recovers in her castle, passion flares between them. Jack's fascinated by her independence and courage but, discovering his identity is not what it seems. Jack must first uncover the secrets of his own past if they're to have a future together…
I like medievals but to be brutally honest, it's a lot of knights. Hobbes is one of my go-to authors writing in this time period and hello there, we have a merchant hero with amnesia! And a widowed heroine! And flaring passions! Huzzah!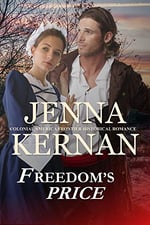 Freedom's Price, by Jenna Kernan

Pick Up a Copy: Amazon (Kindle Unlimited)
Gritty, sweeping tale of love, resilience and tenacity in the New World wilds of Virginia.
To survive on his newly cleared land outside Jamestown, Thomas Deed needs a field hand, not a wet-nurse. But instead of doing the rational thing, he fulfills a deathbed promise to protect his sister's son, borrowing against his land to acquire a woman to care for the babe. Mary Price surprises him, adapting to her harsh surroundings and quickly becoming a godsend.
Newly arrived mother, Mary Price, must stay with Deed during the term of her service or lose all hope of reunion with her sister. She vows to work so hard that he will never give her up but succeeds in ways she never expected. As they struggle against the wilderness, his spirit to protect and provide for her and the babes stirs her to unrealized desire and makes her long to stay at his side.
But when fate tests them both, will Deed give her up or find a way to keep her for a lifetime?
Kernan wrote this book on the advice of an editor who suggested she try a different time period. What the editor failed to mention was that the publisher wouldn't buy anything in the American Colonial time period. However it was too late, Kernan was hooked on the idea and completed the book even though she was advised by nearly everybody that the audience for such a book would be too small. Well here's your chance colonial fans! Prove 'em wrong!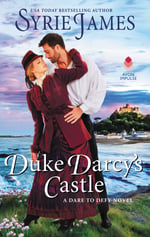 Duke Darcy's Castle, by Syrie James

Pick Up a Copy: Amazon, Barnes & Noble, Apple Books, Kobo, Bookshop
Lance Granville, the Tenth Duke of Darcy, was none too happy to give up his career in the Royal Navy to inherit the family title, complete with an ancient castle he needs to renovate. When an architect arrives on his doorstep, Darcy is astonished to discover that she's a woman.
Kathryn Atherton has one goal: to become the first woman architect in Britain. Marriage doesn't figure in her plans. Despite the odds, her schooling is behind her. Now she needs experience. When she's sent to a small tidal island in Cornwall to remodel a castle, the last thing Kathryn wants is to be attracted to its roguishly handsome owner.
Kathryn is determined to keep things professional, but the sizzling attraction between her and the duke quickly blazes out of control. When Darcy learns that Kathryn is an heiress whose fortune would save St. Gabriel's Mount, he wages the most important battle of his life: to woo and win the woman who's captured his heart. But duchesses can't be architects. And Kathryn has worked too long and too hard to give up her dreams…
Two words: Lady. Architect. OK, two more words: Ancient. Castle. One word: Swoon.
What Unusual Historicals are you looking forward to this month?
You can find Wendy on Twitter or read her blog here.