After a strange, upended spring, we now find ourselves in a strange, upended summer with most of us wondering what the heck autumn will bring. How much is my budget going to tank at the library? Will the kids be back in a traditional classroom setting come September? When might life feel normal enough to take a couple of vacation days again? Uncertain times call for snatching moments of joy when you can - and I think I speak for most of Romancelandia when I say books are a great way to find some joy. Here are some unusual historicals releasing in June that caught my eye:
This post contains affiliate links which support the site.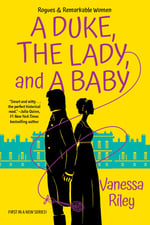 A Duke, the Lady and a Baby, by Vanessa Riley

Pick Up a Copy: Amazon ◊ Apple Books ◊ Barnes & Noble ◊ Bookshop ◊ Kobo
***
Created by a shrewd countess, The Widow's Grace is a secret society with a mission: to help ill-treated widows regain their status, their families, and even find true love again—or perhaps for the very first time . . .
When headstrong West Indian heiress Patience Jordan questioned her English husband's mysterious suicide, she lost everything: her newborn son, Lionel, her fortune—and her freedom. Falsely imprisoned, she risks her life to be near her child—until The Widow's Grace gets her hired as her own son's nanny. But working for his unsuspecting new guardian, Busick Strathmore, Duke of Repington, has perils of its own. Especially when Patience discovers his military strictness belies an ex-rake of unswerving honor—and unexpected passion . . .
A wounded military hero, Busick is determined to resolve his dead cousin's dangerous financial dealings for Lionel's sake. But his investigation is a minor skirmish compared to dealing with the forthright, courageous, and alluring Patience. Somehow, she's breaking his rules, and sweeping past his defenses. Soon, between formidable enemies and obstacles, they form a fragile trust—but will it be enough to save the future they long to dare together?
***
Riley's latest kicks off a series about a secret society that comes to the aid of mistreated widows and features a done-wrong heroine who loses everything when she dares to question the circumstances of her husband's death. A mystery, a headstrong heroine, and a wounded hero. Sign me up!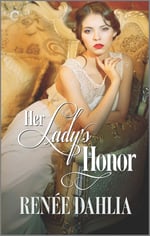 Her Lady's Honor, by Renee Dahlia


Pick Up a Copy: Amazon ◊ Apple Books ◊ Barnes & Noble ◊ Kobo

***

The war might be over, but the battle for love has just begun.

When Lady Eleanor "Nell" St. George arrives in Wales after serving as a veterinarian in the Great War, she doesn't come alone. With her is her former captain's beloved warhorse, which she promised to return to him—and a series of recurring nightmares that torment both her heart and her soul. She wants only to complete her task, then find refuge with her family, but when Nell meets the captain's eldest daughter, all that changes.

Beatrice Hughes is resigned to life as the dutiful daughter. Her mother grieves for the sons she lost to war; the care of the household and remaining siblings falls to Beatrice, and she manages it with a practical efficiency. But when a beautiful stranger shows up with her father's horse, practicality is the last thing on her mind.

Despite the differences in their social standing, Beatrice and Nell give in to their unlikely attraction, finding love where they least expect it. But not everything in the captain's house is as it seems. When Beatrice's mother disappears under mysterious circumstances, Nell must overcome her preconceptions to help Beatrice, however she's able. Together they must find out what really happened that stormy night in the village, before everything Beatrice loves is lost—including Nell.

***


It's addressed a bit with a throwaway line in the blurb, but having finished this book very recently what struck me most about it was how much the author addresses class issues as part of the romantic conflict. Nell is a Lady and Beatrice is a woman with no life of her own, trapped by the circumstances of her birth. If the thought of reading another Duke fall in love with a chambermaid without a wisp of consequences has given you a case of the permanent eye-rolls, consider this book your antidote.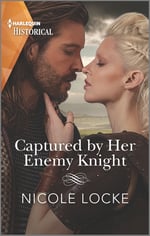 Captured By Her Enemy Knight, by Nicole Locke

***
Captured by her enemy…
Falling for the man
Cressida Howe, the Archer, is a well-tuned weapon. But she's also a woman captivated by a man—Eldric of Hawskmoor, the warrior knight her father ordered her to kill. Instead, for years, Cressida has simply watched him… Now she's been captured by her formidable enemy, and her well-ordered world comes crashing down, for Eldric is even more compelling up close. Cressida curses her traitorous heart—this assassin has fallen for her target!
***
This book has rolled around in Wendy Catnip. Questions of loyalty, a warrior heroine, and a mysterious knight that her father wants dead for some reason. Get in my eyeballs now.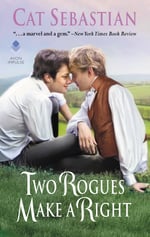 Two Rogues Make a Right, by Cat Sebastian

Pick Up a Copy: Amazon ◊ Apple Books ◊ Barnes & Noble ◊ Bookshop ◊ Kobo
***
Will Sedgwick can't believe that after months of searching for his oldest friend, Martin Easterbrook is found hiding in an attic like a gothic nightmare. Intent on nursing Martin back to health, Will kindly kidnaps him and takes him to the countryside to recover, well away from the world.
Martin doesn't much care where he is or even how he got there. He's much more concerned that the man he's loved his entire life is currently waiting on him hand and foot, feeding him soup and making him tea. Martin knows he's a lost cause, one he doesn't want Will to waste his life on.
As a lifetime of love transforms into a tender passion both men always desired but neither expected, can they envision a life free from the restrictions of the past, a life with each other?
***
The next book in Sebastian's Seducing the Sedgwicks series gives readers a fairy tale spin - although it's a prince locked away in a tower (or attic, whatever) opposed to a princess. Library Journal gave it a starred review and called it a "life-affirming final act to the trilogy"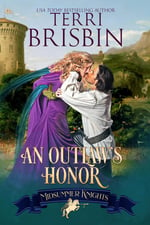 An Outlaw's Honor, by Terri Brisbin

Pick Up a Copy: Amazon ◊ Apple Books ◊ Barnes & Noble ◊ Kobo
***
When the only man she can trust is known for his dishonorable past, what could go wrong?
A Dishonorable Man
Thomas Brisbois of Kelso has only one goal when he arrives at the tournament--to defeat the only knight who ever bested him in battle. If he succeeds, the Scottish king will return to him his lands, his honor and his life. He has little interest in other prizes, and even less when he learns that the lord for whom his rival fights has included a daughter among the spoils at stake in their contest-- a lovely daughter with no desire to play the pawn, or to see her father's champion win. She is a distraction, all the more after she explains her own ideas about which knight shall have her, and how and when.
A Desperate Woman
Annora may be a pawn in her father's plans but she has no intention of letting that happen without a fight of her own. When she sees the frank desire in Thomas' gaze for her, she makes her own offer—she'll help him win if he'll let her go. . . after he beds her. Her plans go awry when she discovers the truth of the man beneath the armor. The man who had lost everything and struggles to regain his life.
***
Brisbin is a seasoned pro in medieval historical romance, so I always know I'll be in good hands when I pick up one of her stories. Part of a multi-author series centered around a tournament, I love historical heroines who find themselves as pawns of men's machinations but scheme to throw a wrench in the works. Naturally, in romance, schemes never seem to go according to plan.
***
What Unusual Historicals are you looking forward to?
You can find Wendy on Twitter or read her blog here.