Let's address the elephant in the room, shall we? Our unwelcome guest COVID-19. The library system I work for is closed to the public and I oversee the division that is responsible for all the delightful items you find on the physical shelves and in our digital collections. So keeping that machine running, while re-configuring staff schedules and work spaces has meant no time for reading or Romancelandia. And let me tell ya, I miss it y'all. So let's take a collective break and enjoy looking at some new Unusual Historicals out this month. And lucky for us, it's a bonanza!
This post contains affiliate links.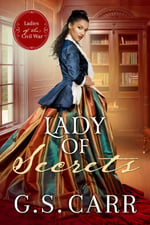 Lady of Secrets, by G.S. Carr

Her secret mission. A country divided. His impossible love.
Henrietta Wright is a Free Colored woman who teaches reading and writing to anyone who enters her classroom. At least she was, until a drunken night with friends catapults her down a path of intrigue, coded messages, and intelligence operations. All in service of the Union Army. She can't tell anyone what she's doing, including the handsome Irishman she knows she shouldn't want, but can't seem to resist.
Since stepping on to American soil, Elijah Byrne's only goal has been to survive another day. That is until Henrietta burst into his life and made him want more. She was never meant to be his - her fiancé can attest to that - but she makes him long for things men like him aren't lucky enough to have. When she asks for his help, he can't resist tumbling with her into a clandestine expedition that could cost them everything—including their lives.
I have Suzanne to thank for bringing this one to my attention! An accidental spy heroine, an Irish hero and all the intrigue that Civil War spying has to offer. Carr has three books under her belt already, so if I find this one to be a winner I've got a ready backlist to glom on to.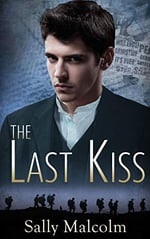 The Last Kiss, by Sally Malcolm

Pick Up a Copy: Amazon (Kindle Unlimited)
A tender and triumphant story of forbidden love in the aftermath of war
When Captain Ashleigh Dalton went to war in 1914, he never expected to fall in love. Yet, over three long years at the front, his dashing batman, Private West, became his reason for fighting—and his reason for living.
For Harry West, an ostler from London's East End, it was love at first sight when he met complex, compassionate Captain Dalton. Harry knew their friendship wouldn't survive in the class-bound world back home, but in the trenches there was no point in worrying about tomorrow…
Now, gravely wounded, Ash has been evacuated home to Highcliffe House, his father's Hampshire estate. Bereft of Harry, angry and alone, Ash struggles to fit into the unchanging world he left behind. Meanwhile, Harry, broken-hearted, doubts he'll ever see his beloved captain again.
But when the guns fall silent and Harry finds himself adrift in London, a desperate hope carries him to Highcliffe House in search of work—and of the officer he can't forget…
Facebook isn't always a disaster (ok, just most of the time…). I have a Joanna Chambers post to thank for putting this one on my radar. I find that power dynamics in romance can be very interesting if done well, and this romance between a commissioned officer and his batman (basically a servant) as they navigate through the horrors of World War I and returning to post-War life has me practically bouncing up and down with excitement.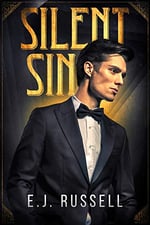 Silent Sin, by E.J. Russell

Pick Up a Copy: Amazon (Kindle Unlimited)
When tailor Marvin Gottschalk abandoned New York City for the brash boomtown of silent-film-era Hollywood, he never imagined he'd end up on screen as Martin Brentwood, one of the fledgling film industry's most popular actors. Five years later a cynical Martin despairs of finding anything genuine in a town where truth is defined by studio politics and publicity. Then he meets Robbie Goodman.
Robbie fled Idaho after a run-in with the law. A chance encounter leads him to the film studio where he lands a job as a chauffeur. But one look at Martin and he's convinced he's likely to run afoul of those same laws--laws that brand his desires indecent, deviant... sinful.
Martin and Robbie embark on a cautious relationship, cocooned in Hollywood's clandestine gay fraternity, careful to hide from the studio boss, a rival actor, and reporters on the lookout for a juicy story. But when tragedy and scandal rock the town, igniting a morality-based witch hunt fueled by a remorseless press, the studio brass will sacrifice even the greatest careers to defend their endangered empire. Robbie and Martin stand no chance against the firestorm--unless they stand together.
I love, love, love this era in California history and how am I expected to resist a romance between a jaded Hollywood star and his chauffeur? With all the complications and obstacles standing in the way of said romance? I just - give this to me now. Like seriously, right now.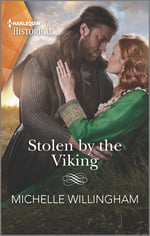 Stolen by the Viking, by Michelle Willingham

Pick Up a Copy: Amazon, Barnes & Noble, Apple Books, Kobo
Bought for his vengeance
But claimed for his bed!
Battle-scarred Viking Alarr is a broken warrior who expects to die carrying out his oath of blood vengeance. He saves maiden Breanne î Callahan from slavery only with the intention of getting close enough to kill her foster father. Until their spark of passion ignites a desire to keep her close…and presents Alarr with a gut-wrenching choice—his revenge or his heart?
Willingham is a fine purveyor of angst and I love when she's working with Vikings and in the medieval time period in general. This one is the start of a new multi-author series for Harlequin Historical which will include future books by Harper St. George, Michelle Styles and Jenni Fletcher.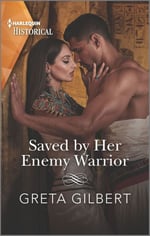 Saved by Her Enemy Warrior, by Greta Gilbert

Pick Up a Copy: Amazon, Barnes & Noble, Apple Books, Kobo
Entombed with her enemy…
Will her heart remain unscathed?
Left to die in the tomb of her beloved Pharaoh Tausret, royal adviser Aya would be silenced forever by those who seek power. But she is not alone! Egyptian soldier Intef is there to steal her mistress's gold. Now they must work together to escape. This handsome warrior is Aya's enemy, yet it's passion not hatred that burns between them. Can their desire withstand the revelations that await them outside?
I can safely say I've never seen the forced proximity trope set in an Egyptian tomb before! Plus it's got a little Enemy to Lovers thrown in for added spice!
***
Stay safe Romancelandia. Wash your hands, and practice good social distancing by staying home and reading a book. What Unusual Historicals are you looking forward to reading next?
You can find Wendy on Twitter or read her blog here.