Not even COVID-19 can stop the arrival of Spring. Romancelandia, my sincere wish for all of us during this time is that we snatch our moments of joy where we can find them. Mine has taste-testing new tea blends from a company I learned about on Facebook (hey, it's not a complete dumpster fire over there…), getting back into a reading groove, and, of course, hunting up new unusual historicals. Here's what is catching my eye for May.
This post contains affiliate links which support the site.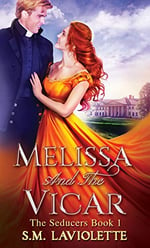 Melissa and the Vicar, by S.M. LaViolette

Pick Up a Copy: Amazon (Kindle Unlimited)
***
Melissa Griffin is quite literally sick and tired. She's the owner of one of London's most exclusive brothels, but her failing health is telling her she can't continue to keep working at her current pace. A relaxing stay in the country is exactly what she needs. Falling for the small town's gorgeous young vicar—a virgin, no less—was never part of her plan. Their love is scandalous, forbidden…and everything Melissa never knew she wanted. Denying her feelings is unthinkable. Avoiding devastation when her past inevitably drives them apart? Impossible.
Magnus Stanwyck never resented his vow of celibacy…until meeting Melissa. As beautiful on the inside as she is on the outside, the mysterious woman captures his heart in a way he never could've anticipated. No matter what stands between them, no matter the cost, he'll do whatever it takes to possess her—heart, body, and soul.
By day, they're opposites who were never supposed to be together. By night, their passion threatens to overtake them. When all is said and done, can Melissa and Magnus overcome the obstacles (and enemies) that stand between them? Or will fate deny them their happily ever after?
***
I started reading romance during an era when virgin heroines were still ruling the roost so any time that trope gets subverted I will throw my money around like a drunken sailor on shore leave. A burnt-out madam heroine takes a country vacation and falls for a virginal vicar. This needs to get in my eyeballs like yesterday. LaViolette is a pen name for author Minerva Spencer.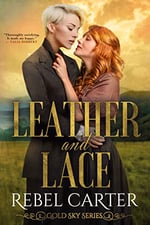 Leather and Lace, by Rebel Carter

Pick Up a Copy: Amazon (Kindle Unlimited)
***
What do you do when you've been chasing the wrong dream your entire life?
Mary Sophia James came to Gold Sky, Montana to find a husband at the insistence of her overbearing mother. Striking out in spectacular fashion after setting her eye on Julian Baptiste, her options are dwindling, and time is running out. She needs to find a man to marry before her condition becomes...obvious. Her mother's prejudice and sharp tongue aren't helping matters and Mary, to her shame, hasn't behaved much better. But all her plans are upended when she spots the most beautiful person she's ever seen across the town square. Alex Pierce is strong, intriguing, looks stunning in a pair of trousers...and a woman.
Gold Sky is accepting of all types of love, and that between women is no different. Still, Alex didn't expect to be so floored by the sight of the fiery haired, yet fragile looking young woman. Mary needs to be married and Alex has a solution. Because in Gold Sky, Montana there are many ways to be married...and not all of them include a man.
***
This novella, part of Carter's diverse Gold Sky series, finds a pregnant heroine traveling west to bag a husband (and quickly!) only to fall for a woman. The events of this story run parallel to the timeline of the second book, Hearth and Home.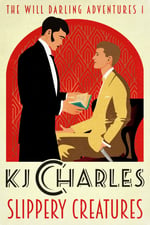 Slippery Creatures, by K.J. Charles

Pick Up a Copy: Amazon ◊ Apple Books ◊ Barnes & Noble ◊ Bookshop ◊ Kobo
***
Will Darling came back from the Great War with a few scars, a lot of medals, and no idea what to do next. Inheriting his uncle's chaotic second-hand bookshop is a blessing...until strange visitors start making threats. First a criminal gang, then the War Office, both telling Will to give them the information they want, or else.
Will has no idea what that information is, and nobody to turn to, until Kim Secretan—charming, cultured, oddly attractive—steps in to offer help. As Kim and Will try to find answers and outrun trouble, mutual desire grows along with the danger.
And then Will discovers the truth about Kim. His identity, his past, his real intentions. Enraged and betrayed, Will never wants to see him again.
But Will possesses knowledge that could cost thousands of lives. Enemies are closing in on him from all sides—and Kim is the only man who can help.
A 1920s m/m romance trilogy in the spirit of Golden Age pulp fiction.
***
A new K.J. Charles series already drawing raves, I mean what is not to love about this set-up? You've got a WWI hero who finds himself embroiled in some sort of nefarious plot and...he's got no idea what's going on. In steps our other hero who, naturally, is not all that he seems. One-clicking this so hard.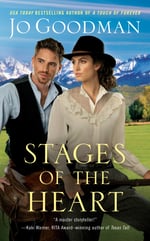 Stages of the Heart, by Jo Goodman

Pick Up a Copy: Amazon ◊ Apple Books ◊ Barnes & Noble ◊ Bookshop ◊ Kobo
***
Experience has taught Laurel to be suspicious of the men who pass through Morrison Station. She's been running the lucrative operation that connects Colorado's small frontier town of Falls Hollow with the stagecoach line since she inherited it from her father, and she's not about to let some wandering cowboy take over the reins. But newcomer McCall Landry isn't just any gunslinger. He seems to genuinely care for Laurel, and with his rugged good looks and mysterious past, he could be the one man to finally tempt her off track...
Call Landry doesn't expect much from Falls Hollow. He doesn't expect much from anything anymore. But Laurel Morrison took him by surprise when she put in a good word for him, a virtual stranger, after the stagecoach was robbed--and she keeps taking him by surprise. Charmed by her clever wit and fierce loyalty, Call finds himself falling hard. Now all he has to do is convince her he means to stay--in her bed, in her life, and in her heart.
***
Really, all I need to say is that it's Jo Goodman and a western - but some of y'all probably want a little more. Goodman writes books you can sink your teeth into and a big reason I'm drawn to historical westerns is that I'm, more often than not, going to get a heroine with some gumption and backbone. A heroine who runs a stagecoach station? I am here for this.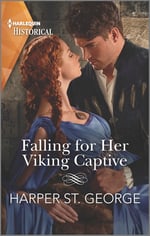 Falling for Her Viking Captive, by Harper St. George

Pick Up a Copy: Amazon ◊ Apple Books ◊ Barnes & Noble ◊ Bookshop ◊ Kobo
***
Capturing the Viking warrior
In her cellar…
Lady Annis must stop Viking Rurik Sigurdsson from discovering the truth about his family's death. Her only solution is to imprison him. But as the ruggedly handsome Viking starts to charm his way out of his cell and into her heart, can she be sure he's not still intent on vengeance—or perhaps an unexpected alliance is the solution?
***
The second book in the multi-author Sons of Sigurd series, who doesn't love a heroine holding a hero captive? I've enjoyed previous Viking-set historicals by St. George so this is an easy one-click.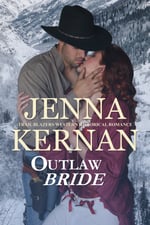 Outlaw Bride, by Jenna Kernan

Pick Up a Copy: Amazon ◊ Apple Books ◊ Barnes & Noble ◊ Kobo
***
She'll do anything to save her family … even break an outlaw out of prison.
When Bridget Callahan's family is stranded in the Sierra Nevada mountains by early snows, she seeks the help of the one man capable of taking on such a perilous rescue. Unfortunately, he is a condemned killer — sentenced to hang.
Cole Ellis has vowed never to return to the mountains but, facing the hangman's noose, he agrees to help Bridget rescue her family in return for his freedom. Now he wonders if he has traded a quick death for a slow one.
But, as they set out with a posse in pursuit and the menacing mountains ahead, she wonders if trusting this dangerous, enigmatic man might be the biggest risk of all.
***
Originally published in 2008 by Harlequin Historical, I am here to tell you that I loved this book 12 years ago. A hero on a suicide mission (he steals the mayor's horse!), a heroine full of gumption and fire, all wrapped up in a frontier-style western where you wonder if the couple will make it out alive. This is one of Kernan's gems, don't miss it.
***
What Unusual Historicals are you looking forward to?
You can find Wendy on Twitter or read her blog here.