September saw me talking about nine new unusual historicals. Here we are in October and I have seven. It's like authors and publishers are maybe clueing into the fact that Wendy needs a mental vacation - because obviously an actual vacation ain't happening anytime soon. So for now my rest and rejuvenation is just going to have to take the form of bygone eras. Here are the October releases that caught my eye: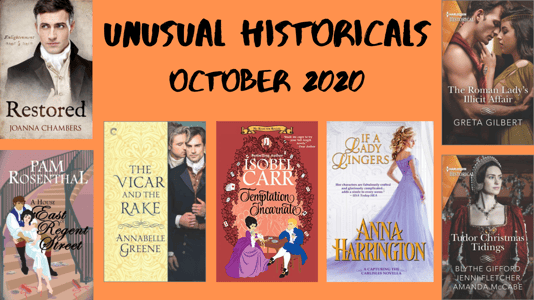 This post contains affiliate links which support the site.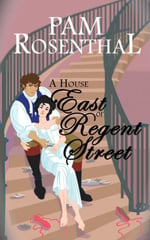 A House East of Regent Street, by Pam Rosenthal


Pick Up a Copy: Amazon ◊ Barnes & Noble ◊ Bookshop ◊ Kobo

***

The future looks bright for former sailor Jack Merion. His wartime heroics have won him influential contacts, and his good looks and flair for business are definite assets. With funds to invest, he's on the brink of financial success in the high-stakes world of Regency London.

And buying the house in Soho Square is a can't-miss opportunity. Once a fashionable brothel, the property will yield a good income in commercial rents and a clear path to the respectable life Jack has never known.

There's only one problem - another prospective buyer. With a dark past, a desperate future, and some unmistakable assets of her own, Miss Cléo Myles is a formidable obstacle, one that Jack would be wise to steer clear of.

But instead, he proposes a bargain that's as scandalous as it is irresistible.

Five afternoons. Five rooms. Uncountable pleasures...

...In a neighborhood that's seen better days. And a house that's seen everything except love.

***

It's been a while since we've had a new release from Rosenthal who wrote several well-received erotically lush historicals back in the day. I'm a sucker for a house party romance, and this puts an entirely different spin on it - with a hero determined to claw his way to respectability and a heroine with a past vying for the purchase of the same house in Soho Square. I'm expecting plenty of wit and naughty shenanigans afoot!

***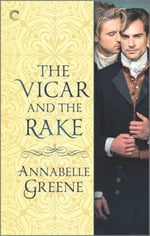 The Vicar and the Rake, by Annabelle Greene

Pick Up a Copy: Amazon ◊ Barnes & Noble ◊ Kobo
***
As a young man, Sir Gabriel Winters left behind his status as a gentleman, turning his back on his secret desires and taking a self-imposed vow of celibacy. Now a chaste hard-working vicar, his reputation is beyond reproach. But, try as he might, he's never forgotten the man he once desired or the pain of being abandoned by his first love.
Edward Stanhope, the Duke of Caddonfell, is a notorious rake, delighting in scandal no matter the consequence. With a price on his head, he flees to the countryside, forced to keep his presence a secret or risk assassination. When Edward finds Gabriel on his estate, burning with fever, he cannot leave him to die, but taking him in puts them both in jeopardy.
With the help of a notorious blackmailer, a society of rich and famous gentlemen who prefer gentlemen, and a kitten named Buttons, they might just manage to save Edward's life—but the greatest threat may be to their hearts.
***
I'm a sucker for a vicar hero and when he's paired with someone who has a highly dubious reputation I want the story in my eyeballs Right. Now. And I'm getting that plus a reunited/second chance trope as well? Happy day! This is Greene's debut and the first in a series.
***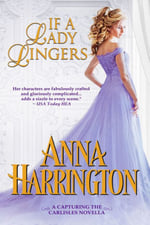 If a Lady Lingers, by Anna Harrington (Novella)

Pick Up a Copy: Amazon ◊ Barnes & Noble ◊ Kobo
***
WHERE THE HEART IS...
Daisy Daring dreams of what she cannot have—a career as an architect like her famous father, yet society will never tolerate a woman architect. When her father falls ill, Daisy takes up his work herself in order to provide for her family. Soon, she isn't just finishing his old floor plans and designs but creating brand new ones herself—all done secretly under her father's name. The ruse works well. No one suspects…until Hugh Whitby walks into her life.
Hugh Whitby isn't taken seriously by society, his family…well, by anyone. He's too loud and boisterous, too colorful, too impetuous, too…Whitby. So when he decides to build a new home for orphans, he seizes on this chance to prove himself by hiring the best architect he can. However, it's not Elias Daring who greets him but his lovely daughter Daisy. For Whitby, it's love at first sight, but for Daisy, the attention that Whitby draws is dangerous. If anyone discovers her secret, it would end her father's career and her dream right along with it. No, best to stay away from him—in public, because she can't help falling for his charms when they're alone.
When an unintended act of betrayal threatens all she holds dear, can they overcome the obstacles between them and learn that home really is where the heart is?
***
Who doesn't love short reads this time of year? Especially with, you know, life right now. Lady architect hiding behind her father's name so she can do what she loves must tread carefully when a do-gooder hero with a flakey reputation comes calling. A smitten hero who falls hard and fast and a heroine with everything to lose - including her heart.
***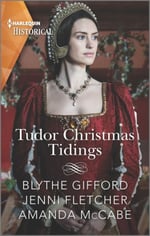 Tudor Christmas Tidings, by Blythe Gifford, Jenni Fletcher & Amanda McCabe

Pick Up a Copy: Amazon ◊ Barnes & Noble ◊ Bookshop ◊ Kobo
***
Make Merry at Court
…with three Tudor Christmas stories!
In Blythe Gifford's Christmas at Court, Sir John Talbot and Lady Alice's secret betrothal must wait until Henry Tudor claims the throne. Next in Secrets of the Queen's Lady by Jenni Fletcher, the lady-in-waiting to Anne of Cleves is unexpectedly reunited with a handsome—younger—diplomat at the palace's festivities! And in His Mistletoe Lady by Amanda McCabe, Catherine seeks help from a mysterious Spaniard to free her father in time for Christmas!
***
And so it begins. That time of year when Harlequin starts pumping out holiday romances and conspiring to separate me from my money. We rarely see Tudor set stories in Romancelandia and all three authors have written stories I've enjoyed in the past. An easy one-click for me.
***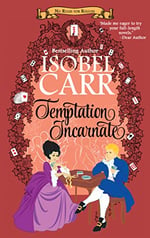 Temptation Incarnate, by Isobel Carr (Novelette)

Pick Up a Copy: Amazon (Kindle Unlimited)

***
An impossible challenge … Eleanor Blakely is all too aware that her reputation dangles by a very slender thread, unfortunately, she's found herself in the midst of a delicious series of wagers with a consummate charmer, and she can't seem to stop herself from saying yes to every wicked proposition. Whatever twist of fate has kept his best friend's sister on the shelf is a mystery to Viscount Wroxton, but when the inveterate little gamester suddenly catches his attention, she's entirely is too fascinating to ignore. The fact that she has five enormous brothers is hardly worth thinking about—she's thrown down the gauntlet, and he has no intention of losing, whatever the cost…
With a bonus short story, Three Courtesans, which was originally written as a blog post for the Twelve Days of Christmas (I got Three French Hens).
***
Not quite a novella but longer than a short story, Carr gives readers a Best Friend's Sister trope wrapped in decadent Georgian packaging. Plus there's naughty gambling and a bonus holiday short story included.
***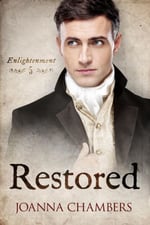 Restored, by Joanna Chambers

Pick Up a Copy: Amazon ◊ Barnes & Noble ◊ Kobo
***
Eighteen years ago, Henry Asquith, Duke of Avesbury had to leave his kept lover, Kit Redford, in order to devote himself to raising his young family. Now, a lifetime later, his children are moving on and for the first time in years, Henry is alone.
During a rare visit to London, Henry unexpectedly happens upon an old friend of Kit's and learns that Kit did not receive the financial pay off he was entitled to when Henry left him. Instead Kit was thrown out of his home and left destitute. Horrified, Henry begs Kit to see him and allow Henry to compensate him. But Kit, who now owns a discreet club for gentlemen of a certain persuasion, neither needs nor wants Henry's money.
"Perhaps you should earn the money you owe me the way I had to earn it? On your knees, and on your back, taking my cock like a whore."
Kit thought he had put his old hurts and grievances about Henry behind him, but when he sees Henry again, he discovers that, not only is the old pain still there, so is the fierce attraction that once burned between them. When, in a moment of fury, Kit demands a scandalous form of penance from Henry, no one is more surprised than Kit when Henry agrees to pay it.
As Kit and Henry spend more time together, they learn more about the men they have become, and about the secret feelings and desires they concealed from one another in the past.
Henry realises he wants to build a future with Kit but can he persuade his wary lover to trust him ever again? And can two men from such different worlds make a new life together?
***
OK, so this sounds like it could be a hot mess (y'all our Duke needs to grovel) but it also sounds deliciously angst-y. And Wendy cannot, will not, turn away from angst-y historical romance. Cross class, redemption, and second chance romance all rolled into one. I need this now.
***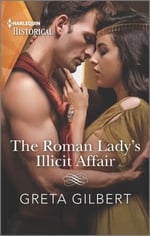 The Roman Lady's Illicit Affair, by Greta Gilbert

Pick Up a Copy: Amazon ◊ Barnes & Noble ◊ Bookshop ◊ Kobo
***
Can she find freedom…
In her lover's arms?
Desperate for a divorce from her violent, adulterous husband, Vita runs away to the Roman Baths, where she is brought face-to-face with forbidding, handsome slave Ven. In him she finds an instant connection and ally. Yet to escape with their lives, they'll have to resist their burning chemistry! And as Vita realizes that their freedom comes at a high cost, she might have to make an impossible choice…
***
As readers I don't think we talk enough about power dynamics in romance, especially in historicals. It's how authors navigate through and around them that I find interesting - in eras where women lacked options and agency. Well here we have a story about a Roman slave and a desperate woman fleeing a violent husband. It could end up being problematic, it could end up being awesome - I won't know until I try.
***
What Unusual Historicals are you looking forward to?
You can find Wendy on Twitter or read her blog here.