Publishing is a fickle mistress. Some months I'm scraping the depths of the Interwebs to find a handful of unusual historical titles and other months it's an explosion of confetti being shot out of an air cannon. Since September is an air cannon month, I'll stop blathering on so we can get to the goodness.
So let's look at what indulgences caught my eye this month: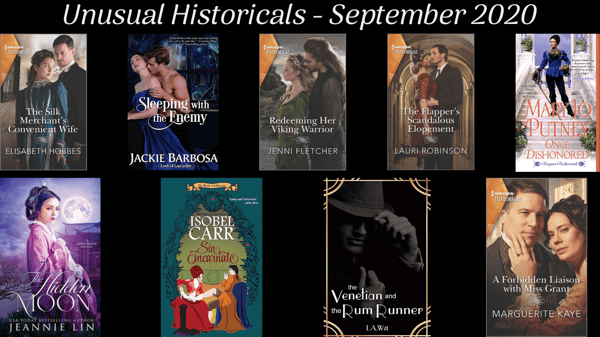 This post contains affiliate links which support the site.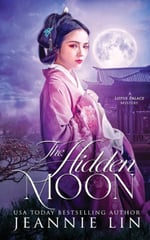 The Hidden Moon, by Jeannie Lin

Pick Up a Copy: Amazon ◊ Apple Books ◊ Barnes & Noble ◊ Bookshop ◊ Kobo
***
A well-bred lady and lowly street hustler team up in a historical murder mystery set during China's glittering Tang Dynasty. Part of the best-selling Lotus Palace series.
Impetuous and well-educated, young Lady Bai has always been the forgotten daughter between two favored sons. However, when Wei-wei's older brother is tasked with investigating a high-profile assassination, he turns to his clever younger sister for assistance.
Gao is a street-wise scoundrel with a checkered past and a shady reputation. He knows better than to set his sights on the high-born Lady Bai, but when she asks for his help, he can't refuse.
As the unlikely pair chase down a conspiracy that reaches from the gutters of the capital to the imperial palace, Wei-wei is intent on seeing justice done, while Gao is determined to solve the mystery just for her – even if the attraction between them can never be more than a moment's longing.
***
OK, so this was a very late release in August that I missed with last month's column, but no way in heck was I not going to highlight a new Jeannie Lin historical. This is the fourth story in her Lotus Palace series, the highly anticipated romance featuring Wei-Wei and Gao.
***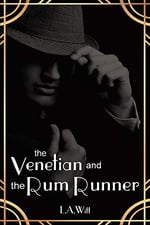 The Venetian and the Rum Runner, by L.A. Witt

Pick Up a Copy: Amazon (Kindle Unlimited)

***
New York City, 1924
Once their paths cross, their worlds will never be the same.
Danny Moore and his crew only meant to rob the hotel suites of rich guests. He wasn't supposed to find himself in gangster Ricky il Sacchi's room. And il Sacchi wasn't supposed to wind up dead. Now Danny has the attention of another notorious gangster.
Carmine Battaglia is intrigued by the Irish thieves who would have made off with a huge score if not for il Sacchi's death. They're cunning, careful, and exactly what he needs for his rum running operation. But Danny's already lost two brothers to the violence between New York's Irish and Sicilian gangs, and he's not about to sell his soul to Carmine.
With a gangster's blood on his hands, Danny needs protection, whether he likes it or not. And that's to say nothing of the generous pay, which promises to pull him and his crew—not to mention their families—out of destitution.
Working together brings Danny and Carmine to a détente, then to something so intense neither can ignore it. Something nearly enough to make them both forget the brutal tensions between their countrymen.
But the death of Ricky il Sacchi hasn't been forgotten. And someone is determined to make Danny bleed for it.
***
Criminals as romantic protagonists is always a dicey proposition for me, but it can (and often does) work for me in the Prohibition era. Plus I'd be flat-out lying if I didn't say the prospect of an Italian mobster and an Irish thief didn't intrigue the heck out of me.
***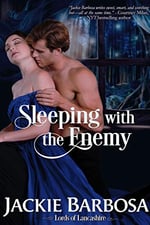 Sleeping with the Enemy, by Jackie Barbosa


Pick Up a Copy: Amazon ◊ Barnes & Noble ◊ Kobo

***

When Mrs. Laura Farnsworth discovers the blood-stained body of a man wearing the distinctive red coat of the British army, her first instinct is to let dead dogs lie. It has, after all, been just two days since the Battle of Plattsburgh, and the disposition of enemy corpses is hardly her purview. But then the man proves himself to be very much alive by grabbing her ankle and mumbling incoherently.

After almost twenty-five years in His Majesty's service, Lieutenant Colonel Geoffrey Langston never expected to wake up in heaven, much less being tended by an angel. But when he regains consciousness in the presence of a beautiful, dark-haired woman and with no memory of how he came to be there, what else can he think? Except it's rather odd for an angel to have an American accent.

As the long-widowed Laura nurses the wounded Geoffrey back to health, the attraction between them heats from a simmer to a boil. Bound by his oath to the British crown, Geoffrey should be working to find his way back to his regiment and from there, to England. Instead, he's sleeping with the enemy…and thereby committing the crime of desertion if not treason. But then, who's going to find out?

If only Geoffrey didn't have a family back home who refuse to take "missing in action" for an answer.

***

The fourth book in Barbosa's Lords of Lancashire series opens up just a few days after the Battle of Plattsburgh, a decisive victory for the Americans during the War of 1812. This era is criminally underrepresented in historical romance, and we've got a literal enemy-to-lovers romance with some amnesia thrown in for good measure.

***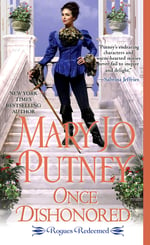 Once Dishonored, by Mary Jo Putney

Pick Up a Copy: Amazon ◊ Barnes & Noble ◊ Bookshop ◊ Kobo
***
A man who has lost his honor has nothing . . .
London, 1816. As a Royal Navy officer, Lucas Mandeville, Lord Foxton, has fought his share of battles on the high seas, followed by long years of imprisonment. But on this night, he'd rather be on the burning deck of a ship than in a ballroom, where it is just a matter of time before someone challenges him because of what happened on the Continent.
A woman who has lost her reputation is nothing . . .
When dark-haired beauty Kendra Douglas arrives, a whisper of scandal ripples through the ton. The disgraced divorcee's entrance is an act of daring. Which is exactly why Lucas asks her to dance . . .
A couple who stands together has everything . . .
Unexpectedly, Lucas offers Kendra his aid in finding the evidence to regain her good name—and her beloved young son. Together they investigate the wicked conspiracy that destroyed her life, and in the midst of danger, find a deep love that will redeem them both—if only they can live long enough to build a future together.
***
Dude. The heroine is wearing pants and boots on the cover. This fifth book in Putney's Rogue's Redeemed series features quite possibly my favorite trope EVER in romance - the heroine of dubious reputation. OMG, and she's divorced. Just inject this one right into my eyeballs.
***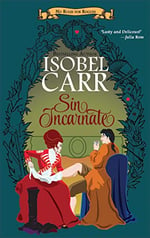 Sin Incarnate, by Isobel Carr

Pick Up a Copy: Amazon (Kindle Unlimited), Barnes & Noble (Paperback

***
Six Nights Of Pleasure…
Georgianna Exley's passionate nature has always been her undoing—and for this reason the beautiful young widow allows her lovers only a single night in her bed. No man will ever have the right to dictate to her; to presume he owns her.
But Ivo Dauntry has at last come home to England, and for he'll settle for nothing less than one night for every year he's given up for her...and soon, his daring seduction becomes a sensual contest of wills Georgianna is all too willing to lose.
But the long-ago duel that bound them forever has repercussions neither of them could ever have foreseen, and once again, Ivo must risk everything, this time to save the woman he loves…
***
Originally published as Lord Sin under the name Kalen Hughes, Carr graces us with self-published editions of her lusty Georgian romances (Scandal Incarnate is also available this month). Like the War of 1812, Georgians are harder to find in the historical romance universe, a crying shame in my opinion because if Prince taught us anything it's that men in heels can be damn sexy.
***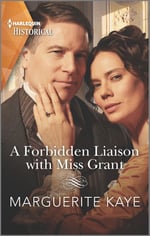 A Forbidden Liaison with Miss Grant, by Marguerite Kaye

Pick Up a Copy: Amazon ◊ Barnes & Noble ◊ Bookshop ◊ Kobo
***
An unexpected encounter…
Will change everything!
Self-made gentleman and widower Grayson Maddox has devoted himself to his children and business, leaving no time for pleasure. Until he has an impulsive, thrillingly sensual encounter with lady's companion Miss Constance Grant! Their passion gives Grayson hope of a happiness he never thought he'd feel again. But there's still much in both their pasts to confront before they can turn their forbidden liaison into a new beginning…
***
Kaye's latest takes place in 1822 Edinburgh at the height of preparations for King George IV's historic visit. The Highland Clearances also play a role in the story - the school teacher heroine now out of a job and homeless when her village is wiped out to make room for sheep. That's all very interesting, but wait for it - there's more. Both the protagonists are in their 40s. That's right. No foolin'. Please for the love of all that is holy buy this on principle at the very least.
***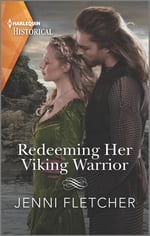 Redeeming Her Viking Warrior, by Jenni Fletcher

Pick Up a Copy: Amazon ◊ Barnes & Noble ◊ Bookshop ◊ Kobo
***
He's sworn celibacy…
Until he gets vengeance!
Danr Sigurdsson is indebted to the captivating, mysterious healer living alone in the wilderness who carefully tends his wounds. Consumed with anguish over the massacre that killed his family, Danr has sworn not to touch another woman until he finds those responsible. So resisting Sissa should be easy, but as they search for the truth, fighting their mutual attraction becomes the hardest battle…
***
Harlequin is rolling along with the Sons of Sigurd series, with Fletcher contributing this fourth book. A hero who takes a vow of celibacy until he fulfills his mission of vengeance? And of course our lovely heroine gets thrown into his path? Gah! Sign me up!
***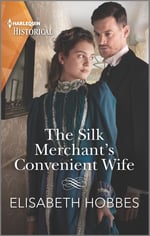 The Silk Merchant's Convenient Wife, by Elisabeth Hobbes

Pick Up a Copy: Amazon ◊ Barnes & Noble ◊ Bookshop ◊ Kobo
***
A convenient marriage
An inconvenient passion…
His parents' loveless relationship has left silk merchant Jonathan Harcourt suspicious of marriage. But in order to expand his mill and have an heir, he must marry his neighbour Aurelia Upford. Even more surprising than finding himself with a clever, beautiful society wife is the unexpected passion that flares between them, and the unsettling emotions it leads to. Sharing a bed was part of their arrangement, but can Jonathan risk sharing his heart, too?
***
Hobbes takes a break from medievals to give readers an early Victorian set romance between a silk merchant (a tradesman!) entering into a marriage of convenience with a proper society heroine. I've enjoyed Hobbes' medievals and can't wait to see what she does in a very different time period.
***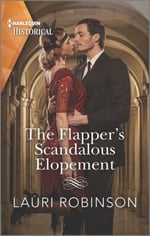 The Flapper's Scandalous Elopement, by Lauri Robinson

Pick Up a Copy: Amazon ◊ Barnes & Noble ◊ Bookshop ◊ Kobo
***
With this ring…
They're temporarily wed!
Heiress Jane Dryer will do anything to escape her controlling father and the life of domestic drudgery he decrees—even elope with the handsome stranger she meets in a speakeasy! Wealthy railroad owner David Albright needs a temporary wife and Jane needs her independence, so the plan is to marry, then walk away. Only very soon, their fake marriage feels seductively real!
***
Sister #3 in Robinson's Sisters of the Roaring Twenties series is up to bat - and our heiress heroine elopes with a stranger who turns out to be a wealthy railroad owner. I just, where do I sign up for these kinds of problems? I'm here for it.
***
What Unusual Historicals are you looking forward to?
You can find Wendy on Twitter or read her blog here.