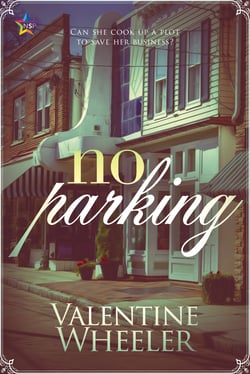 Today we're sharing a guest post about how queer individuals and communities function after breakups and how that may be different from straight relationships. Remember how everyone on The L Word dated each other? Yeah, that. (With less bananas soap shenanigans.)
Author Valentine Wheeler writes both contemporary and SFF queer romance. Her latest book is No Parking, a bisexual f/f romance set in small-town Massachusetts. Scroll down to the end of the post for more on the book, out on February 10th!
***
There's a punchline I've heard in the queer community for decades, though the joke varies: when women break up, they stay friends. I've seen variations about queer men, too, though less often. But it's rare that that trope makes it into romance fiction. When it does, I for one am thrilled.
Red, White and Royal Blue is my most recent favorite example of this, with the glorious friendship of Nora and Alex. Tamora Pierce's Tortall books were my introduction to the idea, with Alanna and Jonathan staying friends long after their romance ended (sorry for the 30 year old spoilers, folks, but read them if you haven't!). But it's not something you see very often in romance.
Queer and small-town romance should really have more of this, because in small communities, the equilibrium can fracture very quickly if people don't stay friends after a breakup. We've only got each other, after all, and it's a limited dating pool for one, and a community that, at least in my experience of young queers trying to have healthy relationships and live their truths, wants to stay together.
Honestly, one of my favorite parts of writing No Parking was writing Marianne's relationship with her ex-husband, Kevin. A lot of bisexual women and nonbinary people are partnered in ways that, to an outside observer, appear straight. That doesn't stop them from being bi or being queer or being part of the community, and through Marianne and Kevin I wanted to show that. They've been divorced for a decade, but they're two fixtures in the town they've both lived in for sixty years. Neither of them were going to leave.
The fictional town of Swanley feels real to me now, after two years immersed in it as I wrote No Parking. I love the characters (well, most of them) and I love the town most of all. And I have to admit, I didn't expect to love Kevin, the white baby boomer man of the story, quite so much.
Most of the story is about Marianne finding love and finding her place, meeting Rana, the woman next door, and stepping up to shape the town she's forgotten she loves into the place she knows it can be. But it's also about her finding peace with herself, and with her history. And an important part of that history is Kevin, her husband of thirty years and the father of her children. A relationship like that doesn't just disappear, even when the format isn't working for the parties involved anymore. They still have a story. They have things only they know and understand. They've been a unit so long that once they're not, they're still connected in so many ways. When things go very wrong or very right, they're still the first people they think to tell, even if the impulse doesn't lead to them reaching out.
People are complicated. Relationships are complicated. I don't have to tell you that. Marianne and Kevin have a lot to work out after their divorce, and a lot of surprise bits of emotion still buried in their relationship even years later. But they love each other and they always will. They're just not romantic partners anymore.
Showing this is especially important for the queer community. We're small and we're powerful and in so many ways we're so close-knit. We can't afford to split up every time there's a break up into the different factions so many ended romantic partnerships cause. It has to happen sometimes, but in a small community, people can learn to live with each other and value what they bring to the table, even outside of romance. It's time to see more of that in media.
Writing Marianne and Kevin finding a new equilibrium and getting to work through finding their footing was one of my favorite parts of writing No Parking. I can't wait to share Marianne and her world with all of you.
P.S. I asked around on Twitter for recommendations of friendly exes that don't get back together, and I look forward to checking them all out:
A Duke in Disguise, by Cat Sebastian
A Delicate Deception, by Cat Sebastian
The Price of Salt (Carol), by Patricia Highsmith (This is not a Genre Romance)
Society of Gentlemen, (series) by KJ Charles
The King of Bourbon Street, by Thea DeSalle
The Moth and the Moon, by Glenn Quigley
Riven and Rend, by Roan Parrish
Small Change, by Roan Parrish
Their Troublesome Crush, by Corey Alexander
Enjoy!
***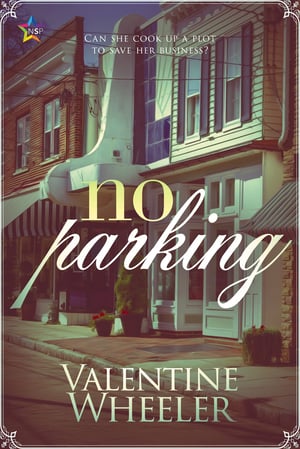 About the Book:
No Parking comes out 2/10/2020 from Ninestar Press.
When Marianne Windmere's bakery customers begin complaining that her parking lot is always full, she assumes it must be customers for the new restaurant next door. She's never met her neighbor, and with the parking lot situation, she has no interest in doing so. But when a snowstorm knocks out the power and traps both women in the building overnight, sparks fly—until the next morning, when the buried argument comes to a head.
Can they find a way to reclaim the magic of that night? And as decades-old secrets about the history of the town and Marianne's family come to light, can they work together to save both their businesses?
No Parking is a small-town queer F/F romance featuring two bisexual baby boomer women, one of whom is ace spec.
Find it at Amazon, Ninestar Press, Barnes and Noble, Apple Books, Kobo and more.
About the Author: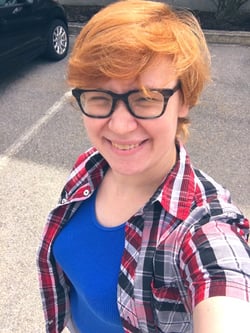 Valentine lives in Boston, where she goes by Lis and spends her time citing obscure postal regulations and arguing with a preschooler. She serves as Fiction Editor and Logistics Wizard at Wizards in Space Magazine and as a first reader at various SFF publications. Her short fiction can be found at Ninestar Press and The Future Fire. Her first novel, NO PARKING, comes out in February 2020. Find her on twitter @ghostalservice or at her website, valentinewheeler.com.