More mini-reviews! This time it's all witchy paranormal rom-coms with reviews of Witchful Thinking, A Witch's Guide to Fake Dating a Demon, Mr. and Mrs. Witch.


This post contains affiliate links.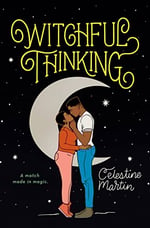 Witchful Thinking, by Celestine Martin
My Verdict: Read It Eventually

A fun paranormal rom-com debut! This was exactly what I've expected but rarely gotten from this new micro-genre of romance novels. Never does it pretend to be angsty or enemies-to-lovers. A wish gone awry means the FMC can't say no (to things like karaoke) and she's thrown out of a major rut into a series of (mis)adventures. There's definitely some second-hand embarrassment involved.
The highschool crush MMC is a merman! Not sure why that's such a selling point for me but IT IS. Who needs more werewolves when we can branch out a bit? (JK I will always take werewolves.)
This is a low-key easy read. I recall being a little surprised by the spice just because the rest of the book is so tame, but I'm not complaining.
While Witchful Thinking isn't going on my favorites list, it was funny and sweet and I'm looking forward to continuing the series.
***
I received an audio review copy of this book from the publisher.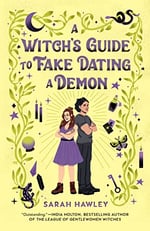 A Witch's Guide to Fake Dating a Demon, by Sarah Hawley
My Verdict: Read It

Another entry in the witchy rom-com microgenre, this time pairing a witch who accidentally summons a demon because she's awful at Latin. He has to collect her soul if she'd only ask for something in exchange, but she keeps trying to send him back. These tropes are nothing new, of course. The "foretold great powerful witch who is actually terrible at magic" is just as common as the farm boy who defeats the evil emperor. See
Not the Witch You Wed
and
Payback's a Witch
. Demon summoning is common too, though I'm not sure it's quite as common in romance novels as in urban fantasy (please share recs if I'm wrong!). We've got forced proximity dialed up to ten, necessitating fake dating so Mariel's
awful
mother won't have yet another thing to mock her for. We've got "oops, I caught feelings." We've got a really toxic mentor (Ozroth is a demon, after all). The tropes may be familiar, but the execution was really fun. I've wanted these paranormal rom-coms to be funny and after a couple of years of rushed-to-press blahs, I think we're starting to get a crop of truly funny ones. It's sexy and silly and exactly what I needed as a break from a couple of hard books.

***
I received a copy of this book from the publisher for review.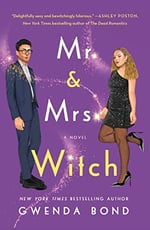 Mr. and Mrs. Witch, by Gwenda Bond
My Verdict: Read It Eventually

My only prior experience with the Mr. and Mrs. Smith is the Jolie/Pitt vehicle, which crackled with sexual tension. We found out later why that was, of course. Anyway, having not seen the original 1940's version, I can't say which inspired Bond more. The set-up is similar: two people are at the altar when they discover their group's arch-nemesis amidst the assembled guests. (How this wasn't caught during the invitations step, I don't know.) Savannah is a very powerful, curvy witch with a secret job saving the world from magical disaster. Griffin is a nerdy professor and part of a group that hunts witches. They meet while both searching for the same dark magic object and have a glorious one-night stand. They meet again later on another mission and when they find out they both live in Atlanta, GA, they decide to set a date and location to meet again. The present-day agent vs. agent narrative alternates with scenes from the past as the two build their relationship. That decision makes their separation (and maybe killing of each other?) more emotional, but some of it came too late in the story to have a real impact.

Overall, I liked this quite a lot more than Not Your Average Hot Guy, which was clunky and had I think one intimate scene that felt really forced (writing, not the MC's forcing each other). The pacing in this was better since it's not a duology and the built-in tension from the set-up helped propel the story along. That said, I don't think I would have finished it if I wasn't reading it in audio. The alternating timeline simply wouldn't have worked for my brain. Read this if you like gangly bookish MMCs, star-crossed lovers and curvy witches who defy family expectations because they want love.
***
I read this audiobook through Hoopla funded by a public library.
***
If you appreciate our content and wish to support the site, please consider using the affiliate links in this post and below for your shopping needs. Even if you don't buy the book in question, we receive a small % of your purchase from the vendor. As always, we'd love for you to leave us a tip on Ko-Fi!
Support Love in Panels