At least half of the LiP team reads lots of young adult books, both fantasy and romance. So we--Andrea and Suzanne--decided to pull together a list of all the YA romance we're looking forward to in the first quarter of 2020! We'll have a list of YA fantasy with romance subplots (think Grishaverse, Margaret Rogerson, etc) up in a bit as well.
Since there are way too many books for one reasonably sized post, here's how we've structured the list:
Books that we're excited to read will have a cover and a little bit about why we're excited to read them.

Other books that we're aware of are at the end. They'll have links if you want to find out more! We've tried to include info about the pairing if we know it.


This list is absolutely not any indication of quality. We haven't read these! Stay tuned throughout the year for reviews when we do.

Books are listed in chronological order and include what we're aware of as of November 2019.


Every book will have a link to its page on Amazon. Yes, we'd love for you to buy the books elsewhere but the reality is that 98% of our clicks are to Amazon. In a list this size, it's just too much time to generate four links for each book instead of one. These are affiliate links, meaning we earn 4% of whatever you buy after clicking. It doesn't cost you anything extra but we have to disclose this for the feds.
Without further ado, on to the books!
January
How to Speak Boy, by Tiana Smith - January 7

Andrea: The title made me think this would be about gender expression, and I'm a little disappointed that it's not. But! I have recently found great joy in people on Twitter realizing that competitive pen-spinning was total debate club sub-culture all around the world, not just their high school debate club, so I'm excited for this book. Also because "After all, what's the point of speech and debate if you can't say what's in your heart" !!!!
Pairing: F/M (You've Got Mail retelling)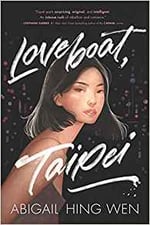 Loveboat Taipei, by Abigail Hing Wen - January 7

Andrea - I legitimately used to spend Saturdays watching reruns of The Love Boat so I definitely have the captain in his white uniform in the back of my mind right now, but I'm mostly here for the haircut on this book cover and I'm ALWAYS here for 'good kids' secretly being reckless. Tbh I would like the calligraphy and secret shrine tours WITH the sake, but I guess you can't have it all.
Pairing: F/M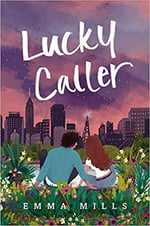 Lucky Caller, by Emma Mills - January 14
Suzanne: This is about a girl who decides to take a radio broadcasting class and... it doesn't go as planned. The "haphazardly formed radio team" gives me some Breakfast Club vibes, but it was the mention of angry fandoms that got me to take a second look.
Pairing: F/M (Childhood friends to enemies to lovers)
Not So Pure and Simple, by Lamar Giles - January 21
Andrea: This is gonna be somewhat of a hate-read... or like, reality TV why am I doing this to myself but I cant stop read! Ugh. His whole attitude to getting the girl is exactly what growing up in the evangelical church environment was like for me and it is !too soon! for me to go back there but also I wanna see him expose toxic masculinity! So... we'll see!
Pairing: F/M
Tweet Cute, by Emma Lord - January 21
Suzanne: So this is set up to be like You've Got Mail in the time of social media. There's a public Twitter war and then a private anonymous chat app romance. She's an overachiever, he's the class clown. I'm super into the whole premise.
Pairing: F/M (You've Got Mail retelling)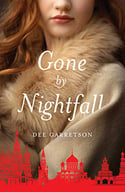 Gone by Nightfall, by Dee Garretson - January 21
Suzanne: I love that YA seems to be more open to historical romance that's not set in England, even if it's not many historicals at all. (Yes, I see you, Gentleman's Guide.) This is about a young woman in Russia right before and during the 1918 revolution. She's studying to be a doctor but has to quit when her mother dies... and then there's a mysterious tutor... I've had a couple of misses with historical Russia recently, but I'll keep trying!
Pairing: F/M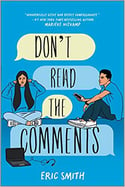 Don't Read the Comments, by Eric Smith - January 28
Andrea: I love the title I love the text bubbles on the cover, and I looovve that we're getting a badass gamer livestream girl! And the cherry on top? It's written by excellent human and wonderful co-host of Book Riot's Hey YA podcast, Eric Smith!!
Pairing: F/M
And all the rest!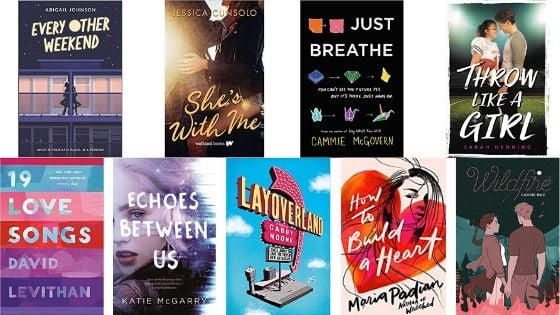 January 7 - Every Other Weekend, by Abigail Johnson - F/M
Both sets of parents are divorced/divorcing and these two spend every other weekend in the same building.
January 7 - She's With Me, by Jessica Cunsolo - F/M
Girl in hiding starts her senior year at a new school. Getting "evil ex" vibes from this.

January 7 - Just Breathe, by Cammie McGovern - F/M
Comped to The Fault in Our Stars, quiet character with depression, popular character with cystic fibrosis.
January 7 - Throw Like a Girl, by Sarah Henning - F/M
Softball star moves to a new high school where she temporarily replaces the star quarterback.

January 7 - 19 Love Songs, by David Leviathan - Collection
Short story collection, LGBTQ+ romance, unclear what the pairings are.

January 14 - Echoes Between Us, by Katie McGarry - F/M
Girl who sees her mother's ghost and has migraines, Golden Boy who has an adrenaline addiction. I think this has thriller elements? Maybe?
January 21 - Layoverland, by Gabby Noone - F/M
Dead Like Me vibes with a girl in the afterlife sent to help the boy who caused her car accident. Dark rom-com.
January 28 - How to Build a Heart, by Maria Padian - F/M
Poor girl, rich boy, love triangle, lots of tragedy in her past but ultimately an HEA. Puerto Rican rep.

January 28 - Wildfire, by Carrie Mac - F/M (not really an HEA)
Two best friends and maybe something more learn how to fight wildfires. The publisher told me it's more of a tearjerker than a Happily Ever After, so be warned.


February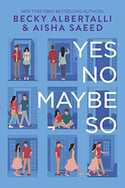 Yes No Maybe So, by Becky Albertalli and Aisha Saeed - February 4
Suzanne: I'm really interested to see how their co-writing process worked. (I will hunt for interviews.) Anyway, it's nearly 450 pages?! and a political/resistance romance. PLUS Ramadan, for all of us looking for non-Christmas holiday romance. But the big draw for me is that they're canvassing together, an activity that has historically scared the cr*p out of me. BRAVE kids who fall in love while fighting for what they believe in, their civil rights and the soul of their country. And now I'm crying.
Pairing: F/M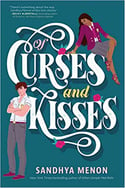 Of Curses and Kisses, by Sandhya Menon - February 18

Andrea: This title!! This cover!! This is giving me The Covenant meets Beastly meets Wild Child --Which literally is my childhood in three movies. All that's missing is Bring It On's T-t-t-Toros!
Suzanne: I am here for every book Sandhya Menon wants to write us AND for all the Beauty & The Beast retellings. So this is everything.
Pairing: F/M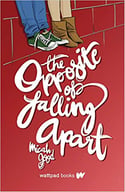 The Opposite of Falling Apart, by Micah Good - February 25
Andrea: I am extremely ready to see these kids share their fears, discover what they're capable of and take the leap to fall in love!
Note: This is listed as "clean and wholesome romance" if that's something you're seeking or seeking to avoid.
Pairing: F/M
Amazon (No blurb on Amz, so go to Goodreads)
And all the rest!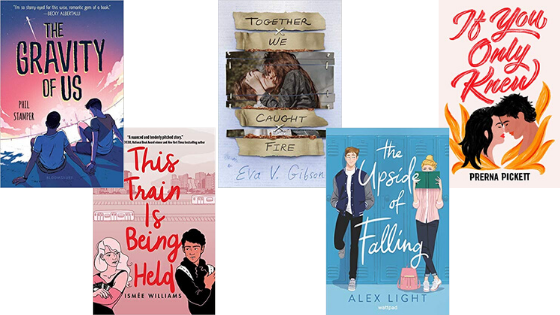 February 4 - The Gravity of Us, by Phil Stamper - M/M
Two sons of NASA employees working on a mission to Mars. Stamper's debut.

February 4 - Together We Caught Fire, by Eva V. Gibson - F/M
This sounds like one giant angst-fest. Just read the blurb, it's like forbidden/angst soup.

February 11 - If You Only Knew, by Prerna Pickett - F/M
"A boy recently released from jail and the daughter of a prosecutor fall for each other against the odds..." Secrets and class differences.

February 11 - This Train is Being Held, by Ismée Amiel Wiliams - F/M
Isa's mother doesn't want her to date Alex but they keep seeing each other on the subway. Class differences, prejudice, mental health rep. Dancer and baseball player. NYC subway romance!

February 18 - The Upside of Falling, by Alex Light - F/M
Fake dating, opposites attract and both of them are struggling with stuff in their personal lives.
March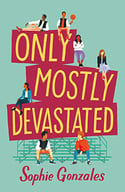 Only Mostly Devastated, by Sophie Gonzales - March 3

Andrea: Tbh I'm not entirely sure if I'm able to emotionally ready to get through this book, but I am definitely drawn to it. The title is fun and the cover reminds me of every teen movie and ugh I'm probably gonna regret putting myself through this heartache but it's happening.
"Simon vs. the Homo Sapiens Agenda meets Clueless in this boy-meets-boy spin on Grease"
Pairing: M/M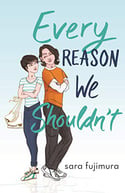 Every Reason we Shouldn't, by Sara Fujimura - March 3

Suzanne: FIGURE SKATING ROMANCE. Okay, he's a speed skater and she's a figure skater, but I will take it.
"This book is like a warm hug filled with all the things I love. I started smiling from page one and couldn't put it down." -- Courtney Milan
When was the last time you saw Courtney Milan endorse a figure skating romance? Anyway, enemies-to-lovers. Billed as "clean and wholesome."

Pairing: F/M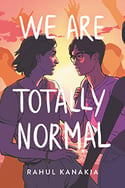 We Are Totally Normal, by Rahul Kanakia - March 31
Andrea: I already love Nandan! And I can't wait for the moment when we read the title as a line in the book. I'm hoping this is a chill enlightening really sweet and wonderful experience for him. I am begggging for no homophobia, just real conversations where teens figure things out, the way I remember Nic Stone's Odd One Out. I need this to be low angst and lovely. Please and thank you.
Pairing: M/M
And all the rest!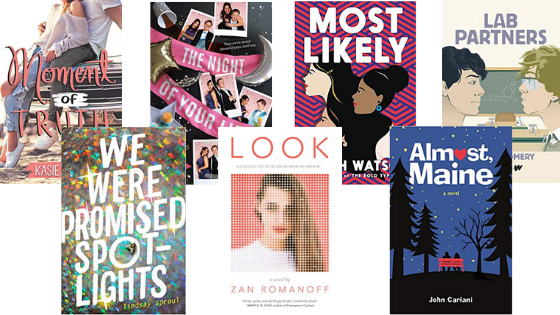 March 3 - Moment of Truth, by Kasie West - F/M
Swimmer and a case of fake identity? IDK, this blurb is a little confusing. Opposites attract.

March 3 - The Night of Your Life, by Lydia Sharp - Not sure the pairing here, but it's listed as having bi rep, so we're assuming the male MC is bi?
Groundhog Day but with prom and a car accident.

March 10 - Most Likely, by Sarah Watson - tagged as LGBT, so assume there are mixed pairings
Female friend group with romantic subplots, one is destined to become the President of the US. By the creator of The Bold Type.
March 10 - Lab Partners, by Mora Montgomery - M/M
Surprising no one, this is about lab partners! First love, punk rock, secondary ace rep.
Go to Goodreads if you want the blurb.

March 24 - We Were Promised Spotlights, by Lindsay Sproul - F/F
Friends to lovers, takes place in 1999! and senior year. Closeted MC.

March 31- Look, by Zan Romanoff - F/F
Closeted girl outed on social media. "It's a deceptively glamorous, feminist, emotionally complex, utterly compelling, queer coming-of-age novel about falling in love and taking ownership of your own self--your whole self--in the age of social media."

March 31 - Almost, Maine, by John Cariani - Mixed
Based on a play by the author, this is a collection of interlinked stories that take place in a tiny Northern Maine town.

That's it for January, February and March 2020 YA Romance! We have a separate list coming for YA Fantasy with romance, so if you aren't seeing those books in this list, never fear.
What YA Romances are you excited to read?