March is supposedly the start of Spring, so let's be optimistic and welcome some sunshine along with these fabulous books. (If you're Andrea and in South Africa, hopefully March brings a bit of relief from the heat of summer!)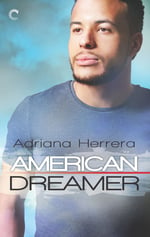 American Dreamer, by Adriana Herrera - March 4
No one ever said big dreams come easy
For Nesto Vasquez, moving his Afro-Caribbean food truck from New York City to the wilds of Upstate New York is a huge gamble. If it works? He'll be a big fish in a little pond. If it doesn't? He'll have to give up the hustle and return to the day job he hates. He's got six months to make it happen—the last thing he needs is a distraction.
Jude Fuller is proud of the life he's built on the banks of Cayuga Lake. He has a job he loves and good friends. It's safe. It's quiet. And it's damn lonely. Until he tries Ithaca's most-talked-about new lunch spot and works up the courage to flirt with the handsome owner. Soon he can't get enough—of Nesto's food or of Nesto. For the first time in his life, Jude can finally taste the kind of happiness that's always been just out of reach.
An opportunity too good to pass up could mean a way to stay together and an incredible future for them both…if Nesto can remember happiness isn't always measured by business success. And if Jude can overcome his past and trust his man will never let him down.
Ana - This book is full of delicious sounding food, small town tensions and angst. As a resident of Western NY, it has been fascinating to see Herrera name-check towns not far from where I am from, but so far everything feels about right.
Alex - I love everything about the book, from blurb, to cover, to the title. The place and topic are unfamiliar to me in many senses, from the setting to the food. But even as a terribly picky eater, the food descriptions are …amazing. The overlying theme though, the battle for one's dream, is something we all probably understand.
Buy a copy: Amazon, Apple Books, Barnes & Noble, Kobo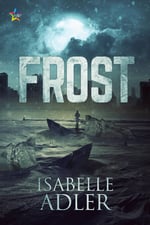 Frost, by Isabelle Adler - March 4
The end of the world as they knew it had come and gone, and the remnants of mankind struggle to survive in a barren landscape. Twenty-three-year-old Finn sets out on a desperate mission to scavenge for the much-needed medicine to help his sister. He knows better than to trust anyone, but when a total stranger saves him from a vicious gang, the unexpected act of kindness rekindles Finn's lost faith in humanity.
The tentative friendship with his rescuer, Spencer, gradually turns into something more, and for the first time in years, Finn lets himself yearn for joy and hope in the dead of nuclear winter—right until Spencer goes missing.
They say love is the greatest power of all, but it seems it would take nothing short of a miracle to overcome the dangers that threaten to destroy Finn's only chance for happiness and the lives of his loved ones.
Alex - This is a post-apocalyptic m/m romance and I have wanted to try this author out for a while. I've heard really good things about this novella and I love the cover.
Buy a copy: Amazon, Apple Books, Barnes & Noble, Kobo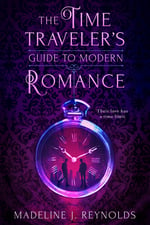 The Time Traveler's Guide to Modern Romance, by Madeline J. Reynolds - March 4
Elias Caldwell needs more than his life in nineteenth-century England has to offer. He'd rather go on an adventure than spend one more minute at some stuffy party. When his grandfather gives him a pocket watch he claims can transport him to any place and time, Elias doesn't believe it...until he's whisked away to twenty-first-century America.
Tyler Forrester just wants to fall hopelessly in love. But making that kind of connection with someone has been more of a dream than reality. Then a boy appears out of thin air, a boy from the past. As he helps Elias navigate a strange new world for him, introducing him to the wonders of espresso, binge-watching, and rock and roll, Tyler discovers Elias is exactly who he was missing.
But their love has time limit. Elias's disappearance from the past has had devastating side effects, and now he must choose where he truly belongs—in the Victorian era, or with the boy who took him on an adventure he never dreamed possible?
Andrea - All the Goodreads reviews are like "yas gay timetravel" "timetravel is a gays only event" and then on top of that it's this gorgeous lush violet magenta parade of purples on the cover? Sign me up!
Buy a copy: Amazon, Apple Books, Barnes & Noble, Kobo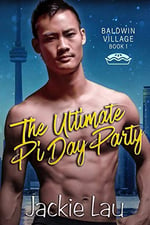 The Ultimate Pi Day Party, by Jackie Lau - March 5
If there's one thing that might get my dad, a retired math teacher, to visit Toronto and have a real conversation with me for the first time in seventeen years, it's a big nerdy Pi Day party. And hopefully this party—and seeing the tech company I built from nothing—will finally be enough to impress him and make him forgive me for everything I did when I was a teenager.
But it's got to be a really great party.
That's where Sarah Winters comes in. She owns Happy As Pie, a sweet and savory pie shop, and wants to get into catering. She makes an amazing lamb-rosemary pie, cherry pie, lemon-lime tart…you get the idea. She'll provide the food and help me plan the party, nothing more. No matter how much time we spend together, I'm not going to fall in love with her.
At least, that's what I tell myself…
Suzanne - I've been looking forward to this book ever since Jackie Lau said on Twitter that she was eating ALL THE PIE for research purposes. If reading the book is as fun as researching for the book... Anyway, you can read our interview with her here.
Buy a copy: Amazon, Apple Books, Barnes & Noble, Kobo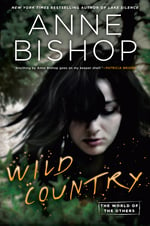 Wild Country, by Anne Bishop - March 5
In this powerful and exciting fantasy set in the world of the New York Times bestselling Others series, humans and the shape-shifting Others will see whether they can live side by side...without destroying one another.
There are ghost towns in the world—places where the humans were annihilated in retaliation for the slaughter of the shape-shifting Others.
One of those places is Bennett, a town at the northern end of the Elder Hills—a town surrounded by the wild country. Now efforts are being made to resettle Bennett as a community where humans and Others live and work together. A young female police officer has been hired as the deputy to a Wolfgard sheriff. A deadly type of Other wants to run a human-style saloon. And a couple with four foster children—one of whom is a blood prophet—hope to find acceptance.
But as they reopen the stores and the professional offices and start to make lives for themselves, the town of Bennett attracts the attention of other humans looking for profit. And the arrival of the outlaw Blackstone Clan will either unite Others and humans...or bury them all.
Ana - Unlike the first book in the series, Lake Silence, which was only lightly referential to the original series and could standalone easily, Wild Country's story runs parallel to the events in Marked in the Flesh and Etched in Bone. There is a lot to unpack while re-experiencing everything from a completely new place and perspective. This story however has the most straightforward romance arc I've seen from Bishop so far in this series.
Buy a copy: Amazon, Apple Books, Barnes & Noble, Kobo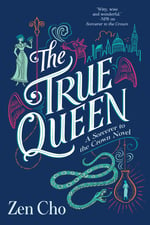 The True Queen, by Zen Cho - March 12
In the follow-up to the "delightful" Regency fantasy novel (NPR.org) Sorcerer to the Crown, a young woman with no memories of her past finds herself embroiled in dangerous politics in England and the land of the fae.
When sisters Muna and Sakti wake up on the peaceful beach of the island of Janda Baik, they can't remember anything, except that they are bound as only sisters can be. They have been cursed by an unknown enchanter, and slowly Sakti starts to fade away. The only hope of saving her is to go to distant Britain, where the Sorceress Royal has established an academy to train women in magic.
If Muna is to save her sister, she must learn to navigate high society, and trick the English magicians into believing she is a magical prodigy. As she's drawn into their intrigues, she must uncover the secrets of her past, and journey into a world with more magic than she had ever dreamed.
Ana - True Queen is the FF sequel to Cho's imaginative and immersive Sorcerer to the Crown. I am eager to return to this world and to sink into Cho's fantastic writing.
Buy a copy: Amazon, Apple Books, Barnes & Noble, Kobo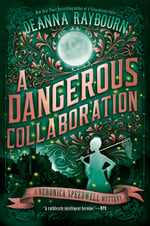 A Dangerous Collaboration, by Deanna Raybourn - March 12
A bride mysteriously disappears on her wedding day in the newest Veronica Speedwell adventure by the New York Times bestselling author of the Lady Julia Grey series.
Lured by the promise of a rare and elusive butterfly, the intrepid Veronica Speedwell is persuaded by Lord Templeton-Vane, the brother of her colleague Stoker, to pose as his fiancée at a house party on a Cornish isle owned by his oldest friend, Malcolm Romilly.
But Veronica soon learns that one question hangs over the party: What happened to Rosamund? Three years ago, Malcolm Romilly's bride vanished on their wedding day, and no trace of her has ever been found. Now those who were closest to her have gathered, each a possible suspect in her disappearance.
From the poison garden kept by Malcolm's sister to the high towers of the family castle, the island's atmosphere is full of shadows, and danger lurks around every corner.
Determined to discover Rosamund's fate, Veronica and Stoker match wits with a murderer who has already struck once and will not hesitate to kill again.…
Ana - A Dangerous Collaboration is the next installment in Raybourn's Veronica Speedwell mystery series. I have enjoyed most of these, although I do sometimes wish that Stoker and Veronica's slow burn romance would burn just a little hotter.
Buy a copy: Amazon, Apple Books, Barnes & Noble, Kobo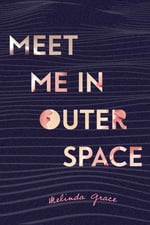 Meet Me in Outer Space, by Melinda Grace - March 12
Smart and unflinching, this #OwnVoices debut contemporary novel stars an ambitious college student who refuses to be defined by her central auditory processing disorder.
Edie Kits has a learning disability. Well, not a learning disability exactly, but a disability that impacts her learning. It isn't visible, it isn't obvious, and it isn't something she likes to advertise.
And for three semesters of college, her hard work and perseverance have carried her through. Edie thinks she has her disability under control until she meets her match with a French 102 course and a professor unwilling to help her out.
Edie finds herself caught between getting the help she needs and convincing her professor that she isn't looking for an easy out. Luckily for Edie, she has an amazing best friend, Serena, who is willing to stitch together a plan to ensure Edie's success. And then there's Hudson, the badly dressed but undoubtedly adorable TA in her French class who finds himself pulled into her orbit...
Chosen by readers like you for Macmillan's young adult imprint Swoon Reads, Meet Me in Outer Space is a sweet, heartachingly real story of love and college life by debut author Melinda Grace.
Andrea - Please know that my brain is (JOY) SCREAMING non-stop since I read the words "central auditory processing disorder" in the blurb! I legit clicked on this book only because the cover looked cool, and then it turns out to be a book for ME SPECIFICALLY! Hi, I'm Andrea and I have CAPD!! And it's so hard and complex and so much affects my relationships and meeting new people and the only character i know who has it is one that I've written so yeah OMG I FREAKING CANT WAIT TO READ THIS.
Buy a copy: Amazon, Apple Books, Barnes & Noble, Kobo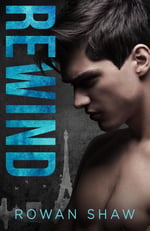 Rewind, by Rowan Shaw - March 18
The day Enzo Chevalier lost his hearing, everything changed. Forced to rebuild his future and fight for his dreams, Enzo refused to let anything take him down...until the man of his life walked out on him and shattered his heart.
Florian Beaudry had his whole life figured out. His business was flourishing and everything was settling down at last. Or so he believed...until he walked in on his girlfriend and best friend.
Still on the rebound and unable to trust another man, Enzo never expected a chance encounter with Florian. The one person he thought he would never see again. The one person he missed the most.
Were they truly meant to get a second chance or were they doomed from the start?
REWIND is an MM romance novel set entirely in France. Though part of a series, it is a standalone story without a cliffhanger.
Andrea - This book has two things I want to read more of this year: bisexual boys and people coping with hearing loss. It's also a second chance romance set in France, and the MCs have the coolest names (Enzo and Florian) so... yah I'm IN!!
Buy a copy: Amazon, Apple Books, Barnes & Noble, Kobo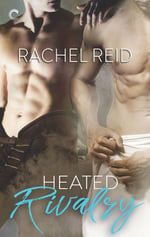 Heated Rivalry, by Rachel Reid - March 25
Nothing interferes with Shane Hollander's game—definitely not the sexy rival he loves to hate.
Pro hockey star Shane Hollander isn't just crazy talented, he's got a spotless reputation. Hockey is his life. Now that he's captain of the Montreal Voyageurs, he won't let anything jeopardize that, especially the sexy Russian whose hard body keeps him awake at night.
Boston Bears captain Ilya Rozanov is everything Shane's not. The self-proclaimed king of the ice, he's as cocky as he is talented. No one can beat him—except Shane. They've made a career on their legendary rivalry, but when the skates come off, the heat between them is undeniable. When Ilya realizes he wants more than a few secret hookups, he knows he must walk away. The risk is too great.
As their attraction intensifies, they struggle to keep their relationship out of the public eye. If the truth comes out, it could ruin them both. But when their need for each other rivals their ambition on the ice, secrecy is no longer an option…
Alex - Heated Rivalry is the second book in the Game Changers series and it has some cameos of the characters from the first book (Game Changer). It features two other characters though, and it follows their relationship from their first meeting and through the years. The blurb is very interesting as is the whole premise – two hockey players, rivalry built around them personally and the rivalry of their teams in general.
Buy a copy: Amazon, Apple Books, Barnes & Noble, Kobo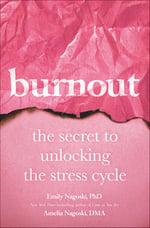 Burnout, by Emily Nagoski and Amelia Nagoski - March 26
This groundbreaking book explains why women experience burnout differently than men—and provides a simple, science-based plan to help women minimize stress, manage emotions, and live a more joyful life.
Burnout. Many women in America have experienced it. What's expected of women and what it's really like to be a woman in today's world are two very different things—and women exhaust themselves trying to close the gap between them. How can you "love your body" when every magazine cover has ten diet tips for becoming "your best self"? How do you "lean in" at work when you're already operating at 110 percent and aren't recognized for it? How can you live happily and healthily in a sexist world that is constantly telling you you're too fat, too needy, too noisy, and too selfish?
Sisters Emily Nagoski, PhD, and Amelia Nagoski, DMA, are here to help end the cycle of feeling overwhelmed and exhausted. Instead of asking us to ignore the very real obstacles and societal pressures that stand between women and well-being, they explain with compassion and optimism what we're up against—and show us how to fight back. In these pages you'll learn

• what you can do to complete the biological stress cycle—and return your body to a state of relaxation
• how to manage the "monitor" in your brain that regulates the emotion of frustration
• how the Bikini Industrial Complex makes it difficult for women to love their bodies—and how to defend yourself against it
• why rest, human connection, and befriending your inner critic are keys to recovering and preventing burnout

With the help of eye-opening science, prescriptive advice, and helpful worksheets and exercises, all women will find something transformative in these pages—and will be empowered to create positive change. Emily and Amelia aren't here to preach the broad platitudes of expensive self-care or insist that we strive for the impossible goal of "having it all." Instead, they tell us that we are enough, just as we are—and that wellness, true wellness, is within our reach.
Suzanne - This isn't a romance, but I found Nagoski's analysis in Come As You Are of how stress impacts women's sexual experience and desire (in a number of ways, with individual variations) interesting and helpful. I'm weirdly excited to read a book about burnout... as long as it's by her.
Buy a copy: Amazon, Apple Books, Barnes & Noble, Kobo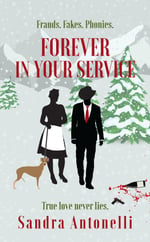 Forever in Your Service, by Sandra Antonelli - March 29
A grieving butler. A dead spy. A randy little dog.
Reproduction wines, counterfeit handbags, forged art, and sham relationships trap Mae in a web of phonies, frauds, and liars—with Kitt the greatest charlatan of them all.
Spies come back from the dead in movies and books, but this isn't film or fiction. Mae isn't sure what to believe after a spy loves says, 'I love you,' and everything, including her own life, is nothing but a ruse.
Ana - Forever in Your Service is the continuing adventures of seasoned lovers Mae and Kitt as they get caught up in more fraud and mystery. [Ana's review of At Your Service.]
Buy a copy: Amazon, Apple Books, Barnes & Noble, Kobo
What are you looking forward to in March?