Today we're sharing one of Ellie's posts from Ellie Reads All the Books! This post is all about romance novels with older main characters (MCs), a request we see often from Romance Twitter. In her recommendations section, you'll find links to her reviews. Thanks for sharing, Ellie!
***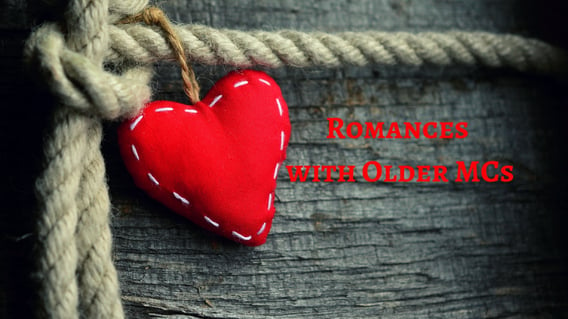 I admit I haven't read as many romances with older MCs as I would have liked. In my defense there doesn't seem to be that many out there - an age gap with one MC being in their 40s-50s seems to be much more common in romance. I recently read two stories with older MCs, which I absolutely adored, and this gave me the idea to compile this list. These were Olivia Dade's Cover Me and Rube Lang's The Long Run in the Rogue Acts Anthology. As usual for my What to read posts, I asked for more recommendations on Twitter and, not surprisingly, romance twitter delivered.
My Recommendations:
Romances with older MCs
Sun-Kissed (Snow Queen #2) by Laura Florand. It's part of the Amour et Chocolate series but works well on its own. it's a lovely, tender romance with MCs in their 50s. Review
The 'Burg and The Colorado Mountains series by Kristen Ashley. In fact most of her romances feature MCs in their late 30s, early 40s and older. I have a love/hate relationship with KA books. They are addictive, absolutely cracktastic but also problematic on many levels. I do however appreciate her focus on older MCs, giving her men and women a chance at love/family. Review of At Peace (The 'Burg #2)
Rogue Acts, Ruby Lang's The Long Run and Olivia Dade's Cover Me, two short stories, my first by these authors but quite good, made me want to read more of their work.
A Seditious Affair by KJ Charles. This is my favourite book by KJ Charles, together with Simon Feximal (it could also be included here, though the MCs are younger at the beginning of the book but we follow them through a couple of decades of them being together). Seditious Affair is part of the Society of Gentlemen series and needs to be read in order. BDSM romance between a seditious publisher and a man of law, fraught with tension and a hard-won, at times seemingly impossible HEA. Review
Autumn by Cole McCade, m/m romance, part of Crow City series but can be read as standalone. Two older MCs, one disabled who just discovers he is bi, the other - gentle, weird in love with his ex brother-in-law forever). Review
Dear Mona Lisa by Al Steward and Claire Davis - contemporary m/m, one MC has synesthesia (the first time reading something like that for me). It's very moving and emotional, made it into my list of best reads of 2017. CW for homophobia, death of a newborn.
Age Gap
For Real by Alexis Hall, RITA award winning BDSM m/m romance, with a young, inexperienced dominant and an older, slightly jaded submissive. Review (Buy links are currently down due to rights reversion.)
Glitterland by Alexis Hall, older grumpy writer with bipolar disorder and depression gets together with a young "glitter pirate" model from Essex. (Buy links are currently down due to rights reversion.)
Glass Tidings by Amy Jo Cousins, holiday m/m romance, older reclusive MC falls for a travelling fairs glass artist. Very moving, very real and touching. Review (Buy links are currently down due to rights reversion.)
Magic Mansion by Jordan Castillo Price, contemporary romance with a touch of magic. Two magicians at a reality show, one MC is over 60, the other is around 40. Review
Pretty Face by Lucy Parker, fun rom-com set at the London theatre scene, she is a TV series actress known for her roles as silly bombshells, he is a critically acclaimed stage director looking with scorn on TV production. They are forced to work together and to everyone's surprise, including their own, they fall hard for each other. Review
Recs From Reader Friends
Romances with Older MCs
Fast Women by Jennifer Crusie, m/f romance, chicklit, divorced heroine
Scandalous Lovers by Robin Schone, erotic m/f romance, widowed heroine
Midlife Crisis by Audra North, LAMBDA nominated m/m contemporary romance, divorced bi POC MC
Twice in a Lifetime by Jodie Griffin, contemporary bi f/f romance, both MCs in their 50s
Late Fall by Noelle Adams, with MCs in their 70s in an assisted living home
Soul Deep by Pamela Clare, m/f mid-40s heroine and 60s hero. Light mystery and suspense. (*insta-love)
Fanning the Flames by Victoria Dahl, MCs in 40s. Fun and flirty novella.
The Best Laid Plans by Sarah Mayberry. Hero is early 40s, heroine is a bit younger
Sweet Life by Nina Lane, m/f holiday romance
Magdalene series by Kristen Ashley, contemporary m/f romances
Faith & Fidelity by Tere Michaels, m/m romance
Silver Belles: An Over-40 Holiday Anthology - Sarah M. Anderson, Ros Clarke, Laura K. Curtis, Yasmine Galenorn, Suleikha Snyder
A Taste of Heaven by Penny Watson, m/f contemporary
Love Game by Maggie Wells - m/f sports romance, both MCs are coaches now
Age Gap
Anyone But You by Jennifer Crusie - m/f romance / chicklit with heroine in her 40s and younger hero
Team Phison by Chace Verity - m/m romance, MCs meet tjhrough online gaming, one MC is 55yo, the other - 28 yo
Tender with a Twist by Annabeth Albert - m/m BDSM romance
Sway by Lauren Dane - m/f erotic BDSM romance
A Boy Called Cin by Cecil Wilde - trans/non-binary billionaire romance
Permanent Ink by Avon Gale and Piper Vaughn - m/m romance, older tattoo artist and his friend's son (Buy links are currently down due to rights reversion.)
Companion Contract by Solace Ames - m/f BDSM romance with queer characters,
New Hand by LA Witt - m/m romance, older MC is a widower, younger MC is HIV+
The Apothecary's Garden by Julie Bozza, m/m romance with big age difference (42 years)
Series w/age gap & over 40 MC:
Sugar Baby series by Rebekah Weatherspoon - m/f erotic novellas following the same couple, billionaire romance
The Boss series by Abigail Barnett - m/f erotic BDSM series, billionaire romance
*** *** ***
Online resources for romances with older MCs
Goodreads list: Best older hero AND older heroine romance books (the main couple has to be over 40!)
Sandra Antonelli, author of romances with older MCs, has a bunch of recommendations made by her readers listed on her website
***
If you appreciate our content and wish to support the site, please consider using the affiliate links in this post and below for your shopping needs. Even if you don't buy the book in question, we receive a small % of your purchase from the vendor. As always, you are welcome to leave us a tip on Ko-Fi or join our Patreon!
Support Love in Panels