Despite my feelings and worries about current events that have so often bled into my reading this year, making me crave a certain kind of book or hyper-aware of problematic conventions and tropes in old faves, this was a fabulous reading year. I read lots of books by new-to-me authors that I can't wait to read more from including Austin Chant, Holley Trent, Talia Hibbert, EE Ottoman, and Ada Harper. As always, there are even more books and authors whose books I didn't get time to read, which makes writing a Best Of list so fraught.
These are the books that came out this year, that I would press into the hands of another reader without hesitation because I loved them so much.
Editor's Note: You can find the rest of Ana's Best Of lists at her website, and be sure to check out the #ReadRChat awards later this month!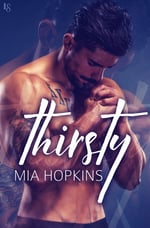 My favorite contemporary romance this year was Mia Hopkins's Thirsty. I was initially wary of reading an ex-con Latinx gangbanger written by a non-Latinx author. Yet in Thirsty, Hopkins created a diverse Mexican-American neighborhood around Sal, that kept anyone character from feeling like a cardboard cut-out or stereotype. I was also wary of the Hero-only Point of view in first person, because I typically consider myself to be a heroine-centric reader. While there were a handful of moments where I wished we had Vanessa's point of view, experiencing the romance from Sal's point of view was intimate and intense. It was particularly effective in depicting the contrast between Sal's effort to always look calm, smooth and in control, a survival tactic, and his inner turmoil. Through the first-person POV the reader experiences Sal's anxiety and occasional panic attacks along with him. I had to take a break halfway through reading this book because the angst and emotions were so big, but I kept coming back because I wanted to see Sal and Vanessa figure out their HEA.
Buy it: Amazon, Apple Books, Barnes & Noble, Kobo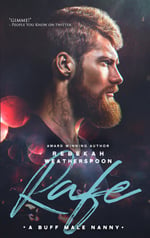 A close second was Rafe by Rebekah Weatherspoon, I read Rafe just the right moment and it was just so affirming and joyful that I only have to think back to it and I feel like smiling. In Rafe, Slone is a recently divorced doctor, who desperately needs a new nanny for her twins daughters. Rafe an experienced live-in-nanny who just had a long-term job end is able to step in on short-notice. Although I am typically very wary of boss/employee dynamics, Weatherspoon makes sure the dynamics don't ever get skeevy, as the characters have the honest and open discussion along the way. It also had a great portrayal of how sexy affirmative consent can be. I loved how gentle and supportive hero was. Although Sloane's ex is a nightmare, the plot-line never felt heavy or overwhelming, because both Rafe and Sloane had such great friends & family supporting them. I can easily see myself using this as a comfort re-read in the future.(CW: Controlling ex, violent outburst)
Buy it: Amazon, Kobo, Barnes & Noble, iBooks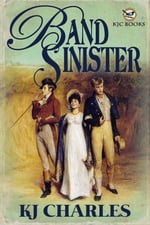 Another sure to be comfort read was KJ Charles's Band Sinister. My second favorite historical romance of year and another example the erotic power of affirmative consent. His family destroyed by scandal, Guy lives with his sister Amanda in near seclusion in a small country town. When Amanda breaks her leg and is nearly killed while trespassing on the estate of Disreputable Sir Phillip Rookwood, Guy rushes over to try to salvage as much of his sister's reputation as he can. While his sister is bed-bound, he find himself an unexpected guest at Rookwood's Murder. The Murder is a gathering of Rookwood's best friends and associates, scientists, atheists, free thinkers and artists. Before long, Guy's anxiety gives way to fascination. Band Sinister was full of longing and humor to things that rarely seen together. And I loved the intersectionality of the HEAs.
Buy it: Amazon, Apple Books, Barnes & Noble, Kobo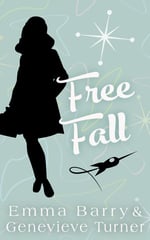 My favorite Historical Romance of the year was Free Fall by Emma Barry & Genevieve Turner. I absolutely loved the heroine. Vivy was amazing. She is a too-loud, too-big, too-bold, college co-ed whose laugh catches the attention of an astronaut at a party. Their one-night stand however has consequences, as she is the daughter of a major aerospace contractor who demands marriage when Vivy ends up pregnant. Their marriage is under pressure from the start as Dean's launch date approaches and the space suit his new father-in-law designed might have some major flaws. I loved how Dean just adores Vivy, even if he has no idea how to deal with his feelings or know how to talk and open up anymore. Vivy's arc from carefree daddy's girl into a woman who will stand up for herself and her family was fabulous.
Buy it: Amazon, Apple Books, Barnes & Noble, Kobo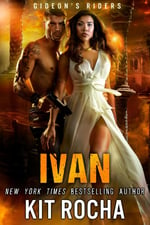 Maricela is no daddy's girl but she was the grand-daughter of the Prophet and in the Rios ruled Sector One, she is essentially a princess. Suitors are circling and maybe killing to improve their chances. If you have ever wanted to read a post-dystopian country house party romance, complete with murder, Ivan, the third book in Kit Rocha's Gideon's Riders series, is the book for you. Ivan has forbidden love, difficult power dynamics and all the courtly-intrigue you can wish for. I loved how Kit Rocha addresses the dangerously unequal power dynamics in their relationship instead of glossing over what it means for bodyguard to fall in love with a princess from theocracy. The book is thoughtful, suspenseful and super romantic.
Buy it: Amazon, Apple Books, Barnes & Noble, Kobo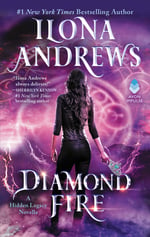 Mystery and family secrets are also central to my Fantasy pick of the year, Ilona Andrews's Diamond Fire. This coming of age novella is a bridge between the first Nevada-centered Hidden Legacy trilogy and the upcoming books focusing the rest of the Baylor clan. Under pressure to solve the mystery and determined to protect her family without alerting her formidable sister, Catalina learns how to use her powers while learning some hard truths. I loved getting a peek at Nevada and Rogan's wedding while experiencing the changing family dynamics. I can't wait to read the rest of this series.
Buy it: Amazon, Apple Books, Kobo, Barnes & Noble
What were your favorites this year? What books did you read that you want to get everyone else to try? Is there something you wish you had read or done this year? What are you looking forward to in 2019?