I've read so many wonderful books this year it actually hurts to pare down the list to a Top 5, so I had to cheat a little bit and create sub-genre specific Top 5 (and occasionally Top 10) lists to figure out what should be in my Top 5 list of the year so I am going to sneak in mentions of all the others books I loved in here too.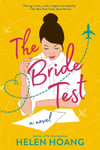 So many people fell in love with Hoang's The Kiss Quotient last year, but it is The Bride Test that won me over and has me adding Hoang to my auto-buy list. In The Bride Test Hoang centers a young Vietnamese single mother, Esme, who agrees to pretend to be the fiancée of Vietnamese-American at the behest of his match-making mother in order to be able to come to the United States. Khai, who is Autistic doesn't want a bride, let alone a stranger in his house but agrees in order to keep peace with his mother. Their fake engagement/forced proximity romance doesn't go as Khai's mother planned but they are able to bridge cultural and emotional misunderstandings to learn and appreciate each other's needs and wants and craft a beautiful HEA that is uniquely theirs. (Own voices Autistic Vietnamese American rep, CW: ableism, depression)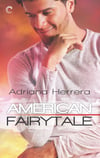 I could have put together a list of my Top 10 contemporary romances of the year and still had to leave fantastic books off the list because I also adored Lucy Parker's The Austen Playbook with its Hufflepuff/Slytherin romance, all three of Adriana Herrera's American Dreamer series but especially American Fairy Tale, Melissa Blue's Grumpy Jake for breaking me out of slump with its fantastic banter, Olivia Dade's Teach Me, blessing us all with the best of teacher rep, Alisha Rai's The Right Swipe for tackling CTE and MeToo with such finesse, Rebekah Weatherspoon's Xeni for its blend of grief and joy so beautiful and the softness of Scottish bagpipe-playing hero, and finally Talia Hibbert's Get a Life Chloe Brown, with its fantastic blend of humor and realism.
It was truly a fantastic year of contemporary romance.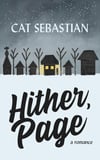 Hither, Page is an engrossing and compelling historical romantic mystery full of queer found family and meddling elderly lesbians set in a quiet post-WWII English village where nothing is at it appears. The leads, James Sommers, a doctor and Leo Page a secret agent, are trying to reintegrate into civilian life despite the ways the war has changed them and the world when their paths unexpectedly cross. I wish I had a dozen Page and Sommers mystery novels to read--cozy, funny and warm. (CW: Murder, PTSD, past trauma: abuse, abandonment).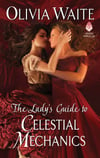 There could not have been no better year for my oldest to ask me for angsty romances with queer ladies. I loaded their reading app with fabulous books by KJ Charles, Cat Sebastian, Olivia Waite and Courtney Milan: Proper English, Gilded Cage, A Little Light Mischief, A Duke in Disguise, The Lady's Guide to Celestial Mechanics and Mrs. Martin's Incomparable Adventure.
It has been a joy to get their texted updates whenever they encounter a particularly awesome line or swoon at a HEA.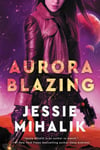 I didn't know I needed romances with dangerous space princesses running away across the galaxy till I read Jessie Mihalik's first two books in The Consortium Rebellion series. While I really enjoyed Polaris Rising, Bianca in Aurora Blazing won my heart. She is fierce, protective and so determined despite the way her abusive late husband's modifications pain her. I love how she and Ian find creative solutions to the obstacles facing them and the way the siblings are 100% for each other despite their father's machinations. If you are looking for big ships, big explosions and super sexual tension you need to read this series. (CW: domestic abuse, torture, war, guns, past trauma: non consensual medical procedures)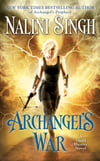 I caught up on a lot of great UF series via audiobook this year. I listened to all of Nalini Singh's Guild Hunters series just in time to catch up and read Archangel's War, which was both a conclusion to a long running storyline and a fantastic teaser for more.
I caught up on Rebecca Roanhorse' fabulous UF series, The Sixth World, set in a post-apocalyptic New Mexico, where the magic of Navajo gods has risen once again. Storm of Locusts moved forward a complicated romance while expanding the world in super intriguing ways.
I also immersed myself in Rachel Aaron's DFZ's series, on my sister's urging. A stand-alone-ish spin-off from Aaron's Heartstriker series, Minimum Wage Magic, and the most recent Part-Time Gods, are surprising, fascinating and super fun. I loved seeing Opal facing off against her father, discovering her magic and negotiating how to survive in the hyper-capitalistic Detroit Free Zone, while keeping her principles and sense of right and wrong. I am also loving the romantic elements and can't wait to see where Opal and Nick end up.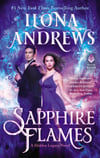 The first three Hidden Legacy novels are one my favorite comfort listens. Whenever I am not ready to start a new series or feel a little burnt out, I just start listening to Burn for Me (Hidden Legacy #1) once again, so to say I was highly anticipating Sapphire Flames is putting it mildly. Thankfully I loved it. I loved how the Andrews have shifted focus and given us a new perspective on the Baylor clan by centering Catalina and Alessandro for this trilogy--a new sibling and romantic relationship dynamic to explore while building on the established history of the series. I love the push-pull tension between Alessandro and Catalina, and the promise of all the secrets they have yet to discover in each other. I can't wait till next year's book! (CW: Suicide Attempt, Murder, Violence, guns)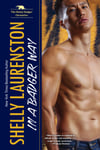 My heart belongs to PNR, so this was one of the toughest categories to sort through, since there were both fantastic continuations to some of my favorite long-running PNR series by favorite PNR authors, such as Nalini Singh's suspenseful Wolf Rain (Psy-Changelings Trinity #3) and Shelly Laurenston raucous In a Badger Way (Honey Badger Chronicles #2), along with new favorite, Charlie Adhara's tense Thrown to the Wolves (Big Bad Wolf #3) along with an enchanting and promising debut in as Allie Therin's Spellbound (Magic in Manhattan #1).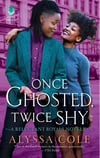 I started 2019 by reading Alyssa Cole's Once Ghosted, Twice Shy (Reluctant Royals series) and at the end of the year it still stands as my favorite novella of 2019. I loved how Cole unraveled Fab and Likotsi's story through alternating flashback chapters. I usually struggle with this narrative device because too often authors use it to develop tension and angst between lovers, while I thought Cole used it effectively to clarify and give context to their complications to their relationship and show why they would be open to each other after how things ended. (CW: incarceration)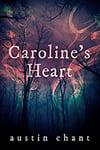 I read a lot of great novellas this year, but most of them were backlist books, such as Austin Chant's wonderfully complex and emotional, Caroline's Heart and EE Ottoman's swoony enemies to lovers romance, A Matter of Disagreement. I also read through all of Kit Rocha's Patreon perk shorts and vignettes but High Priestess, stands out as my favorite. In a short little story, Rocha peels back the layers on Del, a fascinating and powerful secondary character in the Gideon's Riders series while giving closure to a long-running storyline in the Beyond World.
I also loved and previously mentioned A Little Light Mischief by Cat Sebastian, a playful cross-class f/f romance the delivers the sexiest of revenge plots.
For me 2019 has been a fantastic year for reading and I have so many other sure to be amazing books still on my TBR to try to finish. I can only hope your year in reading was fun and remarkable as mine.
Happy New Year and Happy Reading! May 2020 bless you with many new-to-you authors to discover and the comfort of new books by old favorites.