I don't have much to say this month. I hope that as the weeks pass, things improve. That's pretty much it.
Here are some books we're looking forward to reading when our brains are capable of it.
This post contains affiliate links.
***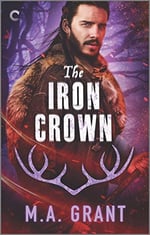 Marked Crown, by M.A. Grant - April 6

After the last Faerie Civil War, the leaders of the magickal pantheons stripped the shining Seelie Court of its power and tasked the dark Unseelie Court with maintaining the natural balance of the world.
Ages later, a twisted intrigue throws the balance of all Faerie into ruin and ignites a new civil war.
Discounted by his family and haunted in the Unseelie sidhe, Queen Mab's youngest son, Lugh, leads the Wild Hunt on quests across the dangerous Wylds. At his side is his best friend Keiran, a Viking rescued from death centuries earlier. Between Lugh's uncanny gift for being in the right place at the right time and Keiran's power of persuasion, they're revered across the Wylds—as long as Lugh keeps his true identity hidden from the people of the Sluagh.
Keiran and Lugh have loved each other for centuries—as friends and brothers in arms. Lugh has long since put aside his romantic love for Keiran to protect their friendship. But with the looming war in Faerie and the ghosts of the dead dogging Lugh's every move, Keiran realizes there may be room for romance between them after all, if only they can survive.
Rallying the Sluagh to fight in the looming war between the Seelie and Unseelie seems an impossible task. To achieve it, these childhood best friends will have to free Lugh from the restless souls haunting him and turn the tides threatening not only their growing love, but the balance of life and death itself.
Suzanne - I binged the first two in this m/m fae series earlier this year and they're pretty violent but dang did I love them. If you're a fan of fae mythology, I suggest you check them out. This is the third brother and I think the end of the trilogy. *sad face*

Buy a copy: Amazon ◊ Barnes & Noble ◊ Apple Books ◊ Kobo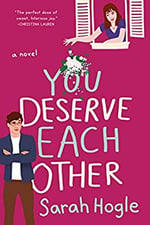 You Deserve Each Other, by Sarah Hogle - April 7

When your nemesis also happens to be your fiancé, happily ever after becomes a lot more complicated in this wickedly funny, lovers-to-enemies-to-lovers romantic comedy debut.
Naomi Westfield has the perfect fiancé: Nicholas Rose holds doors open for her, remembers her restaurant orders, and comes from the kind of upstanding society family any bride would love to be a part of. They never fight. They're preparing for their lavish wedding that's three months away. And she is miserably and utterly sick of him.
Naomi wants out, but there's a catch: whoever ends the engagement will have to foot the nonrefundable wedding bill. When Naomi discovers that Nicholas, too, has been feigning contentment, the two of them go head-to-head in a battle of pranks, sabotage, and all-out emotional warfare.
But with the countdown looming to the wedding that may or may not come to pass, Naomi finds her resolve slipping. Because now that they have nothing to lose, they're finally being themselves--and having fun with the last person they expect: each other.
Suzanne - I have it on good authority that I'll love this book, which makes sense because it's got two people desperate to annoy the other AND of course they're going to fall in love despite themselves. Mwahaha!

Buy a copy: Amazon ◊ Barnes & Noble ◊ Bookshop ◊ Apple Books ◊ Kobo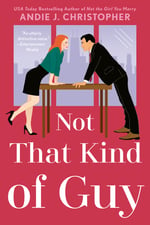 Not That Kind of Guy, by Andie J. Christopher - April 14

An office attraction becomes something more when they're off the clock in this delightful romantic comedy by the USA Today bestselling author of Not the Girl You Marry.
State attorney Bridget Nolan is successful in all aspects of her life—except romance. After breaking up with her longtime boyfriend, she's been slow to reenter the dating scene. To be honest, she has more important things to do like putting bad guys behind bars. But with her brother's wedding right around the corner, she suddenly needs a date and fast. Lucky for Bridget, the legal intern is almost done with his program.
Matt Kido is dumbstruck by Bridget—total love at first sight—but there's one problem. She's totally off-limits while she's his boss. But the moment he no longer reports to her, Matt decides to take a chance. An impulsive decision takes them to Las Vegas where, as the saying goes, what happens in Vegas, stays in Vegas.
Unless you put a ring on it.
Melanie - I love the idea of a female boss and male employee because so often that trope features a male boss and I really like the gender flip.
Buy a copy: Amazon ◊ Barnes & Noble ◊ Bookshop ◊ Apple Books ◊ Kobo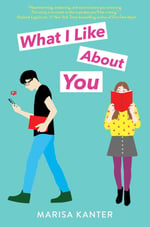 What I Like About You, by Marisa Kanter - April 7

Can a love triangle have only two people in it? Online, it can…but in the real world, its more complicated. In this debut novel that's perfect for fans of Jenny Han and Morgan Matson, Marisa Kanter hilariously and poignantly explores what happens when internet friends turn into IRL crushes.
Is it still a love triangle if there are only two people in it?
There are a million things that Halle Levitt likes about her online best friend, Nash.
He's an incredibly talented graphic novelist. He loves books almost as much as she does. And she never has to deal with the awkwardness of seeing him in real life. They can talk about anything…
Except who she really is.
Because online, Halle isn't Halle—she's Kels, the enigmatically cool creator of One True Pastry, a YA book blog that pairs epic custom cupcakes with covers and reviews. Kels has everything Halle doesn't: friends, a growing platform, tons of confidence, and Nash.
That is, until Halle arrives to spend senior year in Gramps's small town and finds herself face-to-face with real, human, not-behind-a-screen Nash. Nash, who is somehow everywhere she goes—in her classes, at the bakery, even at synagogue.
Nash who has no idea she's actually Kels.
If Halle tells him who she is, it will ruin the non-awkward magic of their digital friendship. Not telling him though, means it can never be anything more. Because while she starts to fall for Nash as Halle…he's in love with Kels.
Andrea - Every time I see this title my brain goes "You really know how to daaance!" Graphic novelist + YA Book-and-cupcake blogger! Digital friends turned awkward love story! Sounds really fun!
Suzanne - I read an early copy (from the publisher) and it's so cute. I'm horribly biased since I'm a) a book blogger and b) happily married to someone I fell in love with over internet chat.
Buy a copy: Amazon ◊ Barnes & Noble ◊ Bookshop ◊ Apple Books ◊ Kobo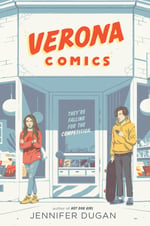 Verona Comics, by Jen Dugan - April 21

From the author of Hot Dog Girl comes a fresh and funny queer YA contemporary novel about two teens who fall in love in an indie comic book shop.
Jubilee has it all together. She's an elite cellist, and when she's not working in her stepmom's indie comic shop, she's prepping for the biggest audition of her life.
Ridley is barely holding it together. His parents own the biggest comic-store chain in the country, and Ridley can't stop disappointing them--that is, when they're even paying attention.
They meet one fateful night at a comic convention prom, and the two can't help falling for each other. Too bad their parents are at each other's throats every chance they get, making a relationship between them nearly impossible . . . unless they manage to keep it a secret.
Then again, the feud between their families may be the least of their problems. As Ridley's anxiety spirals, Jubilee tries to help but finds her focus torn between her fast-approaching audition and their intensifying relationship. What if love can't conquer all? What if each of them needs more than the other can give?
Andrea - Book Riot called it "Romeo & Juliet with a much happier ending and heaps of bisexuality" and I seriously love this cover, which, yes, is reason enough for me to read it. (Content warnings for anxiety disorders, parental abuse, severe depression with suicidal ideation, a past suicide attempt is mentioned more than once.)
Suzanne - I talked about it a little on our YA Romance April-June post, but basically I like all of the things Jen Dugan does and this is packed with catnip.
Buy a copy: Amazon ◊ Barnes & Noble ◊ Bookshop ◊ Apple Books ◊ Kobo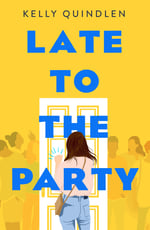 Late to the Party, by Kelly Quindlen - April 21

From author Kelly Quindlen comes a poignant and deeply relatable story about friendship, self-acceptance, and what it means to be a Real Teenager. Late to the Party is an ode to late bloomers and wallflowers everywhere.
Seventeen is nothing like Codi Teller imagined.
She's never crashed a party, never stayed out too late. She's never even been kissed. And it's not just because she's gay. It's because she and her two best friends, Maritza and JaKory, spend more time in her basement watching Netflix than engaging with the outside world.
So when Maritza and JaKory suggest crashing a party, Codi is highly skeptical. Those parties aren't for kids like them. They're for cool kids. Straight kids.
But then Codi stumbles upon one of those cool kids, Ricky, kissing another boy in the dark, and an unexpected friendship is formed. In return for never talking about that kiss, Ricky takes Codi under his wing and draws her into a wild summer filled with late nights, new experiences, and one really cute girl named Lydia. The only problem? Codi never tells Maritza or JaKory about any of it.
Andrea - This "ode to late bloomers and wallflowers everywhere" is giving me extremely Andrea-in-high-school energy,reminds me of Booksmart, and -to quote a Goodreads comment- is "the mlm/wlw solidarity we need & deserve."
Buy a copy: Amazon ◊ Barnes & Noble ◊ Bookshop ◊ Apple Books ◊ Kobo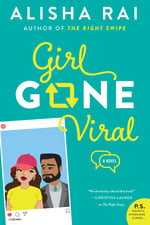 Girl Gone Viral, by Alisha Rai - April 21

In Alisha Rai's second novel in her Modern Love series, a reclusive investor goes viral, shoving her into the world's spotlight—and into the arms of the bodyguard she's been pining for…
OMG! Wouldn't it be adorable if he's her soulmate???
I don't see any wedding rings <eyes emoji>
Breaking: #CafeBae and #CuteCafeGirl went to the bathroom AT THE SAME TIME!!!
One minute, Katrina King's enjoying an innocent conversation with a random guy at a coffee shop; the next, a stranger has live-tweeted the entire encounter with a romantic meet-cute spin and #CafeBae has the world swooning. Going viral isn't easy for anyone, but Katrina has painstakingly built a private world for herself, far from her traumatic past. Besides, everyone has it all wrong...that #CafeBae bro? He isn't the man she's hungry for.
He's got a <peach emoji> to die for.
With the internet on the hunt for the identity of #CuteCafeGirl, Jas Singh, bodyguard and possessor of the most beautiful eyebrows Katrina's ever seen, offers his family's farm as a refuge. Alone with her unrequited crush feels like a recipe for hopeless longing, but Katrina craves the escape. She's resigned to being just friends with Jas--until they share a single electrifying kiss. Now she can't help but wonder if her crush may not be so unrequited after all...
Melanie - I adore Alisha Rai's books and the blurb for this has such a modern take on the typical bodyguard romance trope.
Buy a copy: Amazon ◊ Barnes & Noble ◊ Bookshop ◊ Apple Books ◊ Kobo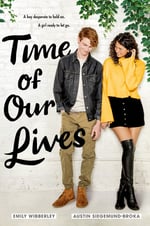 The Time of Our Lives, by Emily Wibberley and Austin Siegemund-Broka - April 21

A reflective, romantic coming-of-age novel that explores life after high school--perfect for fans of Fangirl and Emergency Contact
A boy desperate to hold on, a girl ready to let go.
Fitz Holton waits in fear for the day his single mother's early-onset Alzheimer's starts stealing her memory. He's vowed to stay close to home to care for her in the years to come--never mind the ridiculous college tour she's forcing him on to visit schools where he knows he'll never go.
Juniper Ramirez is counting down the days until she can leave home, a home crowded with five younger siblings and zero privacy. Against the wishes of her tight-knit family, Juniper plans her own college tour of the East Coast with one goal: get out.
When Fitz and Juniper cross paths on their first college tour in Boston, they're at odds from the moment they meet-- while Juniper's dying to start a new life apart from her family, Fitz faces the sacrifices he must make for his. Their relationship sparks a deep connection--in each other's eyes, they glimpse alternate possibilities regarding the first big decision of their adult lives.
Time of Our Lives is a story of home and away, of the wonder and weight of memory, of outgrowing fears and growing into the future.
Suzanne - I found their first two books to be just enough allusion to make me feel connected but not like the story is a true retelling. I'm especially interested in following a couple just out of high school since so many romances leave us with the characters about to go to college and like... that's when everyone breaks up.

Buy a copy: Amazon ◊ Barnes & Noble ◊ Bookshop ◊ Apple Books ◊ Kobo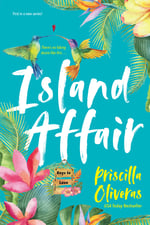 Island Affair, by Priscilla Oliveras - April 28

Sought-after social media influencer Sara Vance, in recovery from an eating disorder, is coming into her own, with a potential career expansion on the horizon. Despite the good news, her successful siblings (and their perfect spouses) have a way of making her feel like the odd one out. So, when her unreliable boyfriend is a no-show for a Florida family vacation, Sara recruits Luis Navarro—a firefighter paramedic and dive captain willing to play the part of her smitten fiancé . . .
Luis's big Cuban familia has been in Key West for generations, and his quiet strength feeds off the island's laidback style. Though guarded after a deep betrayal, he'll always help someone in need—especially a spunky beauty with a surprising knowledge of Spanish curse words. Soon, he and Sara have memorized their "how we met" story and are immersed in family dinners, bike tours, private snorkeling trips . . . sharing secrets, and slow, melting kisses. But when it's time for Sara to return home, will their fake relationship fade like the stunning sunset . . . or blossom into something beautiful?
Melanie - I admit to not having read anything by this author before but that cover is like a tropical paradise vacation and I have no doubt the words on the page will sweep me away. A perfect escape book if ever there was one.
Buy a copy: Amazon ◊ Barnes & Noble ◊ Bookshop ◊ Apple Books ◊ Kobo
And if you're wondering what other YA Romance comes out in April, check out this post, which covers April-June 2020.
Also out this month: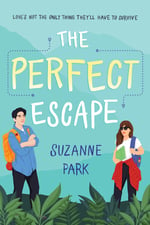 April 7 - Seduced by a Steele, Brenda Jackson
April 7 - The Perfect Escape, by Suzanne Park
April 7 - It Sounded Better in My Head, by Nina Kenwood
April 7 - Girl Crushed, by Katie Heaney
April 7 - Tack & Jibe, by Lilah Suzanne - DELAYED
April 7 - Sword in the Stars, Amy Rose Capetta
April 13 - Inked With a Kiss, Jennie Davids
April 14 - The Happy Ever After Playlist, by Abby Jimenez
April 14 - The Last Place You Look, by Aurora Rey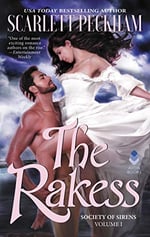 April 14 - This is My Brain in Love, by I.W. Gregorio
April 20 - Bright & Beautiful, by Amber Belldene
April 22 - Don't Go Stealing My Heart, Kelly Siskind
April 27 - Flying Gold, Vanessa North
April 28 - The Rakess, by Scarlett Peckham
April 28 - The Virgin and the Rogue, Sophie Jordan
April 28 - The Ingredients of You and Me, Nina Bocci
April 28 - Starbreaker, Amanda Bouchet
Reminder!
LGBTQ Reads keeps a list of new releases that includes queer fiction of every genre.
WoC in Romance publishes new release lists roughly weekly.
Girl Have You Read does the same.
What books are you looking forward to this month?
***
If you appreciate our content and wish to support the site, please consider using the affiliate links in this post and below for your shopping needs. Even if you don't buy the book in question, we receive a small % of your purchase from the vendor. As always, you are welcome to leave us a tip on Ko-Fi or join our Patreon!
Support Love in Panels