Sometimes the most unexpected combinations make the best pairings and no one knows this better than the residents of Romancelandia. Opposites attract is a time honored and battle tested trope that helped create the very foundation our fair city rests on. Knowing that we love our opposites-attract romances the way citizens of Shondaland love popcorn and wine, Crystal B. Bright (yes, that is her actual factual legal name) offers her unique take on the trope by pairing sultry R&B divas with good ole country boys for her Love & Harmony series.
***
Your Love & Harmony series is set against the backdrop of the music industry. The first novel in the series, Crazy in Love, was about R&B goddess Chantel Evans and country singer Truman Woodley while your latest novel, Crazy on You, pairs R&B "hook girl" and songwriter Tassia Hogan with country music golden boy Hyde Love. Where did you get the idea to have R&B divas hook up with country music stars? Are you a country music superfan, an R&B kinda girl, or a bit of both?
This will age me, but the idea for Crazy in Love actually came from the relationship between Beyonce and Jay-Z. This was while they were dating! I wondered why this beautiful woman would want to date a rapper like Jay-Z. What did she see in him? For most writers, we write to figure things out. I started plotting the story, but then I kept thinking what if there was something more separating them? I thought about R&B singer Toni Braxton's financial problems along with Mariah Carey's infamous televised breakdown, and that's how I came up with the Chantel Evans character.
And, yes, I do enjoy country music. At the time I had written this story, I had a little crush on country singer Tim McGraw and it helped that Tim had done a collaboration with the rapper Nelly so I could really imagine these genres mixing. I patterned the heroine after Beyonce and the hero after Tim McGraw. I liked the idea of different genre of music and these people from different walks of life getting together and attempting to get over their issues to find each other.
I noticed you did a Pinterest Board for your character inspirations for Crazy on You. How did you decide on Rihanna for Tassia and Chase Rice for Hyde? Also, Elton John as Chatty Charlie is brilliant, lol.
Thank God for Pinterest! Actually, several years ago, I was attending a Romantic Times Convention and met a team that ran a website called Storycasting. This was during the MySpace era, before Facebook, Instagram, and, of course, Pinterest. I used to put my character inspirations on the Storycasting site. Then when Pinterest came about, I decided to use that. I know a lot of authors use peg boards to "flesh" out what the characters look like. This is my version of doing that.
As far as my inspirations for Tassia and Hyde, I've always thought Rihanna was gorgeous, plus she has that feisty side that my character also has. For Hyde, I had to search for someone who, of course, is gorgeous and has boyish charm. When I saw pictures of Chase Rice online wearing that backwards baseball cap, I knew I had to use that in the story.
Oh, and Chatty Charlie, I wanted someone who you could imagine would be gossipy and catty. I wanted a male version of Wendy Williams. That's Elton John to a T.
The supporting cast in Crazy on You is amazeballs. From India's enthusiasm and over the top personality to Clever's slightly skeevy Dad/manager persona they enhance the story but don't pull the focus from the Tassia and Hyde. How do you balance giving your supporting characters enough personality so they're compelling with making sure they're not overpowering the MC's?
Thank you! The supporting characters are always tricky. You never want them to take over the story. To prevent that from happening, I concentrate the story on the main characters. The goal is to keep the hero and heroine together as much as possible. I have to admit, though, that I have a love for cousin Pepper. I for sure see Miley Cyrus in that part.
I've noticed both your series, Mama's Boys and Love and Harmony, are both IR. What drew you to writing IR and how do you handle criticism from people who don't understand "why" these particular love stories are important?
Beyond my own personal relationship (I'm African-American and my husband is white and Hispanic), I've always loved interracial romances. I particularly love reading interracial romances where race isn't the issue keeping the characters apart.
I grew up in a time and place where my school was very diverse. Interracial relationships weren't seen as that taboo. Also, because I live in the Tidewater area of Virginia, we have a very large Navy presence here, which brings a lot of different races to town. That doesn't mean that couples aren't given a double take here and there.
Thanks to authors like Jackie Collins and Sandra Kitt, I discovered that interracial romance stories can be well-received and lucrative. When I first attempted to get published, large publishers found interracial romances to be a risk. They viewed it as fetish fiction and didn't want to take a chance publishing the stories. Thanks to small press, readers have found our stories and have eaten them up. For that reason, larger publishers are now giving interracial romances a chance. Interracial romances are so popular that there's even a couple of readers conferences that are centered on interracial romance stories.
As far as criticism, I've only gotten a few readers who have reached out to me to say something negative about what I write. When they attack the genre without reading my work, I pay no attention to the comment and I don't even respond. The couple of times I respectfully responded to an emailed comment, the person wanted to argue with me. I'm not going to entertain that. That's my answer to anything negative. I don't acknowledge it so that the comment can die on the vine. Most of these people want the publicity they hope they'll get ruffling your feathers. I always wince when an author posts a negative comment or review on their social media pages. If you don't give the a platform, they'll move on to something else.
You've written both paranormal and contemporary romance. Is there one genre you prefer over the other?
Although I enjoyed writing Revamped, a story about a vampire with OCD, I'm really drawn to contemporary romance. There are some authors who really get into world building when writing paranormal romance or even science fiction/fantasy and I bow to them. That said, I may go back to writing paranormal romance. I do like to challenge myself. I'll follow my muse.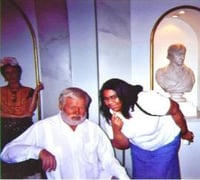 There's a picture of you with Ernest Hemingway on your website. How did that come about?
Haa! Haa! I wish it was the real Hemingway. Years ago, my sister and I attended the Romance Writers of America conference that was held in downtown Manhattan in New York. It was the first time we had ever been there. Unfortunately, we went there shortly after the attacks on 9/11. We did a Broadway show and then went to Times Square to Madame Tussauds Museum. There I posed with wax figures of Hemingway, Oprah, and my husband in my head, Dwayne "The Rock" Johnson.
Speaking of husbands, you recently got married (congratulations!) what's the most surprising thing about life as a newlywed?
Thank you for the congrats! The most surprising thing is how much our lives have not changed, well, other than the fact that we call each other "hubby" and "wifey" now. We've been together for so long, we already felt married. We just made it official.
What have you read lately that you just absolutely loved? Are there any new releases you're looking forward to?
I love reading other authors' books. After reading each book, I always post a review. I've read great books from authors like Hope White, Phyllis Bourne, and Michel Prince. Right now, I'm reading Controlled by S.K. Lessly. I met S.K. at the Interracial Romance Authors Expo, held every spring in Florida. It's great to support fellow authors.
What's up next for you? What are you working on?
Right now I'm working on a proposal for Lyrical Press for a follow-up on the Mama's Boys series. I'm calling it Daddy's Girls. Each hero from the three books have families with daughters. They need love, too. Keep your fingers crossed that they like the series as much as I do.
***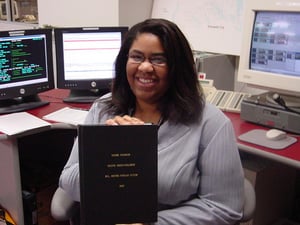 As a "daddy's girl" myself and a fan of Crystal's writing, I'm going to cross my fingers and hope that series comes our way soon. We had a lovely time interviewing Crystal and recommend picking up Crazy on You, which released on February 12. In the meantime, take a look at Crystal's backlist and catch up with her Twitter, Facebook, and over on her website at Crystalbrightwriter.com.
Photo: Crystal holding her Writing Popular Fiction M.A. thesis, Kissing Casanova.