We are SO excited to give you a chance to win an early print copy of Kit Rocha's upcoming Deal With the Devil courtesy of the authors!
If you aren't familiar with Kit Rocha, they're an author duo comprised of Bree and Donna. They've self-published for years and are now working with Tor to bring some mercenary librarians into the world!
Ana wrote about their Beyond series for us a while back because she's a big enough fan to co-host a whole podcast dedicated to the series. They're high heat hope-punk dystopian romances, populated by a Bisexual Love Army.
But you're here to for this new book, so let's get into it.
***
About Deal With the Devil: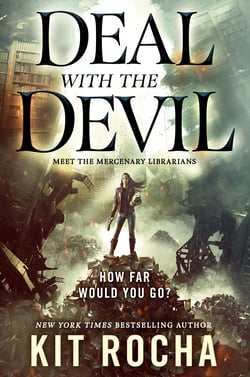 Deal with the Devil is Orphan Black meets the post-apocalyptic Avengers by USA Today and New York Times bestselling author duo Kit Rocha.
Nina is an information broker with a mission—she and her team of mercenary librarians use their knowledge to save the hopeless in a crumbling America.
Knox is the bitter, battle-weary captain of the Silver Devils. His squad of supersoldiers went AWOL to avoid slaughtering innocents, and now he's fighting to survive.
They're on a deadly collision course, and the passion that flares between them only makes it more dangerous. They could burn down the world, destroying each other in the process…
Or they could do the impossible: team up.
This is the first book in a near-future science fiction series with elements of romance.
At the Publisher's request, this title is being sold without Digital Rights Management Software (DRM) applied.
***
Deal with the Devil hits bookstores on May 12, 2020!
If you want to buy it, using one of these links gets us a 2-4% affiliate bump without any additional cost to you: Amazon, Apple Books, Barnes & Noble, Kobo
***
About Kit Rocha: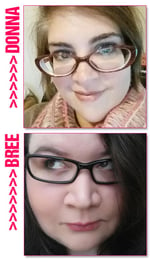 Unofficial bio below because it's more fun. Official one here.
Bree & Donna met while writing X-Men fanfic in 2000 and became BFFs 4Evah. When Bree's fallback job as a salesperson for non-denominational angel paraphernalia could no longer support her California rent, Donna invited her to move to Alabama and live with her. After meeting their husbands in a table top RPG at the local comic book store, they served as each others' Maids of Honor in 2004. In 2007 they decided that they should return to That Writing Thing they'd always loved, but this time writing original characters–together. The rest is history.
They currently live in the backwoods in Alabama, three miles apart, and spend their non-writing time caring for their combined 9 cats, 3 dogs and 15 chickens. (Oh, yeah, and Donna's kids.) You can follow their Kit Rocha twitter account or keep up with their individual adventures at @mostlybree and @totallydonna. They have a Patreon where they post behind-the-scenes glimpses of their life, a Facebook page and a reader group where they hang with all their favorite readers.
In their free time, they make jewelry and crafts and sell them on etsy.
***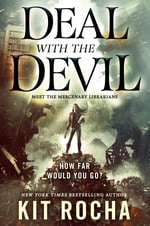 For a chance to win an early copy, here are the rules! The giveaway widget follows:
Giveaway is open to entries from 1/24/2020 until midnight on 1/26/2020. One winner will be randomly selected via Rafflecopter's automated process. No purchase necessary, you can even leave a blog comment to enter. Void where prohibited.
You must be 18 or older to enter and have a valid mailing address. Your address will be provided to Kit Rocha for shipping. Open internationally.
We are not being compensated for this giveaway. Many thanks to the authors for letting us share it with you!
***
If you cannot access the widget below, click here.