It's February, which means we get to fend off terrible articles about romance novels all month. Never surprised, always disappointed.
But here are some books we want to read!
This post includes affiliate links.
***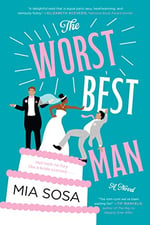 The Worst Best Man, Mia Sosa - February 4

Mia Sosa delivers a sassy, steamy #ownvoices enemies-to-lovers novel, perfect for fans of Jasmine Guillory, Helen Hoang, and Sally Thorne!
A wedding planner left at the altar? Yeah, the irony isn't lost on Carolina Santos, either. But despite that embarrassing blip from her past, Lina's offered an opportunity that could change her life. There's just one hitch… she has to collaborate with the best (make that worst) man from her own failed nuptials.
Marketing expert Max Hartley is determined to make his mark with a coveted hotel client looking to expand its brand. Then he learns he'll be working with his brother's whip-smart, stunning—absolutely off-limits—ex-fiancée. And she loathes him.
If they can nail their presentation without killing each other, they'll both come out ahead. Except Max has been public enemy number one ever since he encouraged his brother to jilt the bride, and Lina's ready to dish out a little payback of her own.
Soon Lina and Max discover animosity may not be the only emotion creating sparks between them. Still, this star-crossed couple can never be more than temporary playmates because Lina isn't interested in falling in love and Max refuses to play runner-up to his brother ever again...
Suzanne - Enemies. To. Lovers. Sosa's author brand is "fun and flirty" and I'm here for it. Bring me all the tropey funny romance in 2020.

Melanie - If done well, an enemies to lovers rom com is my absolute catnip. That it's by Mia Sosa makes it even more highly anticipated.
Buy a copy: Amazon ◊ Barnes & Noble ◊ Apple Books ◊ Kobo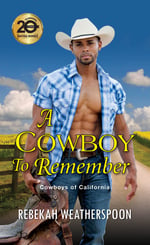 A Cowboy to Remember, by Rebekah Weatherspoon - February 25

In this brand-new series from award-winning author Rebekah Weatherspoon, a charming cowboy and his sleeping beauty find their modern-day happily ever after . . .
With a headline spot on a hit morning show and truly mouth-watering culinary skills, chef Evie Buchanan is perched on the edge of stardom. But at an industry party, a fall lands Evie in the hospital—with no memory of who she is. Scrambling to help, Evie's assistant contacts the only "family" Evie has left, close friends who run the luxury dude ranch in California where Evie grew up. Evie has no recollection of them—until former rodeo champion Zach Pleasant walks into her hospital room, and she realizes his handsome face has been haunting her dreams . . .
Zach hasn't seen Evie in years—not since their families conducted a campaign to make sure their childhood friendship never turned into anything more. When the young cowboy refused to admit the feelings between them were real, Evie left California, making it clear she never wanted to see Zach again. Now he refuses to make the same mistake twice. Starting fresh is a risk when they have a history she can't recall, but Zach can't bear to let go of her now. Can he awaken the sleeping beauty inside her who might still love him?
Suzanne - I'm not a fan of amnesia plots usually, but this is billed as a Sleeping Beauty retelling, so I'm intrigued. Black cowboy, second-chance and a chef heroine? I'm on board.
Melanie - I love this author's voice and this book has all the makings of a delightful second chance romance.
Buy a copy: Amazon ◊ Barnes & Noble ◊ Apple Books ◊ Kobo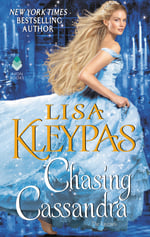 Chasing Cassandra, by Lisa Kleypas - February 18

Everything has a price . . .
Railway magnate Tom Severin is wealthy and powerful enough to satisfy any desire as soon as it arises. Anything—or anyone—is his for the asking. It should be simple to find the perfect wife—and from his first glimpse of Lady Cassandra Ravenel, he's determined to have her. But the beautiful and quick-witted Cassandra is equally determined to marry for love—the one thing he can't give.
Everything except her . . .
Severin is the most compelling and attractive man Cassandra has ever met, even if his heart is frozen. But she has no interest in living in the fast-paced world of a ruthless man who always plays to win.
When a newfound enemy nearly destroys Cassandra's reputation, Severin seizes the opportunity he's been waiting for. As always, he gets what he wants—or does he? There's one lesson Tom Severin has yet to learn from his new bride:
Never underestimate a Ravenel.
The chase for Cassandra's hand may be over. But the chase for her heart has only just begun . . .
Melanie - Kleypas has been teasing fans with glimpses of Tom Severin over the course of this series and I really want his story. Bonus points if St. Vincent and Evie show up.
Buy a copy: Amazon ◊ Barnes & Noble ◊ Apple Books ◊ Kobo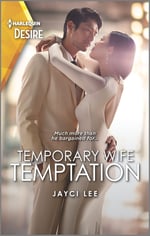 Temporary Wife Temptation, by Jayci Lee - February 1

Much more than he bargained for…
"You want me to find you a wife?"
"No. I want you to be my wife."
Garrett Song is this close to taking the reins of his family's LA fashion empire…until the Song matriarch insists he marry her handpicked bride first. To block her matchmaking, he recruits Natalie Sobol to pose as his wife. She needs a fake spouse as badly as he does. But when passion burns down their chaste agreement, the flames could destroy them all…
Andrea - This is an ownvoices Korean-American fake engagement romance with a cover so epic that I can't stop thinking about it. I'm expecting some workplace drama, a lot of family drama, and I've heard it's super fluffy, which is a plus for me :)
Buy a copy: Amazon ◊ Barnes & Noble ◊ Apple Books ◊ Kobo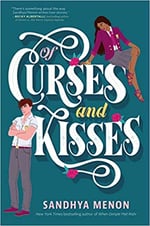 Of Curses and Kisses, by Sandhya Menon - February 18

From the New York Times bestselling author of When Dimple Met Rishi comes the first novel in a brand-new series set at an elite boarding school, that's a contemporary spin on Beauty and the Beast.
Will the princess save the beast?
For Princess Jaya Rao, nothing is more important than family. When the loathsome Emerson clan steps up their centuries-old feud to target Jaya's little sister, nothing will keep Jaya from exacting her revenge. Then Jaya finds out she'll be attending the same elite boarding school as Grey Emerson, and it feels like the opportunity of a lifetime. She knows what she must do: Make Grey fall in love with her and break his heart. But much to Jaya's annoyance, Grey's brooding demeanor and lupine blue eyes have drawn her in. There's simply no way she and her sworn enemy could find their fairy-tale ending…right?
His Lordship Grey Emerson is a misanthrope. Thanks to an ancient curse by a Rao matriarch, Grey knows he's doomed once he turns eighteen. Sequestered away in the mountains at St. Rosetta's International Academy, he's lived an isolated existence—until Jaya Rao bursts into his life, but he can't shake the feeling that she's hiding something. Something that might just have to do with the rose-shaped ruby pendant around her neck…
As the stars conspire to keep them apart, Jaya and Grey grapple with questions of love, loyalty, and whether it's possible to write your own happy ending.
Andrea - A Beauty and the Beast retelling at an elite international boarding school, featuring a literal Princess on a journey to exact revenge. Star-crossed lovers, ancient curses, family feuds! I have drawn a red rose in my calendar on this date. I am ready to dive right in to allll of it!
Buy a copy: Amazon ◊ Barnes & Noble ◊ Apple Books ◊ Kobo
Yes No Maybe So, by Becky Albertalli & Aisha Saeed - February 4

A book about the power of love and resistance from New York Times bestselling authors Becky Albertalli and Aisha Saeed.
YES
Jamie Goldberg is cool with volunteering for his local state senate candidate—as long as he's behind the scenes. When it comes to speaking to strangers (or, let's face it, speaking at all to almost anyone) Jamie's a choke artist. There's no way he'd ever knock on doors to ask people for their votes…until he meets Maya.
NO
Maya Rehman's having the worst Ramadan ever. Her best friend is too busy to hang out, her summer trip is canceled, and now her parents are separating. Why her mother thinks the solution to her problems is political canvassing—with some awkward dude she hardly knows—is beyond her.
MAYBE SO
Going door to door isn't exactly glamorous, but maybe it's not the worst thing in the world. After all, the polls are getting closer—and so are Maya and Jamie. Mastering local activism is one thing. Navigating the cross-cultural crush of the century is another thing entirely.
Andrea - I wasn't super keen when I initially came across this blurb, but the way Suzanne describes her anticipation for it in our big list of upcoming 2020 YA Romance changed my mind completely. Bonus points for the fact that every time I see this cover I get the Malcolm in the Middle theme song stuck in my head!
Suzanne - Let's just say I'd really rather read this than all those "both sides" books coming out this summer.
Buy a copy: Amazon ◊ Barnes & Noble (Signed!) ◊ Apple Books ◊ Kobo
And if you're wondering what other YA Romance comes out in February, check out this post, which covers January-March 2020.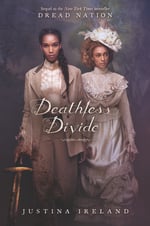 Deathless Divide, by Justina Ireland - February 4
The sequel to the New York Times bestselling epic Dread Nation is an unforgettable journey of revenge and salvation across a divided America.
After the fall of Summerland, Jane McKeene hoped her life would get simpler: Get out of town, stay alive, and head west to California to find her mother.
But nothing is easy when you're a girl trained in putting down the restless dead, and a devastating loss on the road to a protected village called Nicodemus has Jane questioning everything she thought she knew about surviving in 1880s America.
What's more, this safe haven is not what it appears—as Jane discovers when she sees familiar faces from Summerland amid this new society. Caught between mysteries and lies, the undead, and her own inner demons, Jane soon finds herself on a dark path of blood and violence that threatens to consume her.
But she won't be in it alone.
Katherine Deveraux never expected to be allied with Jane McKeene. But after the hell she has endured, she knows friends are hard to come by—and that Jane needs her too, whether Jane wants to admit it or not.
Watching Jane's back, however, is more than she bargained for, and when they both reach a breaking point, it's up to Katherine to keep hope alive—even as she begins to fear that there is no happily-ever-after for girls like her.
Suzanne - I loved Dread Nation and I've been waiting for this sequel for about 500 years. (Okay, that's a slight exaggeration.) THIS IS NOT A ROMANCE. It's zombie killing after the Civil War, though.
Buy a copy: Amazon ◊ Barnes & Noble ◊ Apple Books ◊ Kobo
Also out this month: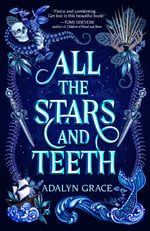 The Stars We Steal, Alexa Donne - 2/4
The Bachelor in Space!
All the Stars and Teeth, Adalyn Grace - 2/4
Deadly girls on a ship, including murder mermaids!
The Queen's Assassin, by Melissa de la Cruz - 2/4
Murder and romance! Book 1 in a duology.
Belle Révolte, Linsey Miller - 2/4
AU France life-swap!
Unforgiven, Jay Crownover - 2/25
Cowboy rom. suspense, second in series.
How to Love Your Elf, Kerrelyn Sparks - 2/25
Fae romance!
A Highlander in a Pickup, Laura Trentham - 2/25
A Scot goes to Georgia. Second in series, first was funny.
The Shadows Between Us, Tricia Levenseller - 2/25
Woo, marry and kill the king. What could go wrong?
Stormsong, by C.L. Polk
Historical fantasy with f/f romance subplot, second in series.
Note: Macmillan's library embargo is still in place. Some of the titles above are from Macmillan imprints. More on this here.
Reminder!
LGBTQ Reads keeps a list of new releases that includes queer fiction of every genre.
WoC in Romance publishes new release lists roughly weekly.
Girl Have You Read does the same.
What books are you looking forward to this month?
***
If you appreciate our content and wish to support the site, please consider using the affiliate links in this post and below for your shopping needs. Even if you don't buy the book in question, we receive a small % of your purchase from the vendor. As always, you are welcome to leave us a tip on Ko-Fi or join our Patreon!
Support Love in Panels