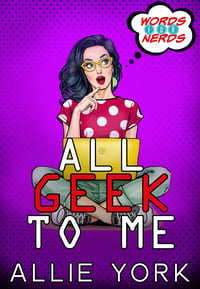 We've been reading about characters who love reading for decades (centuries?), but it's fairly recent that the characters in romance novels have embraced their nerdy/geeky sides. Whether it's Annabeth Albert's Gaymers, Melissa Blue's #DirtySexyGeeks or Christina Lauren's Dark Wild Night, characters who love gaming, astronomy, science, superheroes and/or comics are on the rise in the last decade or so. We've even got some superhero romances, like Blaze, by Christa Tomlinson. And remember when Nadia Diament stopped by to talk about her own love affair with comics?
It won't surprise you that we here at Love in Panels are fans of both romance and geekiness, so we're pleased to welcome author Allie York today to talk about flying her nerd flag high and writing the geeky romance of her heart.
Her latest book releases on February 13, so if you want to read a comic shop romance don't miss more info at the end!
***
This may show my age, but back when I was younger being a nerd was something you hid. The ridicule was strong with my childhood. You didn't wear ironic Clark Kent glasses, superhero shirts, or gush about your latest favorite read. I was raised on books, comics, and video games. This serves me well now in the pinnacle of nerd life. We have Marvel and DC in our box office, super villain backstories, our TV shows are based on all our favorite comics, and pop culture includes a love of graphic novels. Actually, if you aren't up to date on the latest Star Wars canon or the new episode of The Flash, you're not remotely cool.
While my time growing up was spent hiding my obsession with Batman, vintage Incredible Hulk comics, and reading every book with an elf in it (especially the naughty ones); my time as an adult is spent devouring every book I can get my hands on, taking my kids to midnight premiers of the newest superhero flick, and adding to my never-ending collection of graphic novels. I'm even lucky enough to take my love for love to the next level. Along with my geek streak, I grew up sneaking my grandmother's Fabio-covered romance novels as a youngling.
Now that I'm an adult, I can read, write, and love whatever I want with no backlash. My nerd flag flies proud and I actively seek out books that combine two of my favorite things: steamy romance and nerdiness. If you search 'nerdy romance' on Goodreads, you get a comprehensive list of hundreds of romance novels starring the nerdiest of heroes and heroines. This includes, but isn't exclusive to, comic loving characters and those are my absolute favorites.
What a time we live in that we can read romance starring heroines who share our passions, and heroes who are our favorite book boyfriends as well as comic readers. Comic enthusiast representation in romance is at an all-time high, and it's a stellar time to be a comic nerd.
My list of favorites include:
#Nerd by Cambria Hebert
The Texting Series, by Teagan Hunter
The Book Boyfriends Series, by Claire Kingsley
Beauty and the Geek, by Sydney Bristol
I am constantly looking for more characters who share my passion and relate to my love of all things comics. Even the world of graphic novels has moved into romance, blurring the lines between the two arts, and bringing a collaboration I never thought possible.
I recently decided to add to the world of comic lovers living in a romance world. My newest series stars a group of four best friends all working together to run Words for Nerds Comics and Collectibles. Noralee Reynolds: the clumsy, nerdy, cosplaying, shop owner. Rae Steward: the sassy, gum-chewing pro-gamer. Greer Owenby: The hopeless romantic, undiscovered comic artist. Tuesday Owenby: The business savvy café owner. All four women thrive under the roof of the best comic shop in the south.
Noralee finds her HEA in the first book, All Geek to Me.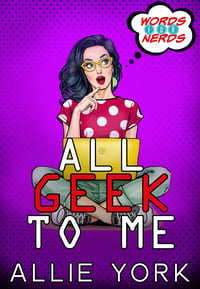 About the Book:
Welcome to Words for Nerds, the best comic book shop in the south, and the next series from Allie York! Noralee was the ultimate nerd, she owned a comic book shop to prove it and Wyatt's life couldn't be more hectic with being a cop and father. Does Wyatt have what it takes to be Noralee's real-life superhero? Fans of Teagan Hunter's Texting series will nerd out for this single dad, hot and fun romantic comedy.
I, Noralee Reynolds, lead the ultimate nerd life. I own a comic shop, have a great group of geeky friends to work with and wear a different cosplay every day. Since inheriting the family business I've had no time for a personal life of my own. Even if hosting a speed dating event makes me wish otherwise.
I, Wyatt Collins, lead a hectic life. As a single dad, I've only got time for two things - raising my son and being a cop. I wasn't looking to cuff myself to anyone. Then I crossed paths with a nerdy comic shop owner who made me think twice.
Things are great until a little self-doubt has Noralee wanting to run away.
Can Wyatt convince her that he can be her real-life superhero?
All Geek to Me hits Amazon on February 13th.
or
Goodreads → http://bit.ly/38yXLLX
About the Author
Allie is a mom and dog groomer by day. At night she is posted at her laptop writing or reading in a cozy corner. She has a soft spot for gooey romance, over-creamed coffee, and anything cute and furry.