Author Jackie Lau (also Laura Jardine) wrote one of my favorite romances of 2018, Mr. Hotshot CEO. Her books are styled as rom-coms, but they balance the funny with heartfelt depictions of biracial identity, depression, and complicated family dynamics. They're pretty much everything... in a good way. With everything from a T-Rex costume to a clinically depressed heroine teaching a CEO how to have fun, Lau's books have something for everyone. And it doesn't hurt that she shares photos of food all over her social media.
To get ready for her Pi Day book (more on that below), I asked her some questions!
***
As Jackie Lau, you write tropey, funny contemporary romance that features main characters of Asian descent. You've also spoken a lot about how biracial characters are represented in romance fiction. Could you tell us a bit about choosing a new pen name and how that impacts your writing?
When I switched to self-publishing, I figured it would be better to start over and write under a new name. While I had published a bunch of different things under my first pen name (Laura Jardine), I had a very clear idea of the kind of books I wanted to write going forward and what I wanted my brand to be. Since I planned to focus on romantic comedies with Chinese-Canadian characters, I chose a pen name that I thought would fit that brand. I think "Jackie Lau" has a sort of rom-com vibe, and I chose a Chinese last name in part to make it clearer that the books are #ownvoices, though an editor at one of my old publishers told me not to use a Chinese name. (My real last name is English, but my mother's family is Chinese.)
Your books usually have a strong family element, with multiple siblings getting an HEA and a nosy grandmother, sister, etc. Are you writing from experience? And how do you keep everyone straight - do you have a giant family tree for each series?
I love reading about POC families in novels, and I've always found families fun to write. There's so much potential for humor and drama. I don't have make a family tree when writing, but as part of my planning, I have notes on all the characters and how they're related to the hero and heroine.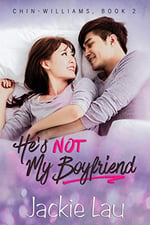 The families aren't directly based on my own, but occasionally, they're inspired by my experiences. I have one brother (who is not at all nosy) and no sisters. I've certainly never had my family try to play matchmaker (like Iris in He's Not My Boyfriend), though I've been with my husband since I was twenty-one, so maybe it would be different if I were still single now. Ngin Ngin, the Chinese grandmother in the Chin-Williams series, is nothing like my Chinese grandma. But I think I'm drawn to writing nosy family members in part because I miss my mother, and Iris's mom is a little like my own. Also, nosy family members are a great source of conflict.
Your Instagram feed is torture. Please tell us (and possibly show us) your favorite donut, pie, and gelato.
I always go to the same place for donuts. It's a bakery called The Rolling Pin, which has a great upstairs room where I like to write. My favourite donut is... oh boy. I did a poll in my Facebook group with my six favourite donuts recently, and if I had to narrow it down further, I was say it's a tie between gingerbread (with gingerbread custard filling) and blueberry cheesecake (with cheesecake filling). I always get the filled ones. Sorry for the additional torture, but here are some pictures: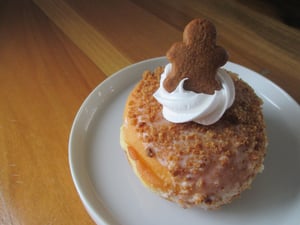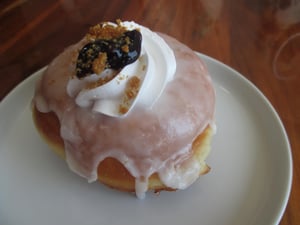 For pie, I really like my grandma's pumpkin pie.
And gelato? The lemon sour cream at Soma in Toronto is probably my absolute favourite. Vietnamese coffee and dark chocolate are always good, too.
What are you working on next?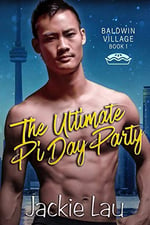 My next release, The Ultimate Pi Day Party (Baldwin Village, Book 1) is just about done, and I'm working on the last round of revisions for Ice Cream Lover (Book 2) before I send it to the editor. It's about a woman who runs an ice cream shop with Asian-inspired flavors…and a man who hates ice cream. A sunshine heroine/grumpy hero book! The hero is Asian and the heroine is biracial (Asian/white), and there's a lot of stuff about biracial identity, something I haven't written much about before in my books. Like me, the heroine was in her twenties when she lost her Asian mother, and this affected her identity and how she related to the people around her. Biracial characters are not uncommon in romance, but they're rarely written by biracial authors, so I'd like to write more of my own.
After that, I'm not entirely sure! A number of people have asked for Vince's story (Julian's brother in Mr. Hotshot CEO) so I'm considering that. There will be at least one more Baldwin Village book at some point, called Man vs. Durian. I'm also thinking of a novella holiday series revolving around a mixed race family, with books for Christmas, Chinese New Year, and Valentine's Day. We'll see!
What have you read (and loved) lately?
I've been reading Talia Hibbert's Ravenswood series, and it's amazing. I'm currently on Untouchable (Book 2). I haven't read two books by an author back-to-back in a long time, but after I finished the novella, Damaged Goods, I couldn't help but want the next story. I love how Talia Hibbert writes the interaction between the hero and heroine, and her heroes are so lovely.
***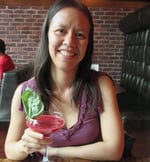 Jackie Lau decided she wanted to be a writer when she was in grade two, sometime between writing "The Heart That Got Lost" and "The Land of Shapes." She later studied engineering and worked as a geophysicist before turning to writing romance novels.
Jackie lives in Toronto with her husband, and despite living in Canada her whole life, she hates winter. When she's not writing, she enjoys cooking, hiking, eating too much gelato, and reading on the balcony when it's raining.
You can find Jackie online at www.jackielaubooks.com