July! Popsicles and brownouts and days so hot your fingers slip on your ereader. July is frequently a slower month for book releases as it follows the intense push in May and June to get all those "beach reads" out. But as you'll see, there are still a lot of books coming out this month, so let's get to it!
*
This post contains affiliate links.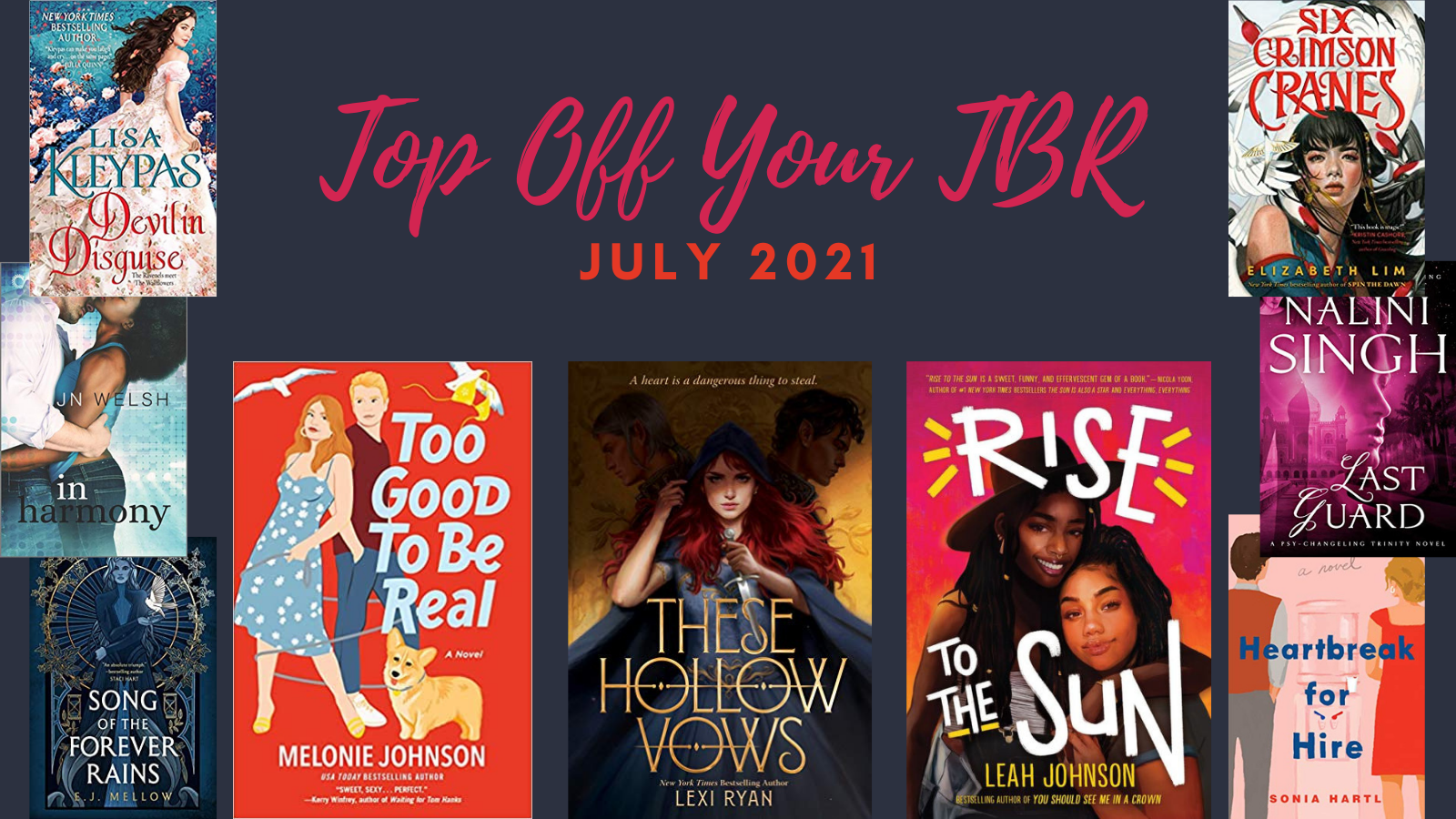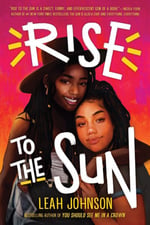 Rise to the Sun, by Leah Johnson - July 6


From the author of You Should See Me in a Crown, Leah Johnson delivers a stunning novel about being brave enough to be true to yourself, and learning to find joy even when times are unimaginably dark.

Olivia is an expert at falling in love . . . and at being dumped. But after the fallout from her last breakup has left her an outcast at school and at home, she's determined to turn over a new leaf. A crush-free weekend at Farmland Music and Arts Festival with her best friend is just what she needs to get her mind off the senior year that awaits her.

Toni is one week away from starting college, and it's the last place she wants to be. Unsure about who she wants to become and still reeling in the wake of the loss of her musician-turned-roadie father, she's heading back to the music festival that changed his life in hopes that following in his footsteps will help her find her own way forward.

When the two arrive at Farmland, the last thing they expect is to realize that they'll need to join forces in order to get what they're searching for out of the weekend. As they work together, the festival becomes so much more complicated than they bargained for. Olivia and Toni will find that they need each other, and music, more than they ever could have imagined.

Packed with irresistible romance and irrepressible heart, bestselling author Leah Johnson delivers a stunning and cinematic story about grief, love, and the remarkable power of music to heal and connect us all.

***

Why I Want to Read It - Leah Johnson's debut was one of my favorite books of 2020 and I cannot wait to read this. I pre-ordered a print copy months and months ago, which is something I rarely do.


Buy a copy: Amazon ◊ Barnes & Noble ◊ Bookshop ◊ Kobo
Too Good to Be Real, by Melonie Johnson - July 6

In her trade paperback debut, Melonie Johnson brings her signature humor, sexy romance, and strong female friendships in this hilarious romantic comedy about finding perfectly imperfect love, Too Good to Be Real.
She plans to prove there's a dozen reasons why life isn't like a romantic comedy, only to discover the one reason it is…
While her friends wish for meet cutes worthy of their favorite rom-coms, Julia is ready to give up on love. Swiping right has replaced getting swept off your feet and good old-fashioned romance has become, well, old-fashioned.
A writer for a popular website, love becomes the last thing on her mind when impending layoffs threaten her job. As Julia searches for the ultimate pitch to impress her boss, she stumbles upon a resort offering guests a chance to live out their romantic comedy dreams. Real life dating is so bleak, who wouldn't want to spend a week in a fantasy rom-com world with your best friends?
At the resort, Julia literally falls into a not-quite-meet-cute involving an aggressive seagull and an adorably awkward guy named Luke who is also participating in the rom-com experience. Julia hides the fact she is there to do a story, but Luke harbors a few secrets of his own. Among further encounters with thieving seagulls, a gaggle of corgis, kisses in the rain, and even a karaoke serenade, their feelings deepen quickly. But could their love be real when they haven't been honest about their true identities? Once the fantasy is over, can they have a relationship in the real world?
***
Why I Want to Read It - Melonie Johnson's debut series was a lot of fun, so I am looking forward to this. Her writing voice and humor work for me, plus there's a corgi! (I am biased, I have one. She's a bossy little beastie, but we love her.)

Buy a copy: Amazon ◊ Barnes & Noble ◊ Bookshop ◊ Kobo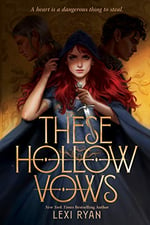 These Hollow Vows, by Lexi Ryan - July 20
From New York Times best-selling author Lexi Ryan, Cruel Prince meets A Court of Thorns and Roses in this sexy, action-packed fantasy about a girl who is caught between two treacherous faerie courts and their dangerously seductive princes.
Brie hates the Fae and refuses to have anything to do with them, even if that means starving on the street. But when her sister is sold to the sadistic king of the Unseelie court to pay a debt, she'll do whatever it takes to get her back—including making a deal with the king himself to steal three magical relics from the Seelie court.
Gaining unfettered access to the Seelie court is easier said than done. Brie's only choice is to pose as a potential bride for Prince Ronan, and she soon finds herself falling for him. Unwilling to let her heart distract her, she accepts help from a band of Unseelie misfits with their own secret agenda. As Brie spends time with their mysterious leader, Finn, she struggles to resist his seductive charm.
Caught between two dangerous courts, Brie must decide who to trust with her loyalty. And with her heart.
***
Why I Want to Read It - Because I smell a love triangle and I am trash for a love triangle. It is what it is.

Buy a copy: Amazon ◊ Barnes & Noble ◊ Bookshop ◊ Kobo
I've also read It Happened One Summer and it was a lot of fun.

Also out this month (beware, not all are romance!):
(All titles in red are links to Amazon)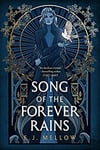 July 1 - Song of the Forever Rains, by E.J. Mellow
July 6 - The View Was Exhausting, by Mikaella Clements and Onjuli Datta
July 6 - What If You and Me, by Roni Loren
July 6 - Six Crimson Cranes, by Elizabeth Lim
July 6 - Incense and Sensibility, by Sonali Dev
July 6 - Out of Character, by Annabeth Albert
July 6 - What We Devour, by Linsey Miller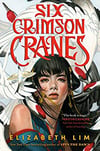 July 6 - Death at the Crystal Palace, by Jennifer Ashley
July 13 - Bubble, by Jordan Morris
July 13 - Radha & Jai's Recipe for Romance, by Nisha Sharma
July 13 - Exposed, by Kristen Callihan
July 13 - It Happened One Summer, by Tessa Bailey
July 13 - Sword Stone Table: Old Legends, New Voices, an Arthurian Legends retelling anthology
July 13 - While We Were Dating, by Jasmine Guillory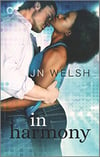 July 13 - Sweet Tea, by Piper Huguley
July 13 - How Sweet It Is, by Dylan Newton
July 20 - In Harmony, by JN Welsh
July 20 - Curses, by Lish McBride
July 20 - My Cone and Only, by Susannah Nix
July 20 - Witches Get Stitches, by Juliette Cross
July 20 - She Who Became the Sun, by Shelly Parker-Chan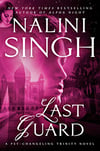 July 20 - Red Wolf, by Rachel Vincent
July 20 - Isn't It Bromantic?, by Lyssa Kay Adams
July 20 - Last Guard, by Nalini Singh
July 27 - A Good Day for Chardonnay, by Darynda Jones
July 27 - Gods & Monsters, by Shelby Mahurin
July 27 - The Duke Goes Down, by Sophie Jordan
July 27 - Devil in Disguise, by Lisa Kleypas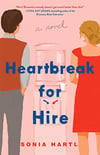 July 27 - The Man Ban, by Nicola Marsh
July 27 - Heartbreak for Hire, by Sonia Hartl
July 27 - The Viscount Made Me Do It, by Diana Quincy
July 27 - Blood and Ember (Stormbringer #3), Isabel Cooper
July 27 - Claimed (Lair of the Wolven #1), by J.R. Ward
July 27 - Wildfire, by Toni Draper
July 27 - It's Raining Men, by Julie Hammerle
Want to support us and indie bookstores at the same time? All print books on this list have been collected in a list over at Bookshop, too!
Reminder!
LGBTQ Reads keeps a list of new releases that includes queer fiction of every genre.
WoC in Romance publishes new release lists roughly weekly.
Girl Have You Read does the same.
What books are you looking forward to this month?
***
If you appreciate our content and wish to support the site, please consider using the affiliate links in this post and below for your shopping needs. Even if you don't buy the book in question, we receive a small % of your purchase from the vendor. As always, you are welcome to leave us a tip on Ko-Fi!
Support Love in Panels