In the spirit of finding moments of joy during all of this, here are some May releases we're looking forward to reading. We hope you're safe.
Editor's Note: So many books have moved, it's been chaos. If these dates are incorrect, please know that we did the best we could!
This post contains affiliate links.
***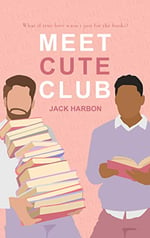 Meet Cute Club, by Jack Harbon - May 4

Jordan Collins doesn't need a man.
What he needs is for his favorite author to release another one of her sexy supernatural novels and more people to sign up for the romance book club that he fears is slowly and steadily losing its steam. He also needs for the new employee at his local bookstore to stop making fun of him for reading things meant for "grandmas."
The very last thing he needs is for that same employee, Rex Bailey, to waltz into his living room and ask to join Meet Cute Club. Despite his immediate thoughts—like laughing in his face and telling him to kick rocks—Jordan decides that if he wants this club to continue thriving, he can't turn away any new members. Not even ones like Rex, who somehow manage to be both frustratingly obnoxious and breathtakingly handsome.
As Jordan and Rex team up to bring the club back from the ashes, Jordan soon discovers that Rex might not be the arrogant troll he made himself out to be, and that, like with all things in life, maybe he was wrong to judge a book by its cover.
Melinda - I can't wait to read this - Jack Harbon is a fun follow on twitter and I've really enjoyed the books of his I've read. Plus it's about an author and I always think that kind peek inside is always interesting.
Buy a copy: Amazon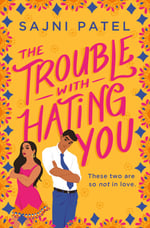 The Trouble With Hating You, by Sajni Patel - May 12

Strong-willed and proudly single, an engineer walks out when her parents set her up with a lawyer -- but when work brings them together again, she just might give love a second chance.
Liya Thakkar is a successful biochemical engineer, takeout enthusiast, and happily single woman. The moment she realizes her parents' latest dinner party is a setup with the man they want her to marry, she's out the back door in a flash. Imagine her surprise when the same guy shows up at her office a week later -- the new lawyer hired to rescue her struggling company. What's not surprising: he's not too thrilled to see her either after that humiliating fiasco.
Jay Shah looks good on paper . . . and off. Especially if you like that whole gorgeous, charming lawyer-in-a-good-suit thing. He's also infuriating. As their witty office banter turns into late night chats, Liya starts to think he might be the one man who truly accepts her. But falling for each other means exposing their painful pasts. Will Liya keep running, or will she finally give love a real chance? Find out in this laugh-out-loud romantic comedy debut about first impressions, second chances, and finding the love of your life in the most unexpected way.
Melanie - This is Sajni Patel's debut novel and I'm always on the lookout for own voice romances by Indian authors. The blurb hooked me with the idea of a hate to love romance between main characters initially set up by their families.

Buy a copy: Amazon ◊ Barnes & Noble ◊ Bookshop ◊ Apple Books ◊ Kobo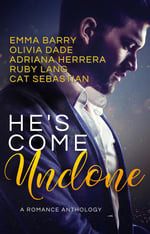 He's Come Undone, by Emma Barry, Olivia Dade, Adriana Herrera, Ruby Lang, and Cat Sebastian - May 12


For him, control is everything...until it shatters, and now he's come undone.
"Appassionata" by Emma Barry
Piano technician Brennan Connelly lives to control details: the tension on a piano string or the compression of hammer felt. But he's never faced demands like those heaped on him by Kristy Kwong, the diva who's haunted his dreams for two decades. Kristy's got her own secrets--the debilitating stage fright that's kept her from performing publicly for years to start--and this concert is the last chance to save her career. But can he locate her lost passion without losing his precious control?
"Unraveled" by Olivia Dade
Math teacher Simon Burnham--cool, calm, controlled--can't abide problems with no good solution. Which makes his current work assignment, mentoring art teacher Poppy Wick, nothing short of torture. She's warm but sharp. Chaotic but meticulous. Simultaneously the most frustrating and most alluring woman he's ever known. And in her free time, she makes murder dioramas. Murder dioramas, for heaven's sake. But the more tightly wound a man is, the faster he unravels--and despite his best efforts, he soon finds himself attempting to solve three separate mysteries: a murder in miniature, the unexplained disappearance of a colleague...and the unexpected theft of his cold, cold heart.
"Caught Looking" by Adriana Herrera
When best friends Yariel and Hatuey's gaming night turns into an unexpected and intense hook up, Hatuey can't wait to do it again. Yariel is less certain--the major leaguer might seem to all the world like he has a heart of stone, but he's been carrying a torch for his friend for years, and worries this will ruin the most important relationship in his life. That means Hatuey has to do all the work, and he's planning to give it all he's got. Yariel may be the one hitting home runs on the field...but Hatuey is playing a game of seduction, and he knows exactly how to make Yariel crumble.
"Yes, And..." by Ruby Lang
When rheumatologist Darren Zhang accidentally sits in on acting teacher Joan Lacy's improv class, he's unprepared for the attraction that hits him--and he's a man who likes to be prepared. Joan is caring for her ailing mother and barely has time to keep up her art, let alone date. But as the pair play out an unlikely relationship during stolen moments, they both find themselves wanting to say yes, and... much more.
"Tommy Cabot Was Here" by Cat Sebastian
Massachusetts, 1959: Some people might accuse mathematician Everett Sloane of being stuffy, but really he just prefers things a certain way: predictable, quiet, and far away from Tommy Cabot--his former best friend, chaos incarnate, and the man who broke his heart. The youngest son of a prominent political family, Tommy threw away his future by coming out to his powerful brothers. When he runs into Everett, who fifteen years ago walked away from Tommy without an explanation or a backward glance, his old friend's chilliness is just another reminder of how bad a mess Tommy has made of his life. When Everett realizes that his polite formality is hurting Tommy, he needs to decide whether he can unbend enough to let Tommy get close but without letting himself get hurt the way he was all those years ago.


Melanie - I was lucky enough to land a review copy of this delightful anthology and every story is nuanced and beautifully written, featuring straight-laced heroes and what happens when they, well, come undone.

Buy a copy: Amazon ◊ Barnes & Noble ◊ Apple Books ◊ Kobo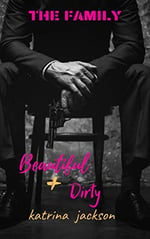 Beautiful & Dirty, by Katrina Jackson - May 15

Shae
Here's my advice for how to survive a vacation to Italy with the college boyfriend you've just now realized is terrible:
1. Ditch him in Rome.
2. Take the train to Naples for pizza.
3. Let the attractive older man you've just met buy you a drink.
4. Flirt a little (or a lot) while ignoring his wedding ring.
5. Let him bend you over a table.
6. Break up with your boyfriend.
--
Sal
There are a lot of ways to respond to the news that your wife is trying to kill you. I have sex with the young American who stumbles into my restaurant. And then I get revenge.
Melinda - I preordered knowing just the title and release date. Looking a little closer, there's a vacation in Italy and some revenge banging. Here for all of it.
Buy a copy: Amazon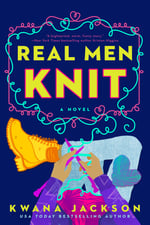 Real Men Knit, by Kwana Jackson - May 19

When their foster-turned-adoptive mother suddenly dies, four brothers struggle to keep open the doors of her beloved Harlem knitting shop.
Jesse Strong is known for two things: his devotion to his adoptive mom, Mama Joy, and his reputation for breaking hearts. When Mama Joy unexpectedly passes away, he and his brothers have different plans for what to do with Strong Knits, their neighborhood knitting store. Jesse wants to keep the store open. His brothers want to tie off loose ends and close shop....
Part-time shop employee Kerry Fuller has kept her crush on Jesse a secret. When she overhears his impassioned plea to his brothers to keep the knitting shop open, she volunteers to help. Unlike Jesse, Kerry knows the "knitty-gritty" of the business, and together they make plans to reinvent Strong Knits for a new generation.
But the more time they spend together, the stronger the chemistry builds between them. Kerry, knowing Jesse's history, doesn't believe their relationship can last longer than she can knit one, purl two. But Jesse is determined to prove to her that he can be the man for her forever and always. After all, real men knit.
Buy a copy: Amazon ◊ Barnes & Noble ◊ Bookshop ◊ Apple Books ◊ Kobo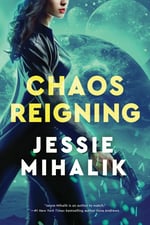 Chaos Reigning, by Jessie Mihalik - May 19

Interplanetary intrigue and romance combine in this electrifying finale to the Consortium Rebellion series.
As the youngest member of her High House, Catarina von Hasenberg is used to being underestimated, but her youth and flighty, bubbly personality mask a clever mind and stubborn determination. Her enemies, blind to her true strength, do not suspect that Cat is a spy—which makes her the perfect candidate to go undercover at a rival House's summer retreat to gather intelligence on their recent treachery.
Cat's overprotective older sister reluctantly agrees, but on one condition: Cat cannot go alone. Alexander Sterling, a quiet, gorgeous bodyguard, will accompany her, posing as her lover. After Cat tries, and fails, to ditch Alex, she grudgingly agrees, confident in her ability to manage him. After all, she's never found a person she can't manipulate.
But Alex proves more difficult—and more desirable—than Cat anticipated. When she's attacked and nearly killed, she and Alex are forced to work together to figure out how deep the treason goes. With rumors of widespread assaults on Serenity raging, communications down, and the rest of her family trapped off-planet, Catarina must persuade Alex to return to Earth to expose the truth and finish this deadly battle once and for all.
But Cat can't explain why she's the perfect person to infiltrate hostile territory without revealing secrets she'd rather keep buried. . .
Suzanne - I almost didn't put this on the list because you're probably sick of Ana and I talking about this series by now, but we're both SO EXCITED. Ana's reading it right now, so expect a review soonish. I'll be sad to say goodbye to these characters, but I look forward to Mihalik's next series!

Buy a copy: Amazon ◊ Barnes & Noble ◊ Bookshop ◊ Apple Books ◊ Kobo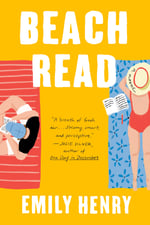 Beach Read, by Emily Henry - May 19

A romance writer who no longer believes in love and a literary writer stuck in a rut engage in a summer-long challenge that may just upend everything they believe about happily ever afters.
Augustus Everett is an acclaimed author of literary fiction. January Andrews writes bestselling romance. When she pens a happily ever after, he kills off his entire cast.
They're polar opposites.
In fact, the only thing they have in common is that for the next three months, they're living in neighboring beach houses, broke, and bogged down with writer's block.
Until, one hazy evening, one thing leads to another and they strike a deal designed to force them out of their creative ruts: Augustus will spend the summer writing something happy, and January will pen the next Great American Novel. She'll take him on field trips worthy of any rom-com montage, and he'll take her to interview surviving members of a backwoods death cult (obviously). Everyone will finish a book and no one will fall in love. Really.
Andrea - This storyline feels like the big summer movie all my friends would plan our week around seeing together. If the cinemas were, you know, open... and we could safely leave our homes. I'm going to dress cute and make popcorn to read it!

Buy a copy: Amazon ◊ Barnes & Noble ◊ Bookshop ◊ Apple Books ◊ Kobo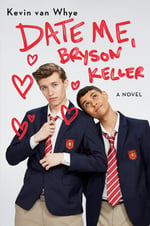 Date Me, Bryson Keller, by Kevin van Whye - May 19

What If It's Us meets To All the Boys I've Loved Before in this upbeat and heartfelt boy-meets-boy romance that feels like a modern twist on a '90s rom-com!
Everyone knows about the dare: Each week, Bryson Keller must date someone new--the first person to ask him out on Monday morning. Few think Bryson can do it. He may be the king of Fairvale Academy, but he's never really dated before.
Until a boy asks him out, and everything changes.
Kai Sheridan didn't expect Bryson to say yes. So when Bryson agrees to secretly go out with him, Kai is thrown for a loop. But as the days go by, he discovers there's more to Bryson beneath the surface, and dating him begins to feel less like an act and more like the real thing. Kai knows how the story of a gay boy liking someone straight ends. With his heart on the line, he's awkwardly trying to navigate senior year at school, at home, and in the closet, all while grappling with the fact that this "relationship" will last only five days. After all, Bryson Keller is popular, good-looking, and straight . . . right?
Kevin van Whye delivers an uplifting and poignant coming-out love story that will have readers rooting for these two teens to share their hearts with the world--and with each other.
Andrea - My review will be up soon, but here's what you need to know: This book is swooooooon city. Bryson Keller is a total dream, Book Boyfriend of the Year 2020! And it's written by a South African! Whoop whoop!
[Editor's Note: We also have an interview with Kevin van Whye coming soon!]
Buy a copy: Amazon ◊ Barnes & Noble ◊ Bookshop ◊ Apple Books ◊ Kobo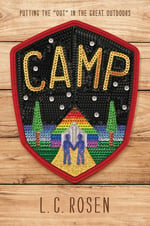 Camp, by L. C. Rosen - May 26

From the author of the acclaimed Jack of Hearts (and other parts) comes a sweet and sharp screwball comedy that critiques the culture of toxic masculinity within the queer community.
Sixteen-year-old Randy Kapplehoff loves spending the summer at Camp Outland, a camp for queer teens. It's where he met his best friends. It's where he takes to the stage in the big musical. And it's where he fell for Hudson Aaronson-Lim -- who's only into straight-acting guys and barely knows not-at-all-straight-acting Randy even exists.
This year, though, it's going to be different. Randy has reinvented himself as 'Del' -- buff, masculine, and on the market. Even if it means giving up show tunes, nail polish, and his unicorn bedsheets, he's determined to get Hudson to fall for him.
But as he and Hudson grow closer, Randy has to ask himself: How much is he willing to change for love? And is it really love anyway, if Hudson doesn't know who he truly is?
Andrea - I've just started reading an early copy of this (review to come!) and it's been SO fun! Randy is a total star, the camp is a queer oasis, and his friends are incredible!
Buy a copy: Amazon ◊ Barnes & Noble ◊ Bookshop ◊ Apple Books ◊ Kobo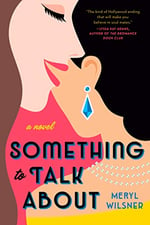 Something to Talk About, by Meryl Wilsner - May 26

A showrunner and her assistant give the world something to talk about when they accidentally fuel a ridiculous rumor in this debut romance.
Hollywood powerhouse Jo is photographed making her assistant Emma laugh on the red carpet, and just like that, the tabloids declare them a couple. The so-called scandal couldn't come at a worse time—threatening Emma's promotion and Jo's new movie.
As the gossip spreads, it starts to affect all areas of their lives. Paparazzi are following them outside the office, coworkers are treating them differently, and a "source" is feeding information to the media. But their only comment is "no comment".
With the launch of Jo's film project fast approaching, the two women begin to spend even more time together, getting along famously. Emma seems to have a sixth sense for knowing what Jo needs. And Jo, known for being aloof and outwardly cold, opens up to Emma in a way neither of them expects. They begin to realize the rumor might not be so off base after all…but is acting on the spark between them worth fanning the gossip flames?
Suzanne - I'm reading this right now for Shelf Awareness and it's very soft. I've seen some criticism that it moves to slowly, that there isn't enough sex, that too much time is spent on the negotiation of the boss-employee dynamic. All of these things are pluses for me, however, especially that it moves slowly to take the time to work out the age and power gap.

Buy a copy: Amazon ◊ Barnes & Noble ◊ Bookshop ◊ Apple Books ◊ Kobo
And if you're wondering what other YA Romance comes out in May, check out this post, which covers April-June 2020.
Also out this month: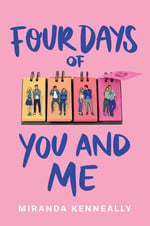 May 5 - Four Days of You and Me, by Miranda Kenneally
May 5 - Love Under Quarantine, by Kylie Scott and Audrey Carlan
May 5 - The Tourist Attraction, by Sarah Morgenthaler
May 5 - The Mermaid, the Witch and the Sea, by Maggie Tokuda-Hall
May 5 - The Life and (Medieval) Times of Kit Sweetly, by Jamie Pacton
May 5 - The Betrothed, by Kiera Cass
May 12 - The Henna Wars, by Adiba Jaigirdar
May 12 - The Boy in the Red Dress, by Kristin Lambert
May 12 - By the Book, Amanda Sellet
May 13 - Slippery Creatures (Will Darling, #1), by KJ Charles
May 18 - Starcrossed, by Allie Therin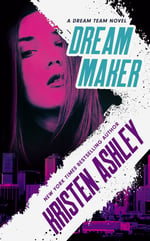 May 19 - This Coven Won't Break, by Isabel Sterling
May 19 - A Taste of Sage, by Yaffa S Santos
May 26 - Ghosting: A Love Story, by Tash Skilton
May 26 - Dream Maker, by Kristen Ashley
May 26 - Until the End, by Juno Rushdan
May 26 - Recipe for Persuasion, by Sonali Dev
May 26 - The Hideaway Inn, by Phillip William Stover
May 26 - The Girl Next Door, by Chelsea M. Cameron
May 26 - Pregnant by the Playboy, by Jackie Lau
May 26 - The Jewel Thief, by Jeannie Mobley
May 26 - Stay Gold, by Tobly McSmith
May 26 - Out Now: Queer We Go Again, anthology edited by Saundra Mitchell
All print books on this list have been collected in a list over at Bookshop, too!
Reminder!
LGBTQ Reads keeps a list of new releases that includes queer fiction of every genre.
WoC in Romance publishes new release lists roughly weekly.
Girl Have You Read does the same.
What books are you looking forward to this month?
***
If you appreciate our content and wish to support the site, please consider using the affiliate links in this post and below for your shopping needs. Even if you don't buy the book in question, we receive a small % of your purchase from the vendor. As always, you are welcome to leave us a tip on Ko-Fi or join our Patreon!
Support Love in Panels