More mini-reviews! Reviews of Best Laid Plans, Twice Shy, A Stitch in Time, The Unbroken, and Sing Me Forgotten. That's an m/m contemporary, an f/m contemporary, an f/m gothic time slip, an f/f fantasy, and an f/m YA fantasy.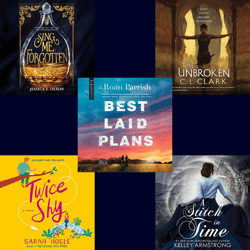 Rating refresher! Categories are based on whether or not I recommend them to fellow readers - DNF (Did Not Finish), Pass, YMMV (Your Mileage May Vary), Read it Eventually, Read it Soon.
This post contains affiliate links.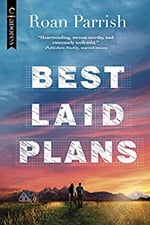 Best Laid Plans, by Roan Parrish
My Verdict: Read It Soon

Amazon ◊ Barnes & Noble ◊ Bookshop ◊ Kobo
Roan Parrish writes characters who have been through a lot--in this case the death of parents while young and parental abuse/resulting homelessness--and then she builds family and community for them. They fall in love, but the stories are also about finding home. That can be with a person, but she makes sure to give the characters enough of a support system that if the romance were to fall apart, they'd still have what they need.
I listened to Best Laid Plans when I needed it most and it's the perfect read to save for a hard time. Not that I think you shouldn't read it immediately, but it restored some of my faith in life and humanity and there are moments when a book like this can mend your heart in the best way. There's a falling down house, a small Wyoming town, a sibling relationship that's a little less straightforward than either sibling thought, a homeless character who finds a home and makes one for others... It's quite lovely. Bonus for cats being very catlike.
***
Content Warnings: I'm borrowing these from Alex on Goodreads because it's been a bit since I read this and hers seem pretty thorough: references to the unexpected death of Charlie's parents years before; homelessness; Rye's father was racist and homophobic and kicked him out at 16; Charlie has intrusive thoughts focus on his loved ones being injured
I received an audio review copy of this book from the publisher and purchased a copy as well.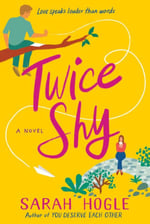 Twice Shy, by Sarah Hogle
My Verdict: Read It Soon

Amazon ◊ Barnes & Noble ◊ Bookshop ◊ Kobo
Another "young adult inherits a house that's falling down and falls in love with someone while fixing it up" romance, this time with a definite Grumpy/Sunshine vibe. I loved that the grumpy character is 1 part anxiety-ridden mess and 1 part actual-grump. I also loved that the happy-go-lucky sunshine character has depth and her sunshine is in part a learned coping mechanism for junk from her childhood.
Wesley and Maybell each have their own messiness, but their banter and goodnatured rivalry is delightful. I had so much fun reading this book, even if I cried occasionally for Wesley's anxiety (it me) and Maybell's lost years with her aunt. This big old house has been through a lot: years as a boarding school, as an inn, and as a home left in disrepair as an older woman grieved her partner of decades and tried to fill her soul with random stuff off QVC.
One of the reasons home repair stories are so popular is because as the home is repaired, relationships and characters are healed as well. That's certainly the case in Twice Shy, but the humor and chemistry between the characters really elevates it.
This book is very different from You Deserve Each Other in both mood and tropes. It's also closed door/fade to black. If you're looking for the same feeling you got from YDEO or on-page sex, you may want to look elsewhere.
Audio notes: I loved the narration and thought Dorothy Dillingham Blue did a great job capturing the range of Maybell's emotions. It's single POV, yet between the text and the narration, I had a good feel for Wesley.
***
Content Warnings: mental illness, mentions of hoarding, character was mocked for anxiety, panic attacks, social anxiety
I received a review copy of this audiobook from the publisher.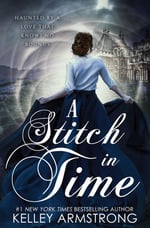 A Stitch in Time, by Kelley Armstrong
My Verdict: Read it Eventually/Soon

Amazon ◊ Barnes & Noble ◊ Bookshop ◊ Kobo
I love a good gothic, even more when it ends with an HEA. There were some minor plotholes in this time-slip gothic romance but I loved it so much that I don't care at all. One character is in the present, the other in the past. They grew up spending summers together (via a time slip, she can travel back and forth from one room in the house they both live in) but she was sent to a mental rehab facility when her family learned that she was seeing "ghosts" and they were separated until she inherited the house as an adult. Now they're reunited, but someone is trying to keep them apart and scare off or murder the heroine.
There were so many things I liked, such as the ongoing mysteries, the fact that she was a widow but it's very clear she loved her late husband and that neither of the protagonists begrudged her that happiness, and the way the MC in the past just takes her claims about modern stuff at face value.
It's atmospheric and deeply romantic and everything I wanted it to be. I'm eagerly anticipating the followup because who doesn't like a murder mystery, a bog and a woman returned from the dead?
***
Content Warnings: murder, attempted murder, murder of a child (past), forced commitment to mental institution (past), heroine's husband died from terminal illness, pregnancy
I received a digital copy of this ebook for review, but purchased and read an audio copy.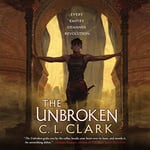 The Unbroken, by C.L. Clark
My Verdict: Read it Eventually

Amazon ◊ Barnes & Noble ◊ Bookshop ◊ Kobo
To be very clear - this is not a romance. It's a sapphic fantasy novel and it's pretty brutal. So it's here because I think you might want to read it, but not because it's really LiP's usual coverage area.
The Unbroken took some time to get into and it wasn't until I borrowed the audio from my library that I was able to really sink in. The premise is that a young solider, taken from her family and country as a child and raised by an imperial monarchy's army, is tasked with "restoring order" in the land of her birth. She's among many accompanying the young queen-to-be, who is determined to prove herself worthy of the throne by improving relations between the empire and its colonies. There are essentially three factions at war: the colonizers, the "Sands" (soldiers from around the empire stolen as children), and a group of rebels fighting for freedom. It's a layered exploration of the impacts of colonization on both colonizer and colonized, and especially on those trapped between. Where does Touraine fit and how can she fight for what's right but protect both the soldiers she loves and the people from whom she was taken? It's all complicated by her growing relationship with the queen-to-be, which is one I'm not sure I am comfortable with--an issue I think is intentional. What kind of relationship can exist with such an imbalance of power?
The Unbroken roughly maps to imperial France and northern Africa, but like 100x queerer than the stories we're told. I was wondering for the last 50% or so how things would be resolved and well, they weren't. Empire isn't dismantled in a day, after all. And Touraine and Luca make so many mistakes, hurting each other over and over... oof. I'm interested to see where Clark takes us next.
***
Content Warnings: murder, sexual assault, war violence, colonization, child theft, public hanging, references to worker abuse, starvation and thirst
I received an ebook from the publisher for review, but read an audio copy through my library.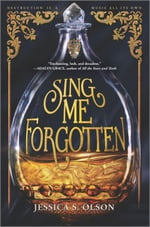 Sing Me Forgotten, by Jessica S. Olson
My Verdict: YMMV

Amazon ◊ Barnes & Noble ◊ Bookshop ◊ Kobo
Sing Me Forgotten is a retelling of The Phantom of the Opera in an AU France with memory magic. Isda is able to manipulate memories. She also should have been killed at birth, according to the laws of her country. Instead, she was "rescued" by a man who has kept her hidden in the bowels of the opera house her entire life. He's all she's ever known, however, so she's grateful and loves him. One day she meets Emeric, a gifted tenor, and begins giving him illicit vocal lessons. What follows is a story of love and danger, vengeance and violence.
I still don't know how I feel about this story. I was swept up in it at times, eager to hear how everything would be resolved, but at other times I was too horrified by Isda's actions to want anything good for her. It's murky, the fact that persecuted people usually have to use violence to obtain their freedom but also that murdering hundreds of people is wrong. I held in my mind these two truths and tried to consider what draws me to the Phantom in the first place. Is the Phantom only sympathetic because he is a man and we tolerate different things from men? Is it because I know he's destined only for more misery by the end of the story and can therefore live in my memory as a tragic romantic figure with limited murder-iness?
I'm not sure what made Sing Me Forgotten different from The Phantom of the Opera or Malice, but I wasn't cheering for Isda by the end. I didn't want her to have what she wanted and was so frustrated with her repeated mistreatment of Emeric (the Christine character) that I knew she'd need to be stripped of her powers before I could envision an HEA for them. But I wanted that change and for them to find a way to heal together. So I don't know how to feel or who will love this book. I've got a spoiler below the CWs, so if you want to be spoiled, do the thing.
***
Content Warnings: murder, torture, mental assault, theft of memories, manipulation, imprisonment, kidnapping, so much violence, state and police violence
Spoiler: there is no HEA. Isda retains her powers and convinces Emeric to let her erase his memories of her so she cannot continue to use his special ability to enhance her power. She's realized by that point that her power and past abuse compel her to harm people and she doesn't think she can stop herself if given the means and opportunity.
I received an audiobook copy from the publisher for review.

***
If you appreciate our content and wish to support the site, please consider using the affiliate links in this post and below for your shopping needs. Even if you don't buy the book in question, we receive a small % of your purchase from the vendor. As always, we'd love for you to leave us a tip on Ko-Fi!
Support Love in Panels