Mini-reviews of The Court of Miracles, The Henna Wars, Beach Read and What I'm Looking For. So that's a YA alt-historical (not a romance), a YA f/f contemporary and two m/f contemporary romances.
Rating refresher! Categories are based on whether or not we recommend them to fellow readers - DNF (Did Not Finish), Pass, YMMV (Your Mileage May Vary), Read it Eventually, Read it Soon.
This post contains affiliate links.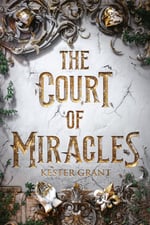 The Court of Miracles, by Kester Grant
Suzanne says: Read it Soon

Amazon
◊ Barnes & Noble ◊ Bookshop ◊ Apple Books ◊ Kobo
This book pulled me out of a reading slump. Everyone saying that it's like Les Mis but better? Yes. I got so excited about it that my initial review was just a list on Twitter of things I loved:
- steal everything from the rich & never give up
- les mis but Eponine gets to stab the bad guy!
- Secret underworld in alt-history Paris, diverse cast and immersive world-building
This is first in a series in which the French Revolution failed. The current monarchs are determined to maintain power at any cost and Nina (Eponine) is determined to save her sister, her pseudo-sister (Ettie/Cosette) and the entirety of her underground world from both the nobility and a horrible man called The Tiger. It's dark and dangerous and Nina breaks into things... It's so good. The ending will leave you wanting more.
Content Warnings: forced prostitution, forced drug use, slavery, murder, attempted assault, beatings and alleyway attacks, poisoned water (death of many children)
Suzanne received a digital copy of this book from the publisher in exchange for an honest review.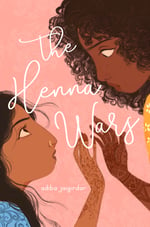 The Henna Wars, by Adiba Jaigirdar
Suzanne says: Read it Eventually

Amazon ◊ Barnes & Noble ◊ Bookshop ◊ Apple Books ◊ Kobo
I really enjoyed this book, but it's billed as a Romantic Comedy and I didn't find it funny at all. It deals heavily with themes of racism and homophobia, including racist and homophobic harassment at school and the main character's parents disapproval when she comes out to them. Nishat is Bengali and her family moved from Bangladesh to Ireland years ago, so there's also discussion of anti-immigrant sentiment in her all-girls private school. For business class, Afro-Brazilian Flávia and her cousin (long-time bully of Nishat) start up a henna business, directly competing with Nishat's. Cultural appropriation and bullying. Flávia isn't a bully but she doesn't do a good job of standing up for Nishat until close to the end and that was Not Great. The author does make a point of giving Black and bisexual Flávia's concerns about being hyper-sexualized a space on the page. I wanted the two of them to be able to be loud and proud with their love but I also understand why it was so complicated for them.
In short, I think it's a really good book, but please don't go into it expecting fluff.
Content Warnings: forced outing, homophobia, racism, anti-immigrant bullying, cultural appropriation
Suzanne borrowed this audiobook from her library.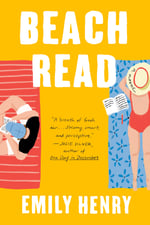 Beach Read, by Emily Henry
Andrea says: DNF, YMMV
Suzanne says: Read it Soon

Amazon ◊ Barnes & Noble ◊ Bookshop ◊ Apple Books ◊ Kobo
Suzanne: This is a prime example of a book that'll polarize readers. It's been marketed as a fluffy summer romance and it is... not. The writing is excellent and I loved the way these two people came together, how they didn't "fix" each other but came to accept the broken bits. There is, however, a long list of heavy themes (see CWs) and I feel that cover and marketing is a serious disservice to readers. Also the author isn't a romance author, she writes "upbeat women's fiction."
If this book had been pitched as a deeply emotional enemies-to-lovers romance with grown-up characters and a lot of family mess... I'm just glad that my reader friends prepped me. If I'd gone in cold, I would have been disappointed/frustrated. PS - Julia Whelan narrates the audio and I would happily listen to her read me the phone book, so there's that.
Andrea: What they don't tell you in the blurb and all the delighted reviews I've seen is that this book opens (and then continues for at least five chapters) with January Andrews being suuuuper bleak and bitter. She's feeling dejected, anxious and weary of everything in her life. She's also legit grieving her dad's death AND the recent knowledge of his secret ongoing affair and her mother's knowledge that he was living a second separate life. So, we hear her go on and on about all that (with more flashbacks than actual IRL present day time! Flashbacks that include her mother's diagnosis and several rounds of cancer treatment) and we still don't meet the love interest. But wait, there's more: When we do finally meet him, we discover that he is not in fact a handsome stranger with whom she hits it off, but is instead her college nemesis. A man who has mocked her happy-ending, romance-centric writing style from the early days, before she even knew she wanted to write Romance. The audiobook narrator was fantastic, so if you don't mind everything I just said, I'd recommend it. I definitely would not have got as far as I did (13%) if I had read it with my eyeballs.
Content Warnings: discussion and flashbacks to her mom's cancer diagnosis and treatment, including a mastectomy. Grief and shock over her father's death (by a stroke) and his long-term infidelity. Hero was abused as a child and his mother also died. Discussion of cults, plus a visit to the site of a former cult - including discussion of death of several children. They interview someone who made it out before the police raid and subsequent murders.
Suzanne borrowed this book from her library. Andrea purchased it on Audible.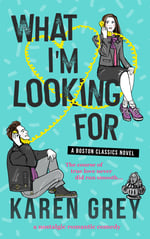 What I'm Looking For, by Karen Grey
Suzanne says: Read it Eventually
Amazon ◊ Apple Books ◊ Barnes & Noble ◊ Kobo (ebook or audio)
[Audio is also available at Downpour and Libro.fm and wherever you buy your fine audiobooks. And you can grab a copy direct from the author, too!]
*
This is a 1980's set romantic comedy that strikes a pretty good balance between "hey, sexual harassment is bad and capitalism is not great" and "Will likes vests and quotes Shakespeare all the time." There are fun nostalgic things like answering machine messages and not so fun things like women being slapped on the butt while walking by their coworkers. Will and Kate (haha, just realized their names are the same as the Royals) are opposites in many ways, but they work it out. I liked them, I thought the audiobook was fun and I appreciate that the cast of secondary characters is diverse. I recommend it for anyone who likes Boston, wants to read a "historical" time period that's not the norm and/or wants a bit of Shakespeare humor.
If you like audiobooks, the author (an award-winning narrator) and Joe Arden narrate the story. If you're curious about why she set the book in the 1980's, check out the guest post Karen did for us.
Content Warnings: sexual harassment, hero's father lost the family's money in the stock market
Suzanne received a digital copy of this audiobook for review.
If you appreciate our content and wish to support the site, please consider using the affiliate links in this post and below for your shopping needs. Even if you don't buy the book in question, we receive a small % of your purchase from the vendor. As always, you are welcome to leave us a tip on Ko-Fi or join our Patreon!
Support Love in Panels