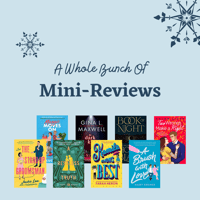 I've fallen so far behind on reviewing books that I decided the only solution is to publish a big list of little reviews! These are primarily f/m contemporary romances, with a sapphic historical fantasy and two f/m contemporary fantasies thrown in.
You'll notice that the content warnings are sparse and well, that's because it's been a while since I read the books. If you have questions about anything in particular, please let me know and I'll do some research for you!
Ratings are based on whether or not I recommend them to fellow readers - DNF (Did Not Finish), Pass, YMMV (Your Mileage May Vary), Read It, Read it Soon.
This post contains Amazon and Kobo affiliate links. (Libro.fm links are not affiliate links.) Books received from publishers are noted following the review.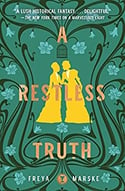 A Restless Truth, by Freya Marske
My Verdict: Read It Soon

I absolutely loved this sapphic historical fantasy romance. I usually hate ship books, whether on the ocean or in space, but this one stole my entire heart. It opens with a murder and proceeds to entertain with a two-fold investigation, shenanigans and a ghost. It's funnier and sexier than Marske's m/m debut, A Marvellous Light and the contained nature of the setting puts the focus on character development and unraveling the mystery. Writing this up has made me want to reread it, if only for the banter between the MCs and the copious jokes about historical pornography. And I do love a good grift.
Audio Notes: The audiobook has only one narrator and she tried her best. One of the heroines has an American accent and the other is a Brit like everyone else, so I think that might have helped distinguish the two women, but I definitely had trouble sorting out which POV we were in at times. I would have preferred dual narration.
***
I read a copy of this audiobook courtesy of the publisher.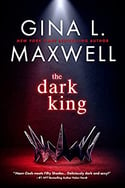 The Dark King, by Gina L. Maxwell
My Verdict: Pass

A human woman is lured to Vegas and falls into bed with the King of the Fae in this contemporary paranormal romance. Since fae are weakened when with distance from their mates, the MMC kidnaps the FMC after discovering she's his mate. (Someone is trying to weaken him by luring her to Vegas and getting them together.) Other things happen, but mostly it's about her being stuck in a room/trying to escape and him having man-pain about feelings.
This was... not great. I think the author wanted to write hot kink, but ended up writing mechanical scenes with props. Like instead of Insert Tab A into Slot B, you get Apply Prop A to Part B While Saying Something Degrading. Degradation kink can be done so much better than this, all of it can be.
The book overall is derivative and when I wasn't annoyed, I was bored. I'm not going to get into the power dynamics of kidnapping since that's stated very plainly in the cover copy, but a dark, kinky fae romance shouldn't be this emotionless.
I won't be continuing with the series.
***
I purchased a copy of this book.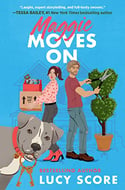 Maggie Moves On, by Lucy Score
My Verdict: YMMV

A burned out YouTube star famous for flipping houses buys a mansion in rural Idaho where she once vacationed with her family. As she renovates the house with her crew and a team of local tradespeople, she falls in love with the town, its people and its resident landscaper. Maggie Moves On follows the classic big city woman inherits a small town house and then learns the magic of community and home plot, with a few deviations.
Maggie works with her ex-husband in a very positive relationship. After years on the road, he wants to stop moving every three months. Maggie has a lot of family trauma to process and she's been essentially running away from it for decades. And then there's the not-safe-for-Hallmark aspects. (The sex and the gays. Oh noes.)
This was my first Lucy Score novel and I was underwhelmed. Maybe I would have enjoyed it more at a different time, but I was immediately irritated by Silas, the love interest, and my irritation never went away. He's aggressive with his affections. From the jump, he's determined to get her to give up her career, keep the house, and stay with him to make fifty babies. She tells him she's up for a fling but loves her career, but he knows better. Score tells us he's a marshmallow while also telling us he's some sort of alpha something, and I just wanted to smack him. I loved so many other things about the book that the frustrating central relationship was a big let down.
Audio Notes: Narration was great! No notes.
***
I received a copy of this audiobook from the publisher for review.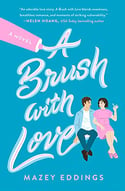 A Brush with Love, by Mazey Eddings
My Verdict: YMMV

My first experience with Mazey Eddings was about the same as my first experience at the dentist. I didn't know what to expect, but it turned out pretty okay!
The romance was central and the dentistry stuff was definitely interesting, but I had a hard time settling into the story. Dan is too sweet for the way he's treated for much of the book. Harper has really bad anxiety and refuses to seek out help. This is probably a case of Too Much Reader Baggage since I also fought against getting help for around fifteen years, but that aspect was hard for me to read. The bleak moment is directly related to Harper's mental health and I had a very mixed reaction to the way it was resolved. It doesn't help that I wasn't prepared for it at all.

There there were lots of individual moments I really liked, including some really funny scenes. I don't read accidental pregnancy plots, so I don't plan to read Eddings' second book, but I'll pick up the third.
Audio Notes: Vikas Adam and Emily Lawrence do a great job on this audiobook. Yes, they added emotional depth and made me laugh, but I was also glad to have them read all the dentistry terms to me so I know how to pronounce them.
***
I read an audio review copy of this book on NetGalley courtesy of the publisher.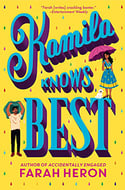 Kamila Knows Best, by Farah Heron
My Verdict: Read It Soon

This Emma retelling--by way of Clueless--made it onto my 2022 Favorites list. Heron's books are funny, but they're also insightful and warm and pointed in certain ways. The matchmaking heroine, like Cher, is thought to be a fashion-obsessed, flighty party girl with no depth. She has a really popular Instagram account for her dog, after all. Even her family underestimates her. Kamila is so much more, though. She loves fashion and hosting parties, but she's also fantastic at building community. I loved that, in the end, Kamila realizes that she doesn't need to prove herself to everyone else--she just needs to find people who already see her worth. It's clear from the beginning that her longtime friend Rohan is pining for her, but Kamila (and the reader) spends so much time in her own head that she doesn't realize it for ages. (He even got married and then divorced while waiting for her!) Heron writes fade to black romance, but really ratchets up the tension. In this case, I think it's a great fit for the characters and their relationship.
This is a fantastic contemporary romance, even if you don't like Emma. Just make sure you have biryani around when you read this. You're going to be hungry.
Audio Notes: Soneela Nankani nailed Kamila's bubbly, warm personality, but also got the pathos right. Kamila has a self-confidence crisis during the book and Nankani did a great job capturing the tone of those scenes. And the pining. I've heard her read at least a dozen books by now and this was a really good fit.
***
I received a copy of this audiobook from the publisher for review.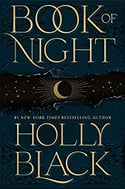 Book of Night, by Holly Black
My Verdict: YMMV

Holly Black's adult fantasy debut was a letdown. I've read most of her solo young adult fantasy work and have enjoyed her worldbuilding and character-driven plots. She has a lot of skill, particularly at creating characters and relationships. Book of Night was not up to the standard she's set. The characters are flat, the plot was boring and it felt like she read a late-2000's urban fantasy novel and decided to try her hand at one. Maybe if I wasn't such a fan of her other work and had gone in with no expectations I could have enjoyed it more, but I don't think that's the case.
There were smaller things and scenes I enjoyed and readers who aren't sick of this heroine archetype may find quite a bit to like in this darker, contemporary fantasy.
***
I received an ebook copy for review from the publisher via Edelweiss, but borrowed the audiobook from my library.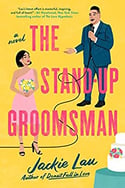 The Stand-Up Groomsman, by Jackie Lau
My Verdict: Read It Soon

The Stand-Up Groomsman is an opposites-attract meet-disaster contemporary romance pairing a buttoned up maid of honor and a stand-up comedian best man for their best friends' wedding. I didn't read the first in the series, but I found it easy to get to know the characters and catch up. I liked that this is a wedding book, but it's not a Wedding Book. It's not an endless parade of dress fittings and last minute panic, it's simply a really useful device for getting two people a second shot together.
I wondered how Jackie Lau would handle the stand-up in the book and I was so glad that it worked for me. I found the stand-up to be funny. The rest of the book is standard contemporary rom-com fare, with the family, occupation and mental health insights I've come to expect from Lau, but the stand-up was a major risk. I think it paid off. While Mr. Hotshot CEO still holds a special place in my heart for the depiction of treatment-resistant depression, this might be my second-favorite of Jackie Lau's books.
If you're an audiobook reader, I highly recommend checking out the audio on this one. The narrators did a great job and the comedy translates really well in that format.
***
I received digital copies of this book for review.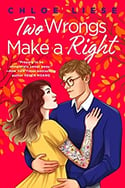 Two Wrongs Make a Right, by Chloe Liese
My Verdict: Read It

After a couple of failed attempts and many recommendations, Two Wrongs Make a Right was my first full read of a book by Chloe Liese. I loved it. The main characters are pushed together by their friends and as the cover copy says, it's a meet-disaster. They then decide they'll pretend to date and then stage a big messy breakup to stick it to their friends. I loved the ridiculous fake dating premise (yeah, you'll really show them lol) and the building tension as they get to know each other. Fake dating is one of my favorite tropes, but there has to be true relationship development during all that forced proximity. Liese did that really well.
It's not often these days that a romance novel truly makes me feel, so I was surprised to find myself ignoring the rest of my life to flip the pages. The pacing is great and I loved the story so much that I was worried what would happen during the inevitable bleak moment. I was right to be worried, because the third act breakup almost ruined the book for me.
While I didn't love how that was resolved, the strength of the first 80% of the book carried it through. Two Wrongs Make a Right is a great example of how to build the romantic and sexual tension for maximum payoff. (There's actually a bit of edging on page, too.) It's funny, clever and romantic. The anxiety and ADHD rep was great and I always like a strong support network for characters--family and found family.
My only experience with Much Ado About Nothing prior to this book was the rather lackluster Joss Whedon film adaptation, so keep that in mind if you're a fan of the play. I've been told by others that this is a book inspired by the play, not a retelling.
I'm sure I could pick apart the book more if required, but my emotional response while reading pushes this into five-star, "Loved It" status for me.
***
Content Warnings: interpersonal violence, emotional abuse
I received a copy of this book from the publisher.
***
If you appreciate our content and wish to support the site, please consider using the affiliate links in this post and below for your shopping needs. Even if you don't buy the book in question, we receive a small % of your purchase from the vendor. As always, we'd love for you to leave us a tip on Ko-Fi!
Support Love in Panels