October is the best month because
1) it's my birthday month
2) all the spooky and spoopy books come out
3) apples
Turns out, publishing is (mostly) on my side here. If only we could keep all the Christmas books out of my Halloween time...
*
This post contains affiliate links.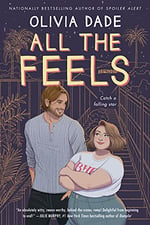 All the Feels, by Olivia Dade - October 26

Following Spoiler Alert, Olivia Dade returns with another utterly charming romantic comedy about a devil-may-care actor—who actually cares more than anyone knows—and the no-nonsense woman hired to keep him in line.
Alexander Woodroe has it all. Charm. Sex appeal. Wealth. Fame. A starring role as Cupid on TV's biggest show, Gods of the Gates. But the showrunners have wrecked his character, he's dogged by old demons, and his post-show future remains uncertain. When all that reckless emotion explodes into a bar fight, the tabloids and public agree: his star is falling.
Enter Lauren Clegg, the former ER therapist hired to keep him in line. Compared to her previous work, watching over handsome but impulsive Alex shouldn't be especially difficult. But the more time they spend together, the harder it gets to keep her professional remove and her heart intact, especially when she discovers the reasons behind his recklessness…not to mention his Cupid fanfiction habit.
When another scandal lands Alex in major hot water and costs Lauren her job, she'll have to choose between protecting him and offering him what he really wants—her. But he's determined to keep his improbably short, impossibly stubborn, and extremely endearing minder in his life any way he can. And on a road trip up the California coast together, he intends to show her exactly what a falling star will do to catch the woman he loves: anything at all.
***
Why I Want to Read It - I'm finishing this up right now and it's going to appeal to people the same way Spoiler Alert did. I'm biased because of my love of Olivia Dade as a human, but that just means the book has some of the same things I love about its author. #HagCorner

Buy a copy: Amazon ◊ Barnes & Noble ◊ Bookshop ◊ Kobo
Kingdom of the Cursed, by Kerri Maniscalco - October 5

From a #1 New York Times bestselling author comes a sizzling, sweepingly romantic story filled with dangerous secrets, evil twins, and powerful magic.
One sister.
Two sinful princes.
Infinite deception with a side of revenge . . . Welcome to Hell.
After selling her soul to become Queen of the Wicked, Emilia travels to the Seven Circles with the enigmatic Prince of Wrath, where she's introduced to a seductive world of vice.
She vows to do whatever it takes to avenge her beloved sister, Vittoria . . . even if that means accepting the hand of the Prince of Pride, the king of demons.
The first rule in the court of the Wicked? Trust no one. With back-stabbing princes, luxurious palaces, mysterious party invitations, and conflicting clues about who really killed her twin, Emilia finds herself more alone than ever before. Can she even trust Wrath, her one-time ally in the mortal world . . or is he keeping dangerous secrets about his true nature?
Emilia will be tested in every way as she seeks a series of magical objects that will unlock the clues of her past and the answers she craves . . .
***
Why I Want to Read It - I might read the first book in this series again because I loved it and I've been waiting for this sequel ever since that ending.

Buy a copy: Amazon ◊ Barnes & Noble ◊ Bookshop ◊ Kobo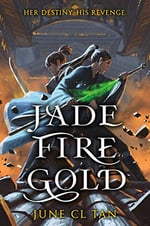 Jade Fire Gold, by CL Tan - October 12

Girls of Paper and Fire meets A Song of Wraiths and Ruin in June CL Tan's stunning debut, where ferocious action, shadowy intrigue, rich magic, and a captivating slow-burn romance collide.
In an empire on the brink of war . . .
Ahn is no one, with no past and no family.
Altan is a lost heir, his future stolen away as a child.
When they meet, Altan sees in Ahn a path to reclaiming the throne. Ahn sees a way to finally unlock her past and understand her lethal magical abilities.
But they may have to pay a far deadlier price than either could have imagined.
A stunning homage to the Xianxia novel with dangerous magic, fast-paced action, and a delightful romance, Jade Fire Gold isn't one to miss!
***
Why I Want to Read It - I was lured in by the cover, but really this jacket copy is everything. I think it'll be a "Big Book" this fall too, if the number of YA book subscription boxes featuring it is any indication.

Buy a copy: Amazon ◊ Barnes & Noble ◊ Bookshop ◊ Kobo

Also out this month (beware, not all are romance!):
(All titles in red are links to Amazon)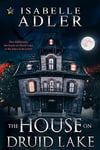 October 1 - Love, Comment, Subscribe, by Cathy Yardley
October 4 - The House on Druid Lake, by Isabelle Adler
October 5 - Not Your Average Hot Guy, by Gwenda Bond
October 5 - Vespertine, by Margaret Rogerson
October 5 - Cackle, by Rachel Harrison
October 5 - Two Houses, by Suleena Bibra
October 5 - The Vanished Days, by Susanna Kearsley
October 5 - A Spindle Splintered, by Alix E. Harrow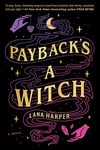 October 5 - A Twist of Fate, by Kelley Armstrong
October 5 - When Night Breaks, by Janella Angeles
October 5 - Payback's a Witch, by Lana Harper
October 12 - The Brightest Star in Paris, by Diana Biller
October 12 - The Almost Queen, by Alys Murray
October 12 - The Heartbreak Bakery, by A. R. Capetta
October 12 - Our Way Back to Always, by Nina Moreno
October 18 - Of Trust and Heart, by Charlotte Anne Hamilton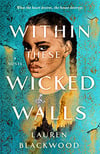 October 19 - Dance of a Burning Sea, by E.J. Mellow
October 19 - Within These Wicked Walls, by Lauren Blackwood
October 19 - Her Wolf in the Wild, by Rien Gray
October 19 - A Shadow in the Ember, by Jennifer L. Armentrout
October 26 - Just for the Holidays, by Adriana Herrera
October 29 - Well Matched, by Jen DeLuca
October 26 - Hollywood Heroine, by Sarah Kuhn
October 26 - The Grimrose Girls, by Laura Pohl
October 26 - Comfort Me With Apples, by Catherynne M. Valente
October 26 - Bright Ruined Things, by Samantha Cohoe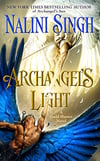 October 26 - Meet Me in Madrid, by Verity Lowell
October 26 - Archangel's Light, by Nalini Singh
October 26 - A Thorn in the Saddle, by Rebekah Weatherspoon
October 26 - Christmas in Rose Bend, by Naima Simone
October 26 - Pretty Little Lion, by Suleikha Snyder
October 26 - The Lady Gets Lucky, by Joanna Shupe
October 26 - Donut Fall in Love, by Jackie Lau
October 26 - The Perks of Loving a Wallflower, by Erica Ridley
October 31 - Invocation, by Katrina Jackson
Want to support us and indie bookstores at the same time? All print books on this list have been collected in a list over at Bookshop, too!
Reminder!
LGBTQ Reads keeps a list of new releases that includes queer fiction of every genre.
WoC in Romance publishes new release lists roughly weekly.
Girl Have You Read does the same.
What books are you looking forward to this month?
***
If you appreciate our content and wish to support the site, please consider using the affiliate links in this post and below for your shopping needs. Even if you don't buy the book in question, we receive a small % of your purchase from the vendor. As always, you are welcome to leave us a tip on Ko-Fi!
Support Love in Panels