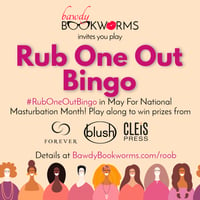 Hello and happy May!
May is National Masturbation Month and we're participating for three reasons:
a) to reduce stigma surrounding self-pleasure
b) to win cool prizes
c) as an excuse to talk again about our fave NSFW comics
If you're here via Bawdy Bookworms, welcome to Love in Panels! We talk about romance novels and romance comics, with the occasional other fun post thrown in for good measure.
About a year ago, I wrote a series of posts about how to get started with comics. How they're built, how to read them, and how to buy them. I ended the series with two posts: one about comics for kids of varying ages, and one about comics for the 18+ crowd... That NSFW comics post became our most popular post of all time, with somewhere between 2,500 and 3,000 reads per month. That's about 100 people per day finding this tiny site in search of what amounts to comics p0rn. At some point, you just have to lean in and embrace it, you know?
So this is me, embracing my dirty comics peddler identity.
On that note, let's talk a bit about why I love these things in the first place, and then I'll link you to the treasure trove of inclusive, consensual, often weird comics I recommend. (Or you can follow this link now, since that's why you're here. ;) )
Erotic comics can be exactly what a lot of mainstream p0rn is: degrading to women and full of bodies that don't exist in nature. Comics can be even more so, because these bodies don't need to actually function. You can have a really unrealistic body in a lot of bananas situations, often without consent. On any given day, you can scroll through Kickstarter and find a bunch of what's called "cheesecake," the female equivalent of "beefcake." Lots of giant boobs, tiny waists, and that position where you're somehow showing both your ass and your tits at the same time.
Or...
You can have a bunch of marginalized creators making some of the weirdest, kindest, sexiest comics out there. I prefer the latter, as you probably suspected.
The Smut Peddler anthologies (affiliate link) are a perfect example of what I love about erotic comics. The first two volumes don't have a theme, and are full of different pairings, situations, ethnicities, and level of romanciness. Some are random encounters, others a slice of life featuring a married couple. Some of them are so cute that you're smiling while being turned on. The second two, My Monster Boyfriend and Sex Machine, are themed. In those volumes, each creator team made a sexy comic featuring either a monster (vampire, tentacles, etc) or an android or robot or whathaveyou, respectively. All of them are fun and don't leave me feeling horrible about being a woman, or queer, or a person who paid money for them.
Still, there's a lot of sex-positive, femme-friendly video out there. So, why comics?
1) Fake people. I don't have to think about ethical work practices or people who may be pretending to enjoy themselves.
2) Weird shit. Have you ever met a demon with a tail that can do things to a body?
3) Weekly updates! Filthy Figments and Slipshine update several comics on a weekly basis, ensuring a new and scintillating selection of content. (If you subscribe to FF, we get a small commission.) There are also a couple of adult webcomics that update frequently (and they're free, though we always encourage people to support the work they love on Patreon).
4) Everything you can get in written erotica, plus a visual component!
If you're still here reading this, thanks for not zipping off immediately to the erotic comics. But now, you should! Knock out a couple of squares on your Rub One Out Bingo and have a good time.
The graphics are below for your downloading and printing pleasure.
Bingo Card JPG w/ white background for easier printing
Bingo Card PDF w/ white background for easier printing