This month, we have a whole bunch of romances and a couple of books with strong romantic elements for you. Plus, Amy shares a how-to cosplay video!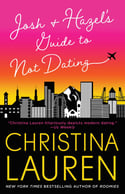 Josh and Hazel's Guide to Not Dating, by Christina Lauren - Sept. 4
Most men can't handle Hazel. But her best friend Josh isn't most men. Don't miss New York Times bestselling author Christina Lauren's new novel about two people who are definitely not dating...no matter how often they end up in bed together.
Hazel Camille Bradford knows she's a lot to take—and frankly, most men aren't up to the challenge. If her army of pets and thrill for the absurd don't send them running, her lack of filter means she'll say exactly the wrong thing in a delicate moment. Their loss. She's a good soul in search of honest fun.
Josh Im has known Hazel since college, where her zany playfulness proved completely incompatible with his mellow restraint. From the first night they met—when she gracelessly threw up on his shoes—to when she sent him an unintelligible email while in a post-surgical haze, Josh has always thought of Hazel more as a spectacle than a peer. But now, ten years later, after a cheating girlfriend has turned his life upside down, going out with Hazel is a breath of fresh air.
Not that Josh and Hazel date. At least, not each other. Because setting each other up on progressively terrible double blind dates means there's nothing between them...right?
Suzanne - I'm still following these two wherever they take me, though I hope they don't leave romance for women's fiction. Anyway, a friend at the RWA conference in July told me I would like this friends-to-lovers and challenged me to read it since that's not my fave trope. CHALLENGE ACCEPTED, Jenn.
Buy a copy: Amazon, iBooks, Barnes & Noble, Kobo, The Ripped Bodice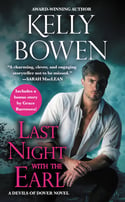 Last Night with the Earl, by Kelly Bowen - Sept. 25
Earl. War hero. Notorious rake. After the Battle of Waterloo, Eli Dawes was presumed dead-and would have happily stayed that way. He's no longer the reckless young man he once was, and only half as pretty. All he wants is to hide away in his country home, where no one can see his scars. But when he tries to sneak into his old bedroom in the middle of the night, he's shocked to find someone already there.

Rose Hayward remembers Eli as the arrogant lord who helped her late fiancé betray her. Finding him stealing into her art studio doesn't correct her impression. Her only thought is to get him to leave immediately. Yet the tension between them is electric, and she can't help but be drawn to him. He might be back from the dead, but it's Rose who is suddenly feeling very, very much alive.
Suzanne - These two characters stole the show in the first book of the series. Enemies-to-lovers with a very stubborn heroine. I have this pre-ordered on audio so you may or may not see a review on the blog in the near future.
Buy a copy: Amazon, iBooks, Barnes & Noble, Kobo, The Ripped Bodice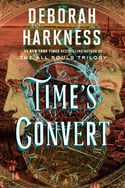 Time's Convert, by Deborah Harkness - Sept. 18
From the #1 New York Times bestselling author of A Discovery of Witches, a novel about what it takes to become a vampire.
Set in contemporary Paris and London, and the American colonies during the upheaval and unrest that exploded into the Revolutionary War, a sweeping story that braids together the past and present.
On the battlefields of the American Revolution, Matthew de Clermont meets Marcus MacNeil, a young surgeon from Massachusetts, during a moment of political awakening when it seems that the world is on the brink of a brighter future. When Matthew offers him a chance at immortality and a new life, free from the restraints of his puritanical upbringing, Marcus seizes the opportunity to become a vampire. But his transformation is not an easy one and the ancient traditions and responsibilities of the de Clermont family clash with Marcus's deeply-held beliefs in liberty, equality, and brotherhood.
Fast forward to contemporary London, where Marcus has fallen for Phoebe Taylor, a young employee at Sotheby's. She decides to become a vampire, too, and though the process at first seems uncomplicated, the couple discovers that the challenges facing a human who wishes to be a vampire are no less formidable in the modern world than they were in the 18th century. The shadows that Marcus believed he'd escaped centuries ago may return to haunt them both--forever.
A passionate love story and a fascinating exploration of the power of tradition and the possibilities for change, Time's Convert will delight fans of the All Souls trilogy and all readers of magic, the supernatural, and romance.
Amy - I'm hoping Time's Convert will be as good as A Discovery of Witches was. I liked Marcus's character a lot in that series and I want to see more bookish nerd girls being cool!
Buy a copy: Amazon, iBooks, Barnes & Noble, Kobo, The Ripped Bodice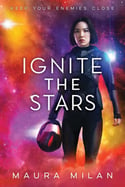 Ignite the Stars, by Maura Milan - Sept. 4
Everyone in the universe knows his name. Everyone in the universe fears him. But no one realizes that notorious outlaw Ia Cocha is a seventeen-year-old girl.A criminal mastermind and unrivaled pilot, Ia has spent her life terrorizing the Olympus Commonwealth, the imperialist nation that destroyed her home. When the Commonwealth captures her and her true identity is exposed, they see Ia's age and talent as an opportunity: by forcing her to serve them, they will prove that no one is beyond their control.Soon, Ia is trapped at the Commonwealth's military academy, desperately plotting her escape. But new acquaintances—including Brinn, a seemingly average student with a closely-held secret, and their charming Flight Master, Knives—cause Ia to question her own alliances. Can she find a way to escape the Commonwealth's clutches before these bonds deepen?In this exhilarating edge-of-your-seat sci-fi adventure—perfect for fans of The Lunar Chronicles—debut author Maura Milan introduces our world to a thrilling new heroine.
Amy - I'm also looking forward to Maura Milan's YA SF novel Ignite the Stars. Full disclosure, I made a cosplay for the author and publisher to promote the book (you can see my video here! (https://ignitethestars.com) but I genuinely loved the book. I wish a character like Ia was around when I was a teen.
Buy a copy: Amazon, iBooks, Barnes & Noble, Kobo, The Ripped Bodice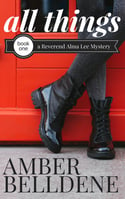 All Things, by Amber Belldene - Sept. 9
A priest and a rabbi walk into a lesbian bar…
If something is unjust in San Francisco's Mission District, the Reverend Alma Lee will face it down. She leads her vibrant church of St. Giles' with compassion and sass. Her busy days involve match-making, meddling, and saving the city's beloved lesbian landmark, The Carlos Club. Alma meets the intriguing Rabbi Naomi Cohen there, and she's smitten.
Death comes to the church's door…
When the proprietor of The Carlos Club turns up dead on the steps of St. Giles', Naomi's brother is the number one suspect. She needs help exonerating him, and Alma's knowledge of the neighborhood makes her the perfect priest to solve the case. If only Alma's ex-boyfriend, homicide detective Cesar Garza will accept her help. She still feels the pull of their old connection, but she's convinced the sexy-smart rabbi is her perfect mate. . . Too bad Naomi is playing by different rules.
Can Alma solve the case before the murderer silences her forever?

About the Reverend Alma Lee Mystery Series
Meet the Rev. Alma Lee, the next priest-detective in a long line of clergy sleuths from Father Brown to Clare Ferguson, Brother Cadfeal to Sydney Chambers. Only, instead of a rural village, Alma's turf is San Francisco—gritty, gay, and glorious. Her methods border on the absurd, and she has more attractive admirers than anyone who's taken holy orders has a right to. If she's on the case, the murderer doesn't stand a chance.
Ana - I'm really excited to read Amber Belldene's All Things, an f/f mystery series. I really loved her Hot Under the Collar series featuring Episcopal priests. Belldene's is a priest and does an fantastic job with creating complex characters who are both fully developed religious & sexual beings. I loved Alma as supporting character in the previous books and I'm excited to see where Belldene's is taking her story.
Buy a copy: Amazon, iBooks, Barnes & Noble, Kobo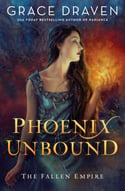 Phoenix Unbound, by Grace Draven - Sept. 25
A woman with power over fire and illusion and an enslaved son of a chieftain battle a corrupt empire in this powerful and deeply emotional romantic fantasy from the USA Today bestselling author of Radiance.
Every year, each village is required to send a young woman to the Empire's capital—her fate to be burned alive for the entertainment of the masses. For the last five years, one small village's tithe has been the same woman. Gilene's sacrifice protects all the other young women of her village, and her secret to staying alive lies with the magic only she possesses.
But this year is different.
Azarion, the Empire's most famous gladiator, has somehow seen through her illusion—and is set on blackmailing Gilene into using her abilities to help him escape his life of slavery. Unknown to Gilene, he also wants to reclaim the birthright of his clan.
To protect her family and village, she will abandon everything to return to the Empire—and burn once more.
Ana - I also have Grace Draven's Phoenix Unbound on the top of my TBR for September. Draven writes fantastic fantasy romance and I'm intrigued by the premise!
Buy a copy: Amazon, iBooks, Barnes & Noble, Kobo, The Ripped Bodice
Soft on Soft, by Em Ali - Sept. 10
June Bana might post nearly daily makeup looks that gain thousands of likes but Real Life June has built a wall behind which she exists with her two cats.
But with messy feelings getting in a way of an early hermit life, June begins to realize that she wants more. She wants model/actress, Sunshine Reincarnated Selena Clarke. It doesn't hurt that Selena is amazing with cats and quiets down June's anxiety to bearable levels.
June is given the choice of facing her anxieties about relationships to gain not only a girlfriend but also a better understanding of how far she'd go for love.
But would she take it? Would she leave her comfort zone for something softer?

Contemporary fluffy piece where one homebody and one extrovert make one hell of a love story.
Suzanne -
This is a debut romance with a demi character, a pan character, and so much "yes" in one book that I hope it's as great as I want it to be.
The cover will be revealed (not by us) tomorrow, sorry! In the meanwhile, go ahead and pre-order it
here
.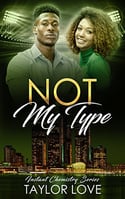 Not My Type, by Taylor Love - Sept. 21
Their best friends may be married, but no law said they have to like each other.
Mika lives the saying "carefree black girl" to the fullest. She has a solid interesting career, good friends, and money to do whatever she wants! What she doesn't have is a man of her own. Even so, she's not so desperate that she'll fall for Robert Lorde. While he may be tall, dark, and handsome, he's way too arrogant and boring to be her type.
Robert likes his life to be predictable. While others see that as boring, he counts his blessings for the stability. As a financial investor, the last thing he needs is whirlwind Mika Harrison tearing through his life. Yet even his practical mind can't deny the chemistry they have. Will a little fun with her leave him with a headache...or heartache?
Suzanne

- This has a whole bunch of catnip for me, especially the whole "we don't like each other but we're stuck since our friends are married" thing. I love it when the friends are subtly (or not so subtly) telling the main characters to stop being bullheaded. Plus this cover is cute! He looks so grumpy.
What books are you excited for?