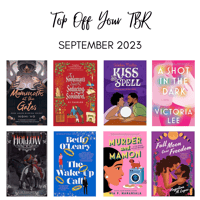 September is usually a big month for new books, so this year I've decided that rather than listing them all, I'd prune aggressively. The longer list below is made up of books I think people in my audience might be interested in, rather than an attempt at being comprehensive. I didn't include any of the fifty-ish Christmas romances, for example. The only holiday romance on the list is Three Holidays and a Wedding, which takes place once upon a time when Christmas, Hannukah, and Eid all fell during the same week.

Happy Autumn! I'll be back in a few weeks with a bunch of Spooky Season reads.

This post contains Amazon affiliate links.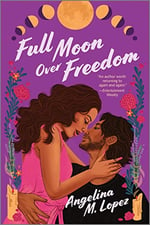 Full Moon Over Freedom, by Angelina M. Lopez - September 5

Gillian Armstead-Bancroft—Pride of the East Side and once-perfect bruja, wife, and mother—is going to spend her summer getting good at being bad.
The first time she left Freedom, Kansas, behind, she did it by doing everything right.
This time, she'll hide from the large Mexican American family welcoming her home and work in secret to break the curse that's erased her magical life. Only by doing it all wrong can Gillian get herself and her two children away from the ghosts of her hometown by summer's end.
Nicky Mendoza is an answer to her prayers. He was the practical solution to the problem of her virginity when they were younger, and now, as a gorgeous artist in town for only a weekend, he's the ideal man to launch her down the path of ruination.
But Gillian isn't the only one who's cursed.
Nicky has been plagued by his furtive, enduring love for her as long as he's been haunted by his cadejo, the phantom black dog that stalks his psyche. He'll stick around to be whatever Gillian needs him to be this summer—but he won't touch her. Touching her, then watching her leave again, would ruin him for good.
***
Why I Want to Read It - After Hours on Milagro Street was a great read and had me itching for the next two books. Angelina M. Lopez writes steam with the best of 'em and I love how she's combining small town dynamics with her brand of angst in this series.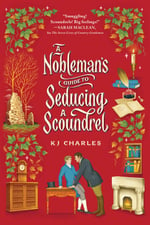 A Nobleman's Guide to Seducing a Scoundrel, by KJ Charles - September 19

Major Rufus d'Aumesty has unexpectedly become the Earl of Oxney, master of a remote Norman manor on the edge of the infamous Romney Marsh. There he's beset on all sides, his position contested both by his greedy uncle and by Luke Doomsday, son of a notorious smuggling clan.
The earl and the smuggler should be natural enemies, but cocksure, enragingly competent Luke is a trained secretary and expert schemer―exactly the sort of man Rufus needs by his side. Before long, Luke becomes an unexpected ally...and the lover Rufus had never hoped to find.
But Luke came to Stone Manor with an ulterior motive, one he's desperate to keep hidden even from the lord he can't resist. As the lies accumulate and family secrets threaten to destroy everything they hold dear, master and man find themselves forced to decide whose side they're really on…and what they're willing to do for love.
***
Why I Want to Read It - The first in this series was everything I like about KJ Charles's books: humor, grumps, class and system tensions. This is an interesting follow-up in that there's a time jump and it follows a character who was young in the first book. I'm hoping we get to see how the main characters from The Secret Lives of Country Gentlemen have been doing.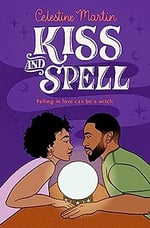 Kiss and Spell, by Celestine Martin - September 26

In this spellbinding romantic comedy from a series about a family of witches, a lovelorn small-town witch helps a handsome prince break free from a curse—all while trying not to let their feelings for each other bubble to the surface.
A witch without a spell
All Ursula Caraway wished for was to live happily ever after in her hometown of Freya Grove. The self-proclaimed Jersey Shore Witch Princess was set to begin her perfect life—until a twist of fate changed everything. Now, she's telling fortunes to the lovelorn, selling crystals at the local psychic shop, and reclaiming her missing magic. Ursula desperately wishes to shake up her life—so much so, that she'll do just about anything. Including befriending a very cute, very enchanted prince.
A prince in search of a kiss
Prince Xavier Alder needs to find The One, but his lack of social skills has made that a challenge—and being cursed by the Faerie Queen isn't helping either. So when Ursula, eager to believe in magic again, agrees to help Xavier find a perfect, curse-breaking kiss before Midsummer, it's the ideal opportunity for them to get what they want. So long as they don't let their mutual (and inconvenient) attraction get in the way.
***
Why I Want to Read It - As with the other small town contemp. paranormal romance on this list, I really enjoyed the first in the series, which sets up a trio of women for a trio of novels. This one is getting paired with a fae prince! Celestine Martin is a fresh voice in romance and I've been looking forward to revisiting Freya Grove.

Also out this month:
All titles in red are links to Amazon. Check out the full list here.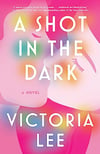 September 5 - A Shot in the Dark, by Victoria Lee
September 5 - Love Me Do, by Lindsey Kelk
September 5 - The Long Game, by Elena Armas
September 5 - Witches Get Stuff Done (Starfall Point Book 1), by Molly Harper (formerly audio exclusive)
September 5 - Enchanted to Meet You (Witches of West Harbor), by Meg Cabot
September 5 - The Art of Desire, by Stacey Abrams/Selena Montgomery
September 5 - Fly with Me, by Andie Burke
September 5 - Full Moon Over Freedom, by Angelina M. Lopez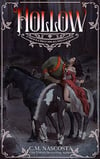 September 5 - Hollow: A Trick and A Treat For All Hallow's Eve, by C.M. Nascosta
September 5 - Into the Bright Open (A Secret Garden Remix), by Cherie Dimaline
September 12 - Trial of the Sun Queen (Artefacts of Ouranos, #1) (Forever re-release)
September 12 - Rule of the Aurora King (Artefacts of Ouranos #2), by Nisha J. Tuli (Forever re-release)
September 12 - Godkiller, by Hannah Kaner
September 12 - A Market of Dreams and Destiny, by Trip Galey
September 12 - Salt Kiss (Lyonesse, #1), by Sierra Simone
September 12 - You, Again, by Kate Goldbeck
September 12 - My Rogue to Ruin (Wild Wynchesters, #4), by Erica Ridley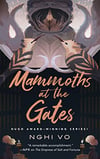 September 12 - Mammoths at the Gates (Singing Hills Cycle #4), by Nghi Vo
September 12 - This Spells Disaster, by Tori Anne Martin
September 12 - Witch of Wild Things, by Raquel Vasquez Gilliland
September 12 - Thank You for Sharing, by Rachel Runya Katz
September 12 - Fall of Ruin and Wrath (Awakening, #1), by Jennifer L. Armentrout
September 19 - A Study in Drowning, by Ava Reid
September 19 - A Nobleman's Guide to Seducing a Scoundrel (The Doomsday Books, #2), by KJ Charles
September 19 - Cleat Cute, by Meryl Wilsner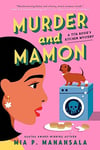 September 19 - Murder and Mamon (Tita Rosie's Kitchen #4), by Mia P. Manansala
September 19 - A Crown So Cursed (Nightmare-Verse, #3), by L.L. McKinney
September 19 - The Forest Grimm, by Kathryn Purdie
September 19 - The Court of Shadows (Vampyria Saga, #1), by Victor Dixen, translated by Françoise Bui
September 26 - Time to Shine, by Rachel Reid
September 26 - The Scarlet Veil, by Shelby Mahurin
September 26 - Three Holidays and a Wedding, by Uzma Jalaluddin and Marissa Stapley
September 26 - The Siren, the Song, and the Spy, by Maggie Tokuda-Hall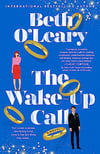 September 26 - The Wake-Up Call, by Beth O'Leary
September 26 - Kiss and Spell (Elemental Love, #2), by Celestine Martin
September 26 - Unrealistic Expectations, by Andie J. Christopher
September 26 - Love of My Lives, by Yamile Saied Méndez
September 26 - Foul Heart Huntsman (Foul Lady Fortune Series), by Chloe Gong
Reminder: all of these books are collected in a list over at Amazon for your convenience.
Hope this list helps you find your next great read!
***
If you appreciate our content and wish to support the site, please consider using the affiliate links in this post and below for your shopping needs. As always, you are welcome to leave us a tip on Ko-Fi!
Support Love in Panels