Dear Romancelandia, was it just last month that I was wishing for blue skies ahead? Here we are, not four weeks into 2020 and already this year has felt like it's been six months long. Between what's been going on with RWA, coupled with world events, the start of my reading year hasn't been all that great. But it's too soon to throw in the towel on 2020 yet and what better way to head off a potential reading slump than book browsing?
Here are some new Unusual Historicals catching my eye:
This post contains affiliate links.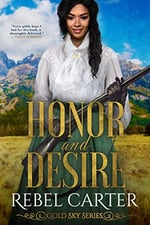 Honor and Desire, by Rebel Carter

Pick Up a Copy: Amazon (Kindle Unlimited)
For as long as anyone can remember Seylah Wickes-Barnes has been at the side of August Leclaire, her best friend and the boy her fathers took under their wing.
Now a grown woman and looking for love, Seylah's deepest regret, and secret, is quickly coming to surface: She has been in love with August for as long as she can remember.
For years she has been content in her role as secretary to the Sheriff's department in Gold Sky, Montana. Mostly for the opportunity to be around the men of her family, and the one who still owns her heart. But there is no denying that the woman behind the desk is far more suited to wielding a gun and keeping the peace. If only she could convince her fathers to see her in a new light, as a person worthy of a deputy's badge.
Determined to put her past behind her, Seylah gives her attentions to a handsome new arrival. One who sweeps Seylah off her feet-quite literally. Things are almost perfect until August suddenly declares his intent to court her. Can she trust that August's affections are true and not inspired by jealousy?
Amongst gun fights and forbidden kisses, childhood friendships mature into a love built on forever and intimate desire in this tale of friends-to-prickly-allies-to-lovers romance
Carter continues her generational historical western series with this third book featuring a heroine starting to stifle under parental expectations and resolving to move on from an unrequited crush only to have said crush wake up and smell the coffee just as she's getting swept off her feet by another man. Seriously, why are men so dense? (#evergreen).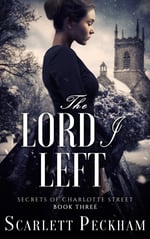 The Lord I Left, by Scarlett Peckham

Pick Up a Copy: Amazon, Barnes & Noble, Apple Books, Kobo
He's a minister to whores… She's a fallen woman…
Lord Lieutenant Henry Evesham is an evangelical reformer charged with investigating the flesh trade in London. His visits to bawdy houses leave him with a burning desire to help sinners who've lost their innocence to vice—even if the temptations of their world test his vow not to lose his moral compass…again.
As apprentice to London's most notorious whipping governess, Alice Hull is on the cusp of abandoning her quiet, rural roots for the city's swirl of provocative ideas and pleasures—until a family tragedy upends her dreams and leaves her desperate to get home. When the handsome, pious Lord Lieutenant offers her a ride despite the coming blizzard, she knows he is her best chance to reach her ailing mother—even if she doesn't trust him.
He has the power to destroy her… She has the power to undo him…
As they struggle to travel the snow-swept countryside, they find their suspicion of each other thawing into a longing that leaves them both shaken. Alice stirs Henry's deepest fantasies, and he awakens parts of her she thought she'd foresworn years ago. But Henry is considering new regulations that threaten the people Alice holds dear, and association with a woman like Alice would threaten Henry's reputation if he allowed himself to get too close.
Is falling for the wrong person a test of faith …or a chance at unimagined grace?
I have a complicated relationship with BDSM in romance fiction which is why I haven't yet read Peckham, but reviews seem to indicate she's a polarizing writer. For every reader who loves her books, there are readers who are less than enthralled - and the plot synopsis for this third book in her Secrets of Charlotte Street will likely follow that pattern. Reading this blurb my reaction fluctuates from "Gimme now!" to "OMG, this could be a hot mess." So of course I'm going to have to read it.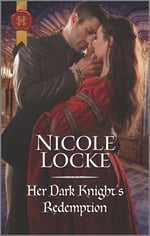 Her Dark Knight's Redemption, by Nicole Locke

Pick Up a Copy: Amazon, Barnes & Noble, Apple Books, Kobo
"This man was shadow and night.
He was Darkness."
Homeless Aliette is saved from punishment for stealing by a mysterious knight. To stay alive, she's informed by this stranger that she must claim his child as her own. She should fear the dark knight's power, yet it's clear there's more good to this man than he's prepared to show. Can she break down the barriers of the tortured knight she calls Darkness?
Medievals lend themselves well to dark and angst - two things I cannot seem to get enough of in romance. Locke's latest sounds right up my alley. A broody, haunted knight confronted with a child he didn't know existed and saving the heroine in order to pull off a charade - for reasons. Sign. Me. Up.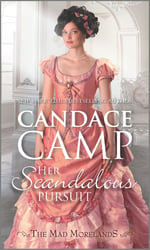 Her Scandalous Pursuit, by Candace Camp

Pick Up a Copy: Amazon, Barnes & Noble, Apple Books, Kobo
Thisbe Moreland is used to men not taking her seriously. As a scientist, she's accustomed to being the only woman at lectures and meetings, her presence met with scorn and derision. So it comes as a pleasant surprise when she sits next to a handsome young man who is actually interested in having a conversation about science.
Desmond Harrison cannot believe his good fortune when he sits next to Thisbe—she's intelligent and incredibly beautiful. He longs to see her again—but he's ashamed of his low birth. Not to mention his employment with the infamous Professor Gordon, a formerly respected scientist who turned to spiritualism and is now deeply scorned.
When Professor Gordon demands that Desmond recover an artifact for him—an ancient object reputed to have terrible power, known as the Eye of Annie Blue—Desmond realizes that only Thisbe holds the key. Desmond must choose between his love for Thisbe and his loyalty to his mentor…but humanity's very future will depend on his choice.
Camp has been writing romances longer than some folks reading this blog post have been alive. This is the seventh book in her Mad Morelands series, but technically serves as a prequel. There's a lot of Unusual Historical catnip in this blurb, a scientist heroine, a hero caught between mentor and the heroine, and the hunt for a mythical and supposedly powerful ancient artifact. I'm not familiar with the previous books in the series, so this one is going on my library wishlist to sample.
What Unusual Historicals are you looking forward to this month?