A while back, we talked to Ana about being selected as a judge in The Ripped Bodice's first ever Awards for Excellence in Romance Fiction. Informally known as "the ribbies," this award is judged a bit differently than others. TRB put together a diverse team of judges and had them discuss the books they thought represented the best in Romance, rather than a system involving self-nomination, money or simple popularity (such as in the Goodreads Readers Choice Awards). You'll find the full panel of judges and more information about the contest here.
For the full press release, here's a PDF! The press release will likely be shared widely, so today we're going to focus on the list of winners and catch up with Ana about how everything went.
First, the list!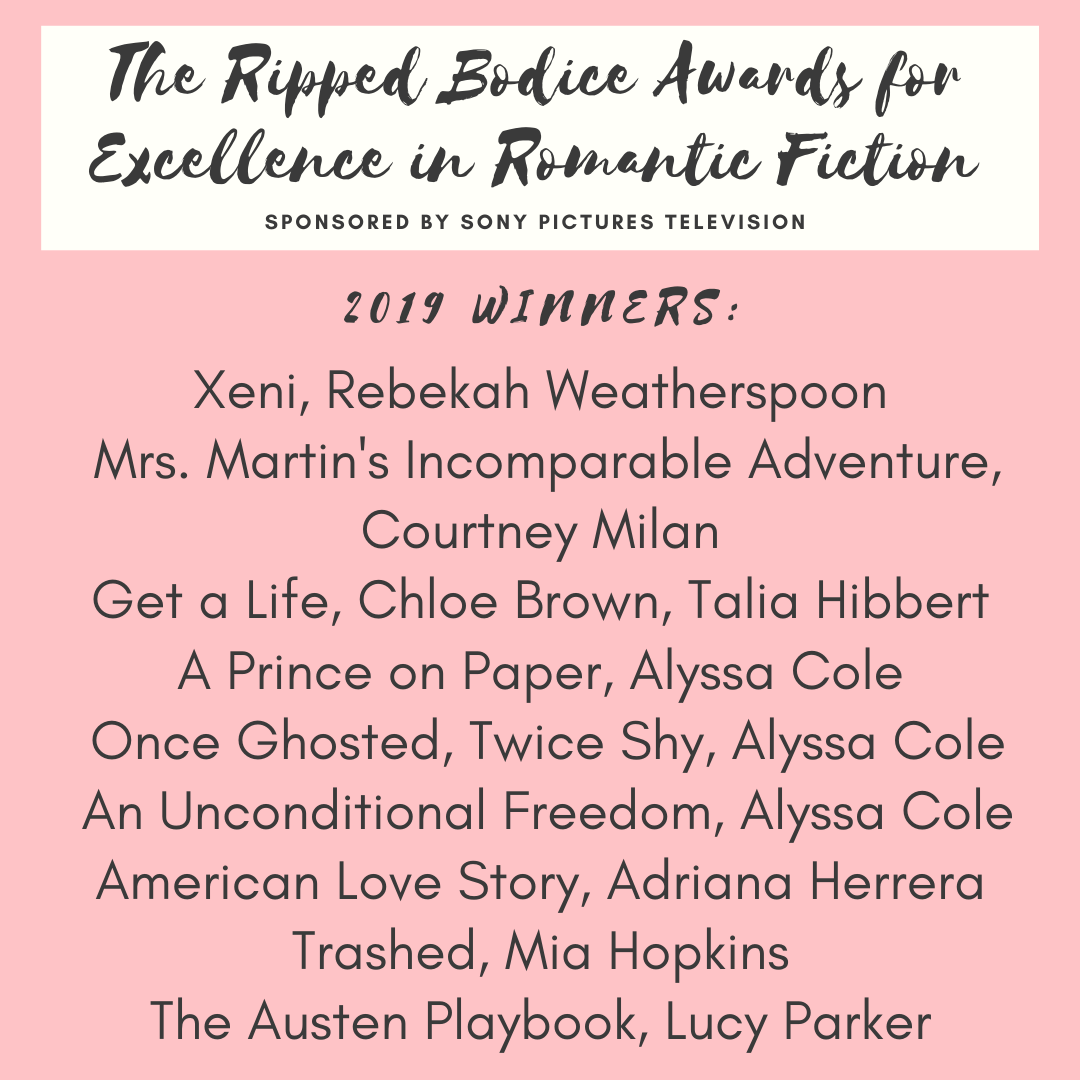 Somehow, we've reviewed all but one of these over the course of 2019, so if you want more information on any of them--including content warnings--we've linked to our reviews below:
Mrs. Martin's Incomparable Adventure, by Courtney Milan
Get a Life, Chloe Brown, by Talia Hibbert
A Prince on Paper, by Alyssa Cole
Once Ghosted, Twice Shy, by Alyssa Cole
An Unconditional Freedom, by Alyssa Cole
American Love Story, by Adriana Herrera
The Austen Playbook, by Lucy Parker
From Ana: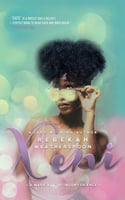 Over the last few months, the panel of judges submitted ranked slates of books we believed were the best romances of the year. We took into consideration each other's concerns about content and representation in the books nominated before finalizing the lists. I am pleased with the way Bea and Lea managed the process, adjusting it as necessary. I really loved seeing the wide variety of books nominated by all the judges.
Of course there are always favorite books that are overlooked and left off lists like these, but I am incredibly proud of the work we did as judging panel, the honesty and trust in the process. I also loved that I have read every single one of these books and they are all books I can proudly recommend to all kinds of romance readers.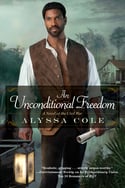 Lovers of historical romance should not miss Courtney Milan's joyful avenging elderly lesbians in Mrs. Martin's Incomparable Adventure and Alyssa Cole's unflinching Civil War set romance An Unconditional Freedom in which dislike and suspicion turn to love and respect between two secret agents whose conflicting missions take place in the most treacherous of settings.
Fans of erotic romance will find exquisite passion and angst in Mia Hopkins' Trashed and fantastic sexual tension and exuberant consent in Rebekah Weatherspoon's Xeni, despite their radically different settings (LA's East Side and small-town upstate NY).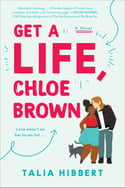 The contemporary romance winners are also richly diverse. Some tackle heavy topics head-on like family separation and deportation in Once Ghosted, Twice Shy by Alyssa Cole, or racial profiling and police intimidation in Adriana Herrera's American Love Story. Others use banter and humor to cushion the weight of topics such as familial dysfunction and estrangement in Lucy Parker's The Austen Playbook or the struggle to gain independence like Nya in A Prince on Paper or reclaim it while living with a disability, like the titular character in Talia Hibbert's Get a Life, Chloe Brown seeks to do.
Six of the winning books, feature LGBTQ characters. Eight of the books are written by Authors of Color (3 Black, 1 Filipino-American, 1 Afro-Dominican, 1 Chinese-American). Eight feature at least one protagonist of color and three of the books were self-published.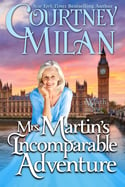 Now, I know someone will also say "and three were written by the same author", and that is absolutely right. As we put together this list and ranked the books, we looked at each one individually and nothing in our criteria made us limit our nominations to only one book per author. Alyssa Cole had an incredible year and despite the judges' wildly varied reading tastes, these three books rose to the top.
I urge you all to give the books on the list a try. You won't regret reading any of them.